Theory or practice?
Real-world sustainability experience from A&D professionals
By Lesley Goddin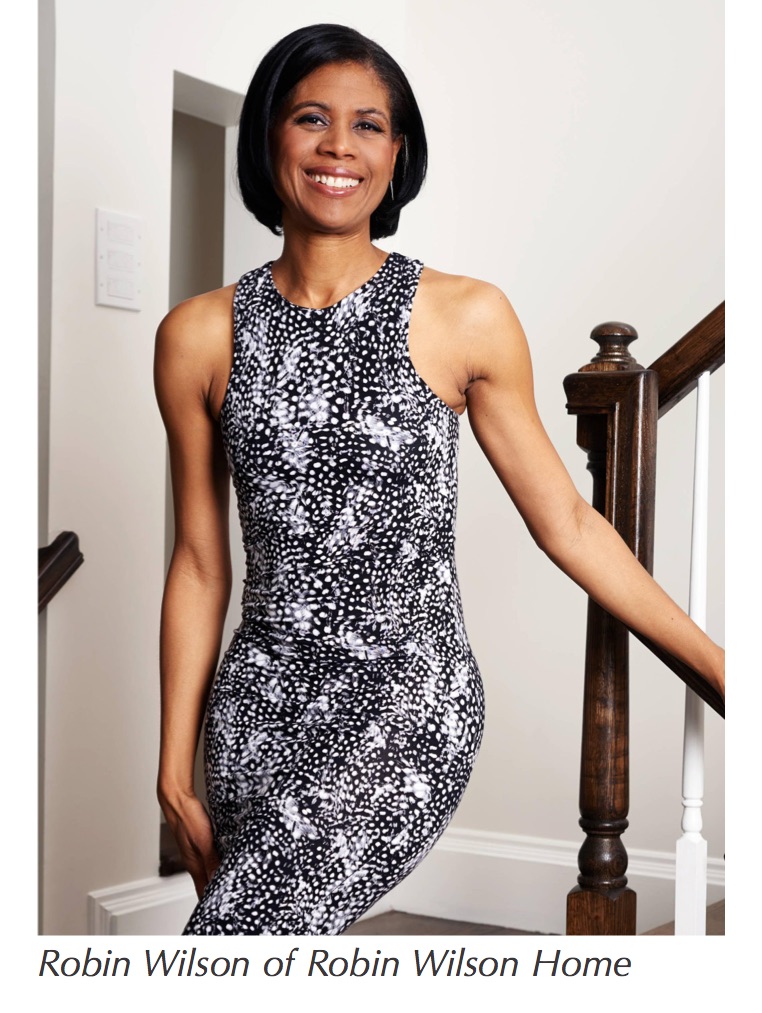 Over the last few decades, buzz about sustainability is on everyone's lips. Green certification programs like LEED and Green Globes and product certification programs like Green Squared® and Greenguard® abound.
And yet, what is the experience of actual A&D professionals today? How often are green solutions demanded, offered or implemented? And how are tile products helping to keep our planet, the water we drink and the air we breathe clean, fresh and healthy?
We put a series of questions to two respected forces in the world of design, Anne Rue, Anne Rue Interiors of Lake Mary, Fla., and Robin Wilson, of Robin Wilson Home, based in New York City.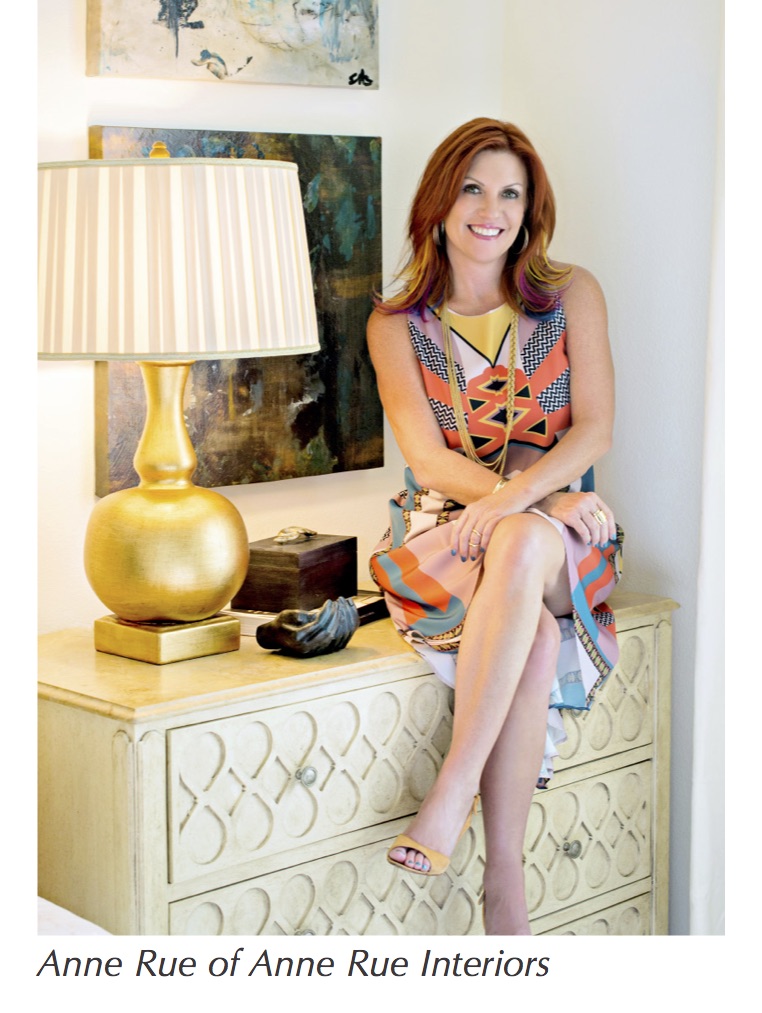 Rue is a sought-after and respected voice in the design of residential, hospitality, multifamily and senior living interiors – whose work is about a 50/50 mix between residential and commercial interiors. Anne Rue's interior design team has built a reputation for its down-to-earth approach to design, working with a broad range of lifestyles and budgets. This spring she was the designer of one of the Coverings Installation Design Showcase vignettes that featured Crossville tile products.
Wilson is an interior designer, businesswoman, expert on healthy homes, and author, most recently of Clean Design: Wellness for your Lifestyle (Greenleaf, 2015). Robin Wilson Home, her design firm, was founded in 2000 and works on select projects throughout the United States, ranging from high-profile clients, private homes, developers and consultation with leading consumer brands. Both Rue and Wilson have appeared on HGTV – Rue in "Design Star"and Wilson in "Selling New York," among other prestigious broadcast and print appearances.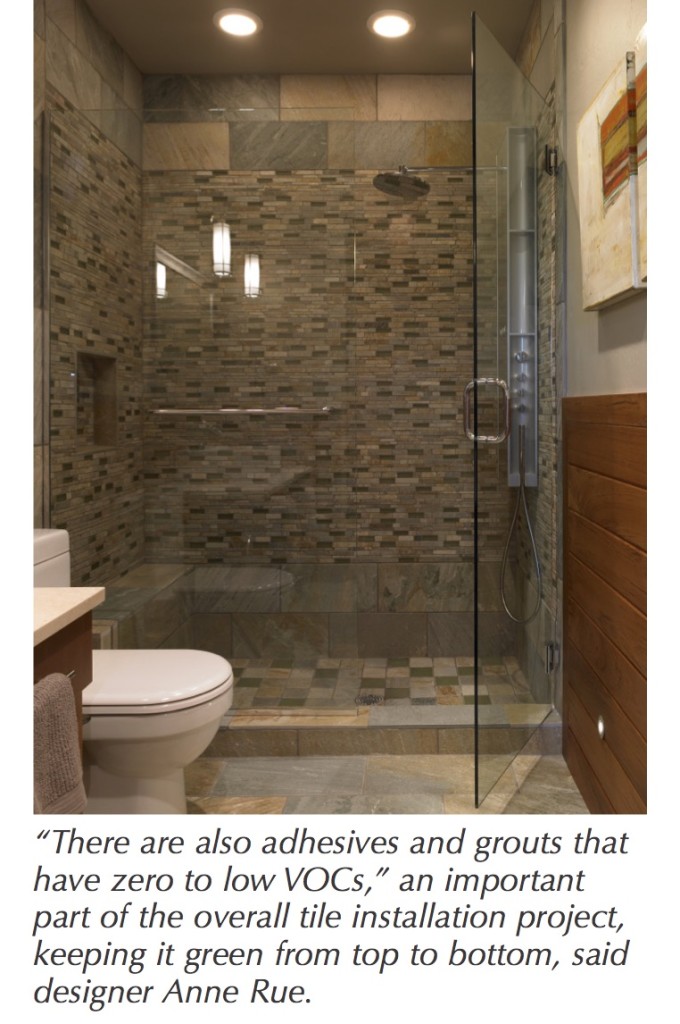 Sustainability surges and setbacks
Both professionals report a surge in demand for eco-friendly products and sustainable components. For Wilson, earth-friendly design is a cornerstone of any project. "All of our projects incorporate elements of sustainability and eco-friendly products," Wilson said. "We were one of the early pioneers of this movement since 2000, and we began to publicize our efforts starting in 2006. Today, it is often requested by clients."
For Rue, about 50% of commercial projects demand sustainability. "I would say that is up by at least 20% to 30% from 5 years ago!" Rue explained.
Why aren't all projects clamoring for eco-friendly products? Wilson said, "For some people, the biggest issue is the perceived barrier of expense. However, so many companies have brought down the costs so that people can have affordable options."
Expense isn't quite the issue for Rue; finding suitable products is. "The biggest challenge is finding sustainable products for all areas," she said. "The market is not saturated in the LEED and sustainable products yet, but that will be changing, I am sure."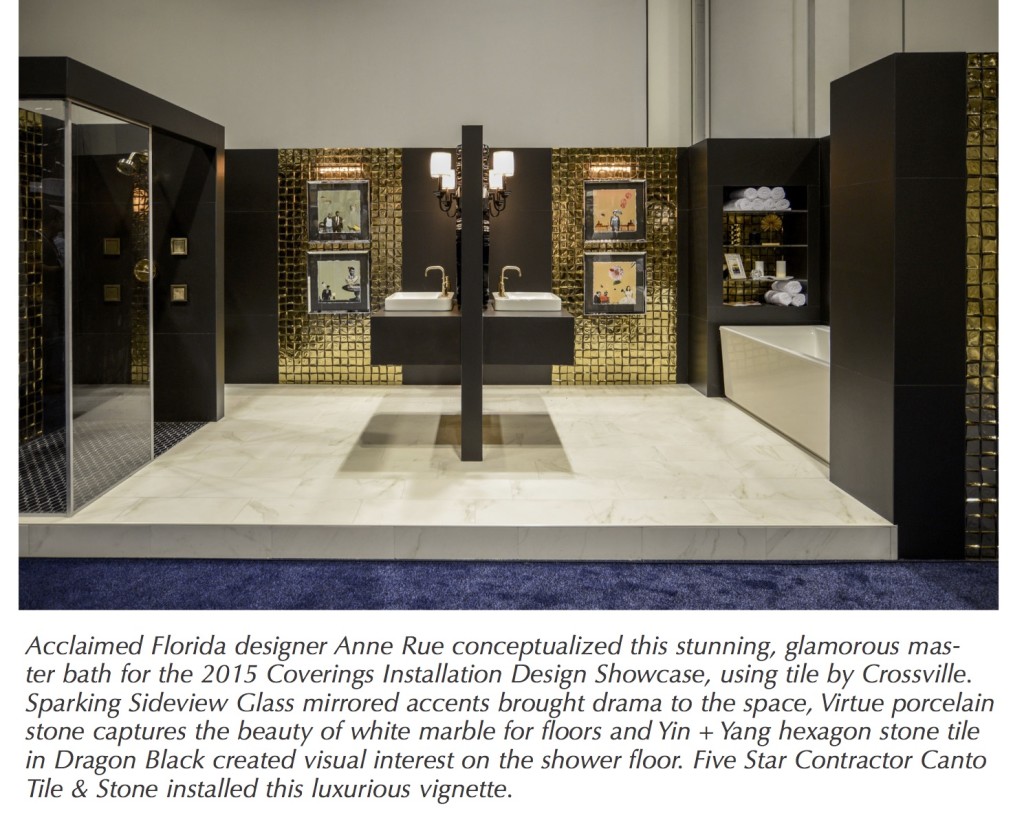 Tile: important player for green projects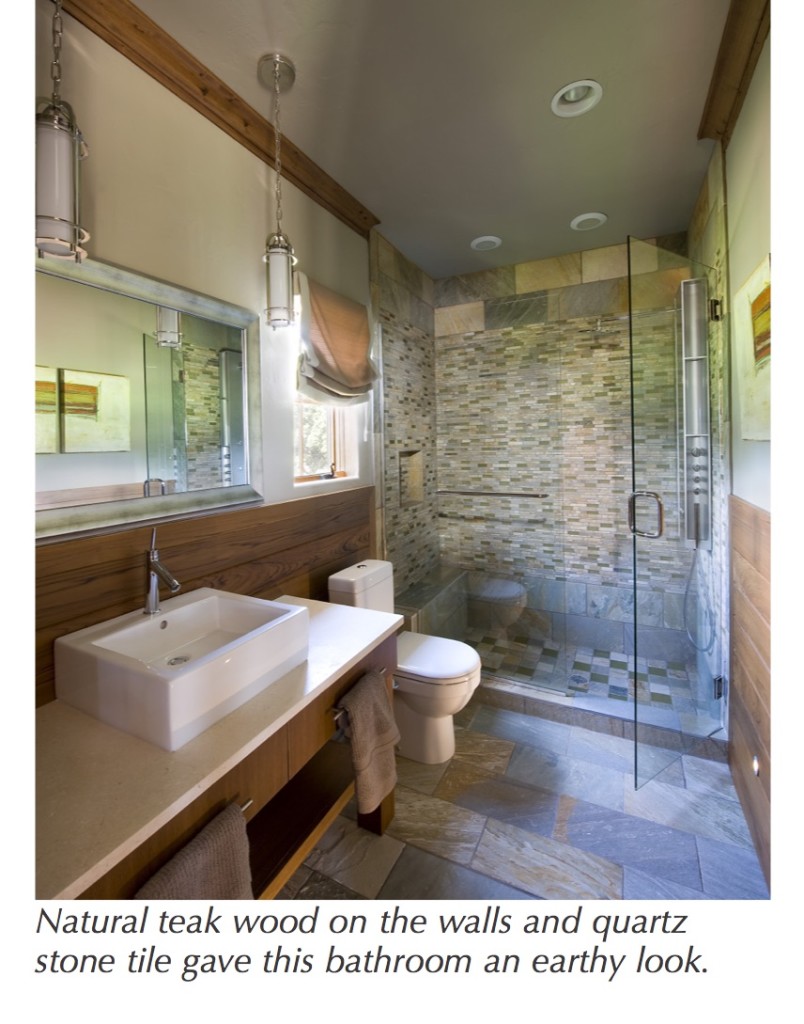 Tile products are important players in the sustainable scenario, particularly large thin porcelain tile that can be used as floor covering, wall covering or even cabinet facing.
"For me the thin tile like Laminam by Crossville has been a big benefit to my projects," Rue said. "The thin tile is so easy to put over existing flooring if needed, and being able to use a large-scale product or cut it into small scale or even different shapes make it really fun to design with." Wilson added, "I love thin tile that can also be used as a wall cladding."
Both designers cite the advantages porcelain tiles with wood-like aesthetics are giving to projects. "Many people are using porcelain tile with wood grain in home spaces that have pool access to prevent damage to actual hardwood floors," Wilson said.
Rue concurred, adding, "The wood tile look has really changed the game for a lot of people in both commercial and residential projects. The tile looks so realistic that people can't believe it is not real wood. I am designing a home in St. Simons and my clients wanted real wood but knew the durability of it would not be the best choice for the high-traffic areas and the areas that would be exposed to water. Wood tile was our answer."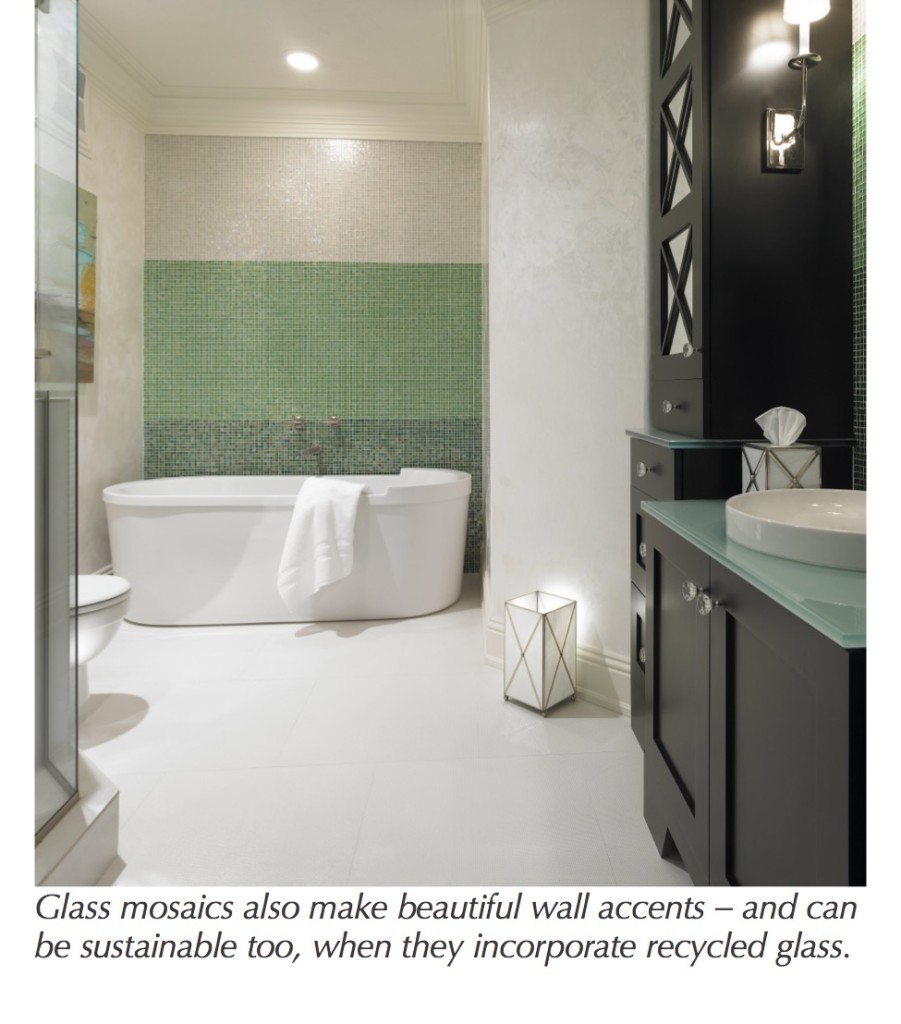 Wilson also praised glittering glass accents as wall coverings. "It is often recycled glass, so people are ensuring that glass is sustainably harvested from the landfill," she said.
In addition to aesthetics, tile offers a range of advantages that help earn LEED points.
"Ceramic and porcelain tile is a great option for LEED points because of the low to no VOCs, and tile manufacturers are reusing water and materials to reduce waste," Rue pointed out. "There are also adhesives and grouts that have zero to low VOCs," an important part of the overall tile installation project, keeping it green from top to bottom.
And tile can be used together with other technologies to pump up earth-friendliness. "Tile can be used in conjunction with radiant heat/geothermal technology to increase LEED points, which can create an overall energy savings," Wilson offered. "I have also used Silestone as a wall cladding and cut it into tiles for bathroom projects, and it is durable, versatile and antibacterial," she said.