Now in its seventh year, the Partnering for Success program from NTCA rewards contractors for membership in the world's largest association dedicated to the tile contractor.
Participating manufacturer sponsors in the "Partnering for Success Program" feel so strongly about the value the NTCA provides its members, that they have committed to contribute free vouchers that more than offset investment in NTCA membership. That's $1,500.00 in vouchers for products you use every day, just for joining NTCA! The value of these vouchers is above and beyond the investment in NTCA dues, so in addition to experiencing all NTCA has to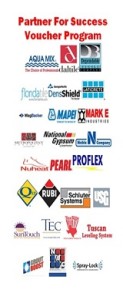 offer through membership, the Partnering for Success vouchers may actually enable you to make money as an NTCA member!
Participating manufacturers have authorized NTCA to provide vouchers for their products to be redeemed by NTCA Contractor Members, directly from the manufacturer or through participating distributors. Vouchers from each available product category will be provided to NTCA contractor members who have paid their dues. The combined value of all vouchers may be equal to, but not exceed, $1500. New and renewing Contractor Members will receive the vouchers they have selected; including technical information on the products being marketed.
Product categories may include the following: Backer board, setting and grouting materials, membranes, cleaning and sealing materials, tools, floor heating systems, and ceramic/porcelain tile.
Visit https://www.tile-assn.com/Voucher/Default.aspx?mid=107 for details on vouchers from participating members Aqua Mix, Daltile, Dependable Bagging, Dural, Florida Tile, Georgia Pacific, LATICRETE, MagBacker, MAPEI, Mark E. Industries, Metropolitan Ceramics, National Gypsum/Permabase, Noble Company, Nuheat, Pearl Abrasive Co., Proflex, QEP, Rubi Tool, Schulter Systems, SunTouch, TEC Specialty (H.B. Fuller), Texrite, The Tile Doctor, Tuscan Leveling System and others.