The XIIIth World Congress on Ceramic Tile Quality will be held at the Chamber of Commerce in Castellón, Spain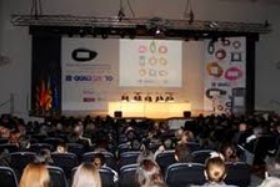 The Organising Committee is launching the new edition of the congress and is currently preparing the call for presentations
The Castellón Chamber of Commerce and the College of Industrial Engineers, who have organised QUALICER from the outset in 1990, are already preparing a new call for the conference devoted to the ceramic sector, which brought together over 600 of the industry's professionals from 24 countries at the foregoing event in Castellón.
QUALICER 2014 will take place in the course of two days of work at the Chamber of Commerce. At present, the organisation work is focused on promoting the forum on an international level, in order to attract the greatest number of delegates as well as to seek out eminent specialists and professionals to deliver invited lectures.
QUALICER, the World Congress on Ceramic Tile Quality, always features an outstanding programme of invited speakers and oral and poster presentations of great technical expertise. The Congress Technical Committee, made up of leading experts, ensures that the communications presented at the conference meet the required standards of quality. In addition, the conference is backed by the technical support of the Instituto de Tecnología Cerámica (ITC).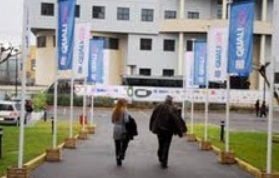 The QUALICER Management Committee, consisting of representatives of both organisations, including Salvador Martí Huguet and Carlos Fabra, President and Secretary General of the Chamber of Commerce, respectively, and Javier Rodríguez Zunzarren, President of the College of Industrial Engineers, is working out the details of the 2014 event, and has also launched the new website and Call For Papers. A time frame will open at the end of the year till May 2013 for authors to submit the summaries of the works that they wish to present at QUALICER 2014.
The new technical secretary of the Congress, Javier Rodríguez Ejerique, noted in this regard: 'As at the foregoing QUALICER meetings, the subjects dealt with will be divided into three blocks: BLOCK A: CERAMIC COMPANY AND MARKETS; BLOCK B: CERAMIC TILE AND CONSTRUCTION; and BLOCK C: CERAMIC TILE MANUFACTURE. We are convinced that the excellent technical level of blocks B and C will be maintained, attracting technicians from all over the world. We also aim to further develop block A, addressing issues of regional industrial growth by innovation and competitiveness and the interrelationship between developed and emerging areas. In addition, we shall again be showcasing the QUALICER ZOOM feature, devoting one of these spaces to digital printing, which was highly valued by the meeting attendees in February 2012'.
QUALICER is sponsored by official bodies and organisations, town councils, Cevisama, the County Council, and private companies from the sector, whose collaboration enables this forum to continue to grow and, every two years, makes Castellón the global capital of ceramic tile quality.