Candid contractor comments
It may not be too fashionable, but I have been using drills from Milwaukee tools to mix mortar for years: variable speed, indestructible, inexpensive! I have two of them in my shop now that are more than 10 years old. I also use Makita cordless drills for drilling holes and driving backer-board screws. 
– Greg Michael, CTI, Michael's Custom Tile, Inc., NTCA Five Star Contractor
I am partial to the DeWalt 1/2" VSR 550 rpm/rev Spade Handle Drill 9.0 amp. purchased through our local Mann Tool & Supply. We have found that "big box" tools seem to be made differently. The drill has enough torque to mix large amounts of thinset to the correct consistency without having to add additional water that would weaken the bond strength. The variable speed is essential when big batches of sanded grout are needed and we can mix it at the lower recommended speeds. The spade handle makes it easy to control and the tough case is durable when one gets "accidentally" knocked to the concrete.  We also use the Troxell "Egg Beater" mixing paddle that reduces air infusion and is easy to clean.
– Scott Heron, Precision Tile Company, NTCA Five Star Contractor
We look for ease of use, variable speed and long life in our mixers and drills!
– Buck Collins, Collins Tile and Stone, NTCA Five Star Contractor
For me, it is important to have a drill that is versatile enough to mix not only thin-set mortars, but also the medium-bed and dry-pack mortars that can be difficult to mix in a bucket.
– John Mourelatos, Mourelatos Tile, Inc., NTCA State Director
We look at variable mixers and how easy it is to switch from forward to reverse. It helps if it looks easy to clean with no exposed nuts or bolts. We like DeWalt. It's nice when the chuck can be operated without a chuck key.
– Mike Weaver, Trendsetter Tile & Stone, NTCA State Director
When our company was in business, we really only used two types of mixers for thin-set and medium -bed mortars. One was a purpose-built mixer from Rubi, which came with a special paddle (like a giant paint paddle) that did not entrain air into the mix. The second type – and we had many more of these – was a Hole Hawg by Milwaukee, and Makita's knock-off of the same drill (the Makita we liked because they were just as tough, but weighed less, so the helpers didn't knock over the water buckets after spin-cleaning the paddle). We used these two drills because when mechanically set in low speed, they were the only ones that met the maximum allowable 300 rpm mixing speed allowed by mortar manufacturers. They were also extremely tough and durable. All the other drills out there (that are used by a majority of tile people I have met) have speeds ranging from 550 to 850 rpms, and this is just too fast, causing weak mortar by air entrainment, and lowering pot life and open time, all critical elements. We were always intrigued by Raimondi's mixer which spins the bucket around a fixed blade. It would be perfect for large projects where all-day mixing with a couple of helpers is required.
– Michael Whistler, NTCA technical consultant/presenter
MIXER & DRILL PRODUCTS

Kraft Tool Co. introduces the Triangle Blade Mixer. The triangle shape was designed in coordination with the industry to thoroughly mix material including thin-set mortar, grout, and other concrete-based products. The design helps move material from the corners of the bucket for even mixing. Stainless steel construction allows for easy clean up. The 24" height is perfect for mixing in buckets. Made in the USA. www.KraftTool.com
MK Diamond's lightweight, portable Canoga 70 Mixer is suited for mixing grout, thin-set mortar and polymer-based materials. It can mix all material from sand and cement to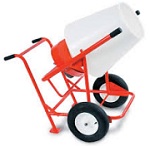 self-leveling epoxies, epoxy-based mortar, and concrete toppings. The Canoga 70 is designed for operation by one person and is quiet enough to operate anywhere. Dual handle design features fixed handles in front for pouring and rear handles for transporting. This durable mixer has an all-steel frame and is powered by a high torque 1/3 horsepower electric gear motor. Batch capacity is 1/4 to 1/3 bag, 2 cubic feet. ww.mkdiamond.com.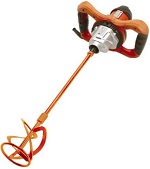 Rubi's Rubimix-9 mixer provides great versatility for mixing cementitious adhesives, resins, paints and other materials by an interchangeable mixing paddle with M14 connection. Improved ergonomics creates comfort and a two-speed gearbox and electronic controller optimizes the mixing of each material.  Made of lightweight and durable materials, 1200 watts, with double insulation. www.rubi.com
Bosch Power Tools offers their most innovative rotary hammer, the RHH181 18V Li-Ion SDS-plus® Rotary Hammer, featuring Bosch brand's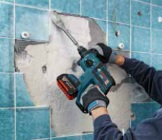 innovative CORE brushless technology and a new chiseling function that increases the product's versatility. The hammer provides drilling and chiseling in a lightweight, compact size. A new line of lithium ion batteries to be used with this tool offers up to 65% longer runtime and advanced CoolPack™ technology for up to 100% more recharge-life. www.boschtools.com