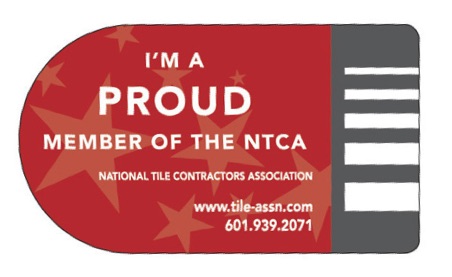 Just hours after filing with the U.S. Patent Office, NTCA contractor member Davis Holland Leichsenring unveiled his Lippage & Grout Tool to an audience of tile contractors and related professionals on the opening day of Coverings.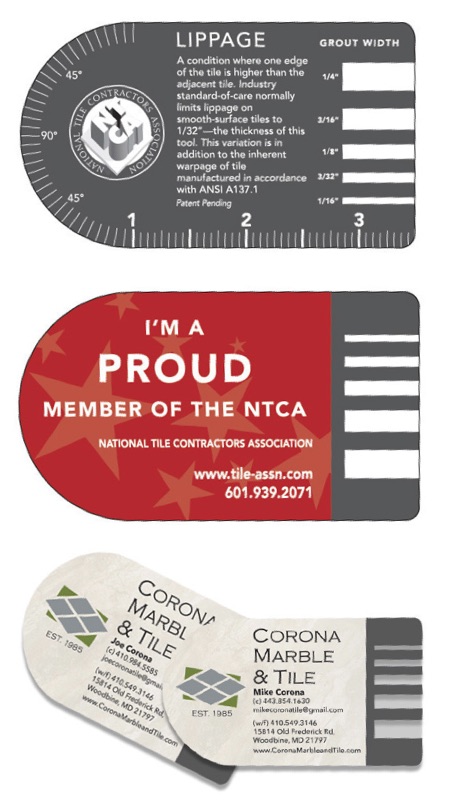 Made of soft PVC plastic, the multi-function tool helps tile professionals and the general public to instantly evaluate if a tile installation meets industry standards at the level of 'flatness,' – otherwise known as "lippage" – between adjacent tiles. It also helps measure and demonstrate grout widths and grout color, and has a handy ruler to help measure thickness of tile substrates and other on-the-job measuring needs. The small tool fits a wallet and is fully customizable to double as a business card.
NTCA has teamed up with Leichsenring to offer the Lippage & Grout Tool to members at a special discounted rate, featuring the NTCA logo. The "NTCA Lippage & Grout Tool" is available on the association's website www.tile-assn.com, and at www.ntcatiletool.com.
The card can be purchased as the "Lippage & Grout Tool" by the general public, or the "I'm a Proud Member of the NTCA" version exclusive to NTCA members. The customized version can be created by downloading an easy step-by-step template file. Visit www.ntcatiletool.com for details.
The entire Holland Bath & Spa team worked around the clock to produce the tool by Coverings. Erkel Associates (www.erkel.com) finalized the branding and launch of shop.hollspa.com, an online store selling the Lippage & Grout Tool, Eras Noel prepared the patent application, and Allen Irwin created a short video featuring NTCA's Maryland State Director, Mike Corona, of Corona Marble & Tile (www.coronamarbleandtile.com), presenting the tool.
"The tool is expected to increase the quality and standards by which tile is selected and installed," said Leichsenring. For more information, visit www.ntcatiletool.com, or contact Leichsenring directly at [email protected] / 240-372-0513.