A professional display of synergy between design and installation
The Installation Design Showcase featured outstanding designs and superior craftsmanship, installed on the show floor by NTCA Five Star Contractors Trostrud Mosaic and Tile of Chicago, Grazzini Brothers from Eagan, Minn., Artcraft Granite, Marble & Tile Co. of Mesa, Ariz., and Welch Tile & Marble from Kent City, Mich. The showcase paired area designers with the installation teams that brought design concepts to life.
"What I enjoy about [the Installation Design Showcase] is we are using fantastic designers and quality qualified labor," said James Woelfel of Artcraft Granite, Marble & Tile Co., one of the IDS installation teams. Woelfel, who is also president of NTCA, added, "Dan Welch is a Five Star Contractor; Brad Trostrud is Trowel of Excellence, which is the TCAA designation; we're a Five Star Contractor and Grazzini Brothers are Five Star and Trowel of Excellence as well. So this is great design, together with great qualified labor. And this is what it produces. It actually produces art."
A special AIA Chicago tour group who visited the Installation Design Showcase commented that it was one of the most professional displays of synergy between design and installation they have ever seen in the construction industry. Following are snapshots of the stunning temporary displays.
Clubhouse/Bar
Welch/FGM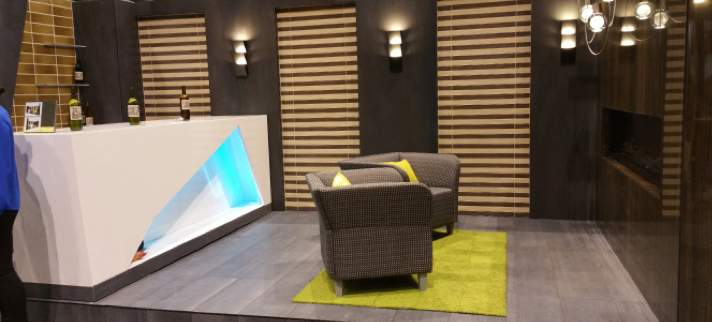 Tile was by Stonepeak, installation materials by TEC, lighting by Tech Lighting, fireplace by Modern Flames, furniture provided by Frank Cooney Company. The Home Depot sponsored the Installation Design Showcase.
Spa Lobby
Trostrud/Healing Environments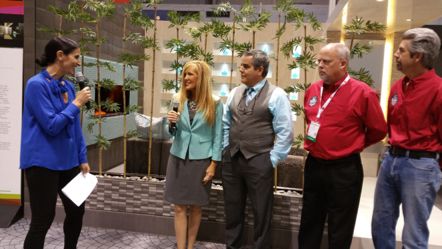 This Spa Lobby was designed by Healing Environments – Susan and Tarik El-Naggar (2nd and 3rd from right) and installed by Trostrud Mosaic & Tile Co., represented by Brad Trostrud and Mike Miller (c and rc).
Boutique Retail Space
Artcraft/Alena Capra
Boutique Hotel Lobby
Grazzini/Architecture is Fun