At Coverings this past April, the industry saluted designers and contractors of outstanding tile and stone projects in the first-ever Coverings Installation Design Awards. This competition is the evolution of the prestigious Coverings Prism and Spectrum Awards that recognized excellence in design in tile and stone projects and the TileLetter Awards that honored technical excellence in craftsmanship and installation. The Coverings Installation Design (CID) Awards shined a light on both aspects of a project, acknowledging the critical role collaboration plays in successful and stunning projects. The CID Awards were sponsored by Coverings, TileLetter and NTCA's newest publication, TADA, Tile for Architects, Designers and Affiliates.
Judges sifted through nearly 75 entries to determine the 12 winners. Judges included Christine Abbate – Ceramics of Italy, Lori Dolnick – Tile of Spain, Jennifer Adams – Contemporary Stone & Tile Design/TILE Magazine/Stone World, Jennifer Renzi – Interior Design, Robin Wilson – Robin Wilson Home, Eric Astrachan  – Tile Council of North America,  and Bart Bettiga – NTCA.
The list of winners are as follows:
Residential ––––––––––
Grand Prize Residential:
Rosenthal Residence
Walled Lake, Mich.
Designer: David Ellison
Installer: RJH Tile and Stone
Residential Stone:
2012 New American Home
Winter Park, Fla.
Designer: Phil Kean Designs, Inc.
Installer: Girem Tile Work, Inc.
Residential Mosaic/Glass:
Bella Leoni
Ada, Mich.
Designer: Signature Outdoor Concepts/Inspired Installations
Installer: Inspired Installations
Residential Tile:
Turck Residence
Decatur, Mich.
Designer: Motawi Tileworks
Installer: Harry Underdah
Commercial ––––––––––
Grand Prize Commercial:
El Andaluz
Santa Barbara, Calif.
Designer: Jeff Shelton Architect
Installer: Dan Upton Construction
Commercial Stone:
Atrium
Miami, Fla.
Designer: Insight Design
Installer: Gemini Tile Service
Commercial Mosaic/Glass:
Smith Aquatic and Fitness Center
Charlottesville, Va.
Designer: BH+A
Installer: The Ceiling and Floor Shop
Commercial Tile:
Palomar Medical Center West
Escondido, Calif.
Designer: Anshen + Allen Architects/CO Architects
Installer: Wirtz Quality Installations
Special Recognition ––––––––––
Historic Renovation:
Monroe Skyscraper
Chicago, Ill.
Designer: Holabird & Root/Rookwood Pottery
Installer: DTI
Art in Public Space:
The Four Stages of Higher Learning Chandelier
GHSU College of Dental Medicine, Augusta, Ga.
Designer/Installer: Paul Pearman
Tile & Stone:
Mohegan Sun, Casino of the
Earth expansionUncasville, Ct.
Designer: Rockwell Group
Installer: Kenneth Castellucci & Associates
Tile & Stone:
Hyatt Olive 8 Condominium
Seattle, Wash.
Designer: Mulvanny Architecture G2, Seattle Branch
Installer: Antony Architectural Stone
Following are the details of the Grand Prize Residential and Commercial winners:
Grand Prize Residential: Rosenthal Residence
Walled Lake, Mich.
Designer: David Ellison
Installer: RJH Tile and Stone
The owner of this 7,500 square-foot lakeside home hadn't been on hand for much of the construction. So upon his arrival at the nearly-complete residence, horror ensued at the shoddy construction throughout the five bathrooms and stone floors.
Enter contractor RJH Tile and Stone, and designer David Ellison. Since the previous work had to be demolished, the designer-contractor team now had a blank slate from which to work. One man's nightmare is another man's blessing, and the vast footage in question offered the team the ability to stretch creatively, using stock showroom stone cut to size on site to keep costs down on this admittedly lavish project. But by reducing material costs, more could be invested in details and ornaments.
Stone floors were chosen for beauty, low maintenance, and wheelchair maneuverability.
Careful layout was key for every element of this project, with installers giving special attention to detail, such as external corners that were mitered, epoxied, and filled to give them the look of quarried full-thickness stone rather than a veneer. This sumptuous project made the most of materials and stayed on budget.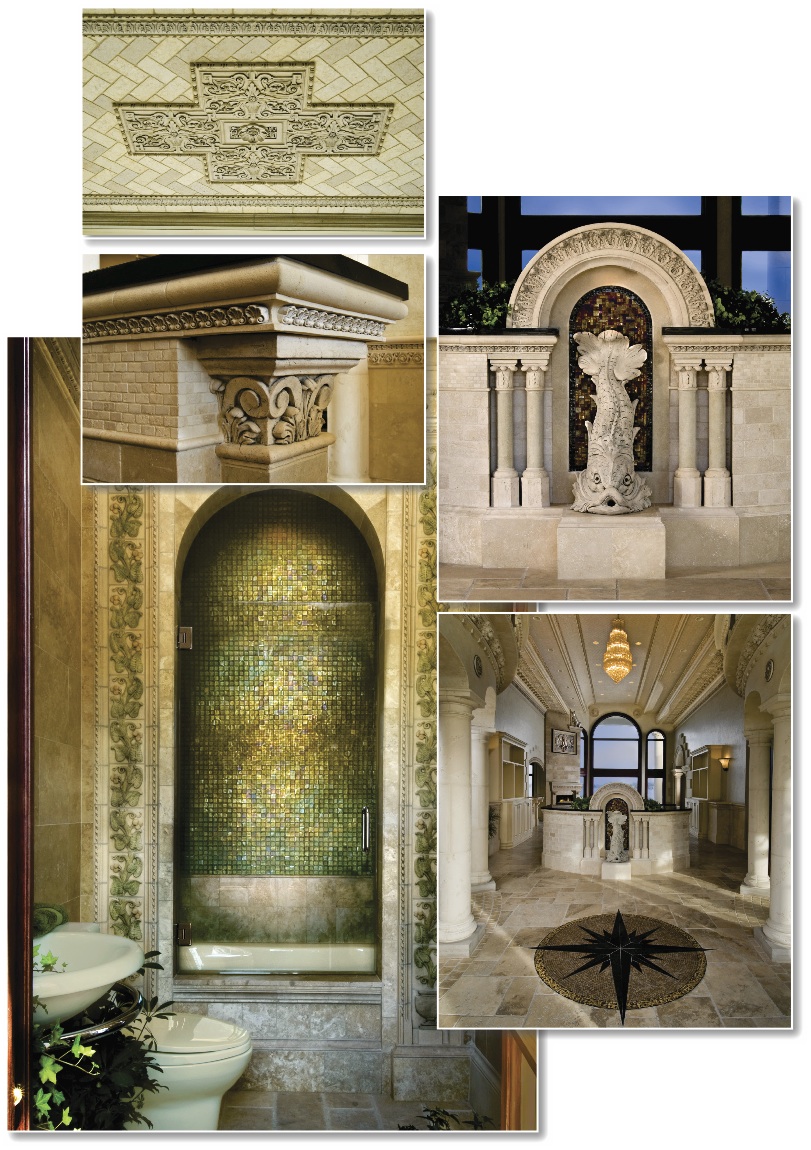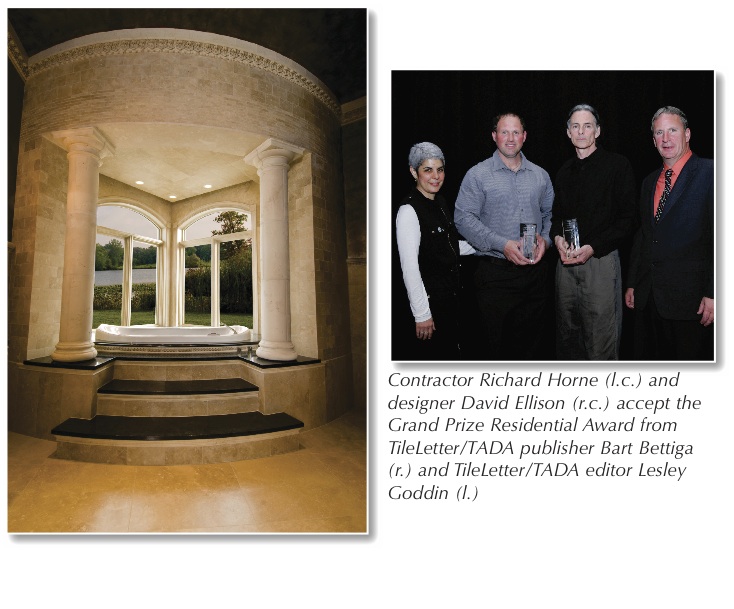 Grand Prize Commercial:
El Andaluz
Santa Barbara, Calif.
Designer: Jeff Shelton Architect
Installer: Dan Upton Construction
This mixed-use project contains seven residential units nestled around a large tiled courtyard on the upper two floors. At street level on the first floor, two commercial units anchor the project and a tiled roof deck on the fourth floor overlooks the city. Santa Barbara's architectural guidelines are based on Mediterranean and Spanish motifs and, as such, plentiful tile use is encouraged. Designer Jeff Shelton took full advantage of this, dedicating a tenth of the budget to ceramic, cement and marble tile.
Eight elliptical arches sport 1"x8" custom ceramic tiles that were splattered with glaze, then mixed up and installed to give depth and a sense of Moorish writing flowing throughout the arches. Exterior walls of the commercial units are covered in 12"x12" patterned cement tile: one with a bird pattern reminiscent of Escher, another with a giant swarming ant motif.
Falling Fuscia cement riser tiles bloom on the main stairs leading to the flowering courtyard on the second floor. The courtyard itself is an explosion of tile, from the planters to fountains, benches and the zigzag bricks on the floor. Nasturtium cement riser tiles lead to the third floor; loggia tiles are floral cement on one side and a fish motif on the other.
All units are flowing with vibrant 12"x12" tiles on the floors, and marble-covered bathroom walls and kitchen counters. Exterior decks sport 1/4" ceramic tile. From the commercial-level arches to the residential units, great care in design and excellence in installation imparts a sense of warmth, timelessness and character to the entire project.