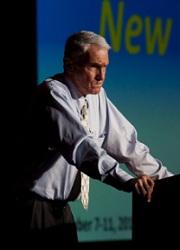 It began with an optimistic prediction about the future of the tile industry, and it ended with a thought provoking and emotional recount of heroism in the line of duty on Veterans Day. Everything in between was just what the leaders of the tile industry needed as they came together to participate in Total Solutions Plus November 8th-10th in Phoenix, Arizona.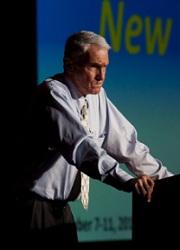 Nationally recognized speaker Dr. Jay Lehr energized the crowd of more than 300 in his opening keynote presentation on the future of the global economy and the role the ceramic tile industry will play in it. Dr. Lehr echoed what many of us in the tile industry have been promoting for some time; the future of tile in the United States is extremely positive. He compared per capita consumption of ceramic tile with other leading countries around the world, and he challenged industry professionals to partner together with one clear and concise message to promote the product over competitive alternatives.
Sponsored by Tile Of Spain, Patti Fasan, considered by many to be the leading passionate voice of professional speakers in the tile industry around the world, followed up Dr. Lehr's message with strategies that could be implemented to sell the value of tile as a luxury product as a solid investment and design pleasing choice.
Donato Grosser, sponsored by Ceramic Tiles of Italy, shared his channels of distribution and took a glimpse at the U.S. Economy and its roles in the tile industry.
Technical Presentations included several contributions from the NTCA, with Gerald Sloan partnering with NTCA member Greg Andrews on glass tile installations, and with fellow NTCA trainer Michael Whistler on Large Format tile installations. Sloan also worked with representatives from the Materials, Methods and Standards Association (MMSA) on the evolution of grout technology. Live Demonstrations were a highlight of the technical programs.
NTCA member Josh Levinson of Artistic Tile and Recognized Consultant Gregory Mowat delivered an excellent program on stone tile installations.
The conference culminated with a tearful reminiscence of his life in the military and his experience in Afghanistan by former Navy Seal Marcus Luttrell. Luttrell is the author of the book Lone Survivor, and recounts how he survived in the Afghan wilderness for several days and the loss of several of his fellow Seals as they died fighting for our freedom. The book will soon be available in a motion picture and anyone in the room with this patriot while he shared his story will never be the
same.
Over 450 leading tile industry professionals attended the second annual Total Solutions Plus Conference, which took place at the luxurious Sheraton Wild Horse Pass Resort. Total Solutions Plus is jointly planned and promoted by the Ceramic Tile Distributors Association (CTDA), National Tile Contractors Association (NTCA) and the Tile Council of North America. (TCNA)
Look for an announcement shortly on the venue and dates for Total Solutions Plus 2012, and mark your calendars now.