Greetings,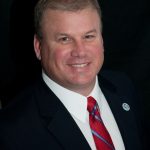 You have probably received this issue of TileLetter after all the rancor of our truly American election process is over. Our future leadership has been determined and by now it is. charged with the task of forging our paths to restoration and prosperity. I am incredibly thankful to live in a country that allows this process to occur and I hope you were a participant in it. Regardless of the outcome, we have elected people who hold great sway over our collective futures, and our best hope is to stay engaged and active as the process unfolds.
John F. Kennedy once said "For time and the world do not stand still. Change is the law of life. And those who look only to the past or the present are certain to miss the future." This has certainly been evident in our nation, our industry and your NTCA. As such we must press on. As we move toward yet uncharted goals, it is my hope that we can do so by embracing the shared goal of "coming together for the greater good" This phrase may not mean much inWashingtonany more, but it is alive and well at the NTCA.
Together we have forged relationships for the betterment of our industry. We have extended olive branches to accomplish goals with partners that were once considered adversaries by some; and we have held firm when needed, remaining steadfast when we thought installation ideals were being compromised. We would hope that our elected leaders will come together as the NTCA and our industry have done and provide leadership, which will allow unparalleled growth in the face of daunting circumstances.
I have no doubt that a visionary future will continue as the benchmark of your NTCA. By the time you are reading this, we will have elected new leadership for our association too. I know our new President, Executive Committee and Board of Directors well and also know the passion they share for our industry. Rest assured that the current and future direction of our association is in good hands. I am sure that their efforts will take us to future heights not deemed possible by past comparison. This almost sounds like I am campaigning, and I am — I'm campaigning for the unbridled ascension of professional tile and stone installation and for making those products the unquestioned leaders of the finishes segment of the construction industry.
There you have it….. one of my last "stump speeches" in this format for our industry. I look forward to what the future holds. As always, I encourage your involvement and ask you to grasp the opportunity to share in the excitement for our industry and our nation by participating in the process.
All the best,
Nyle