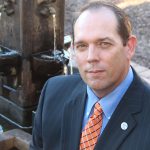 I have always had the strong belief that every professional tile contractor should join the NTCA.
Recently, as I was reading a Facebook post on Tile Geeks (although I am a social media neophyte, I enjoy this forum immensely), one comment regarding joining our association struck me, in particular. This person posted that they joined the NTCA "for the coupons." True, the coupons are a value, but I do not believe this is the best reason – nor is it one of the top three reasons to join.
What this post tells me is that we, as NTCA contractor members, must do a better job of conveying the most important reasons to join. In fact, in comments to that post, NTCA members Dirk Sullivan, Bradford Denny and Martin Brookes, cited the value of the NTCA Reference Manual, networking and education. And those are my top three reasons for joining and participating in the NTCA, too.
Since I am a third generation tile contractor, my father (Butch Woelfel) and I have had this conversation as well. I asked him why his dad (John Otto Woelfel) joined the Southern Tile Contractors Association (the precursor to the NTCA) some 60 years ago. Dad told me my grandfather joined the association to keep up with the evolution of the tile industry. He then told me that he became active in the NTCA (Dad is a former president and chairman) to learn more about the tile industry because even as an installer, he could see how products, methods and standards were changing. Dad chuckled and said he figured that if he hung around with smart people, some of that knowledge would rub off on him. He explained that forming friendships with people like Bob Young, Bob Wright, Doyle Dickerson and Bob Roberson were not only personally rewarding, but it made him smarter and made his company better. I believe it did.
My dad then said something interesting. He said, "All tile contractors have tile-related problems, but keeping up with the latest technologies and methods helps you have fewer problems." When I ask today's NTCA leaders – like chairman Dan Welch – why he joined, he tells me that, "Joining the NTCA is the best thing I did for my company." Again, it's because of the education, networking and NTCA Reference Manual.
Joining the NTCA provides tile installers access to the changes in technology and standards that affect their livelihood. Membership provides networking opportunities to discuss challenges and solutions face-to-face with other contractors, manufacturers and distributors. A commitment to involvement through participation in educational events and/or committees, means you are at the table when decisions are made. As our new Ring of Honor recipient JohnCox says, "you will get out of this association what you put in to it."
When you attend events like Total Solutions Plus, Coverings, Surfaces (TISE West) and NTCA workshops, meet installers who view their work as a profession – and perhaps join a committee – I think you'll find the coupons will become a value-added proposition or the "add-on" to the fundamental value NTCA membership offers.
Respectfully,
James Woelfel
President