Update your knowledge with free NTCA webinars
Looking to update your knowledge about industry issues, but don't have time to travel? Worry no more!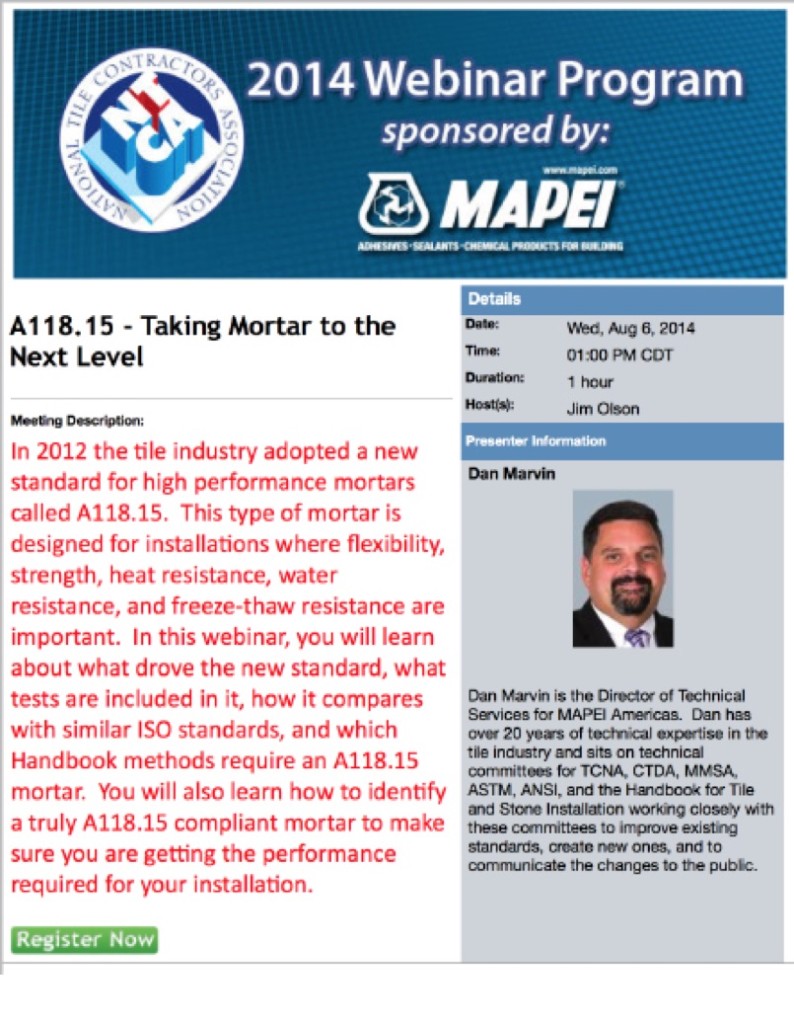 The NTCA is offering an exciting monthly webinar program in 2014. This is a great way to experience a professional technical or business presentation from your home or office, with a professionally-presented one-hour presentation offered by experts and gurus from many different industry sectors.
The next Webinar Program is set for Wednesday, August 6 at 1 p.m. CDT, sponsored by MAPEI. Dan Marvin, director of Technical Services for MAPEI will present "A118.15 – Taking Mortar to the Next Level," which will focus on the new standard for high-performance mortars adopted in 2012. Dan will explore the origins of the standard, how it compares to similar ISO standards, and which Handbook methods require an A118.15 mortar. You'll also learn how to identify a compliant mortar to make sure you are getting the required performance for your project.
Visit www.tile-assn.com and click under Training & Education, then Education Opportunities to register and get information about the webinars, scheduling, course descriptions, dates and times of upcoming programs. Once you register, you can take part in the webinar live or access the program for later viewing through the archives. For more information on the NTCA Webinar Program, contact Jim Olson at [email protected]