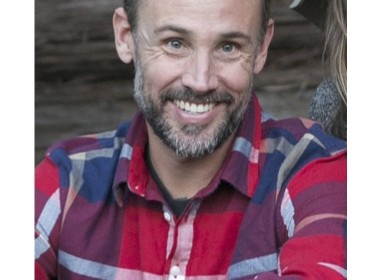 Willoughby Tile:
boutique-style installation brings high level of service, design and expertise to San Rafael community
By Lesley Goddin

Nestled in the affluent coastal city of San Rafael, Calif., is Willoughby Tile (www.marintilesetter.com), owned by Ryan Willoughby, a first-generation tile setter. This small, boutique installation contractor has a tightly knit group of 4-6 team members who install beautiful tile and stone products for high-end remodeling projects in Marin County and San Francisco, primarily baths and kitchens.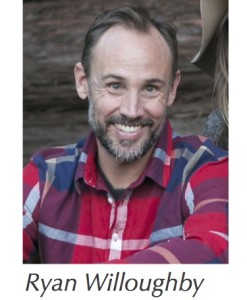 "As both owner and an installer in the company I keep my finger on the pulse of each project," Willoughby said. "We bring a high level of customer service, craftsmanship, design, and knowledge to our projects and by staying abreast of industry standards I can make sure my installers are given both the knowledge and products that will help them achieve a high quality installation."
Willoughby has been a NTCA member for four years, finding particular value in what the association offered someone new to the trade.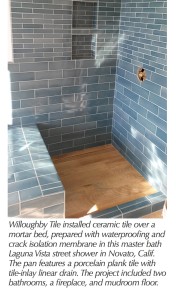 "As a first generation tile contractor I found myself with questions from time to time, and when I found the NTCA, I found the answers," he said. "I've found so much value in the NTCA, I don't know where to start: the knowledge, the networking. I'd have to say the passion for the trade that I find in my fellow members is both humbling and inspiring. It is contagious and drives me to be a better contractor and member."
His dedication to the association and what it offers continues with his work as Northern California State director for NTCA. And Willoughby recently partnered with NTCA Five Star Contractor Martin Brookes of Heritage Marble & Tile in nearby Mill Valley to sponsor a business-to-business Friday night educational program to foster education and networking amongst friendly competitors. The program, "How to Get Paid, Not Sued," was presented by Sloan Bailey and Dylan Grimes of Flynn Riley Bailey and Pasek LLP. The event attracted over a dozen participants and productive discussion – so much so a future event is in the works.

Willoughby is also passionate about installation excellence and was certified as a Certified Tile Installer through the Ceramic Tile Education Foundation exam in 2012. He hopes to add another industry-sanctioned credential by taking the Advanced Certifications for Tile Installers (ACT) exams this year as well.
The following projects are representative of the stunning work Willoughby Tile offers the Bay area clientele – projects that are built to be not just beautiful, but also to perform beautifully.