F.D. Berardino Tile Inc.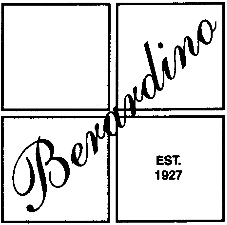 Eastpointe, Mich.
Since: 1927
Specialty: Ceramic and stone tile contractor
Employees: 10
Website: www.fdbtile.com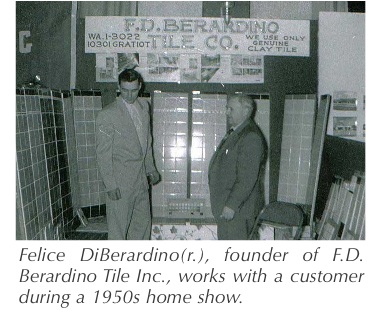 Felice, Crescenzo (Chris) and Francesco (Frank) are the three men who played a key role in turning a small tile business into one of the most well-known and respected tile contractors in southeastern Michigan. In bustling Detroit in 1927, an Italian immigrant, striving for a better life for his family, set out on his own to service the quality ceramic tile work needs of the growing metropolitan area.  With hard work, perseverance and complete dedication to meeting and exceeding the needs of his customers, Felice DiBerardino laid the foundation for the success of one of the oldest tile contracting firms in southeastern Michigan.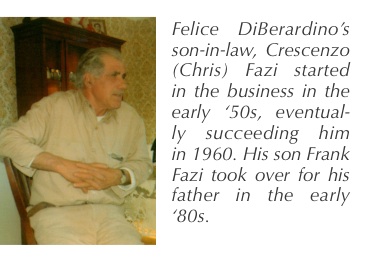 Building upon his old-world work ethic and craftsmanship, the business thrived. His son-in-law, Chris Fazi, began working for him in the early '50s, eventually succeeding him in 1960. Chris instilled an even greater intensity for taking care of the customer through his hard work and passion. Continuing this tradition and legacy, Frank Fazi took over for his father in the early '80s.
Business practices have changed a lot over the years, but Frank has followed his grandfather's philosophy in his business: "Take care of the customer, and the customer will take care of you." With these watchwords, Frank has transformed the business from primarily residential contracting to full-service tile contracting, performing both residential and commercial work as well as new and renovation projects of all sizes.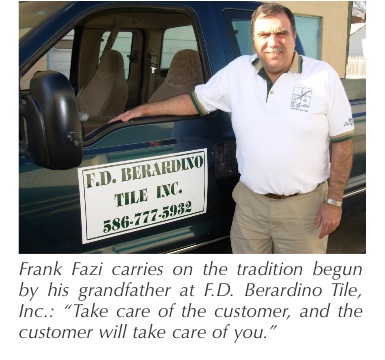 As an 85-year-old, three-generation, family-owned company, these pillars have remained vital and prominent in the way Berardino Tile conducts business. "Our focus remains on the customer, as we aim to provide them with quality craftsmanship, innovative design, and timely execution of every project in a professional, conscientious, and collaborative manner," said Frank Fazi. This work ethic builds lasting trusted relationships, enabling Berardino Tile to work with customers (general contractors, builders, architects, designers and owners) throughout the construction process, assisting them in determining proper tile installation methods, product selection, problem solving, and value engineering of their project.
F.D. Berardino Tile is committed to the advancement of the tile industry as members of the Construction Association of Michigan, the Building Industry Association of Southeastern Michigan, the Great Lakes Ceramic Tile Council (trustee), the Detroit Ceramic Tile Contractor's Association (board member), the local Joint Apprenticeship Training Committee (trustee), and is one of the first Five-Star Contractor members of National Tile Contractors Association.
Featured Project: Greenleaf Trust Building, Birmingham, Mich.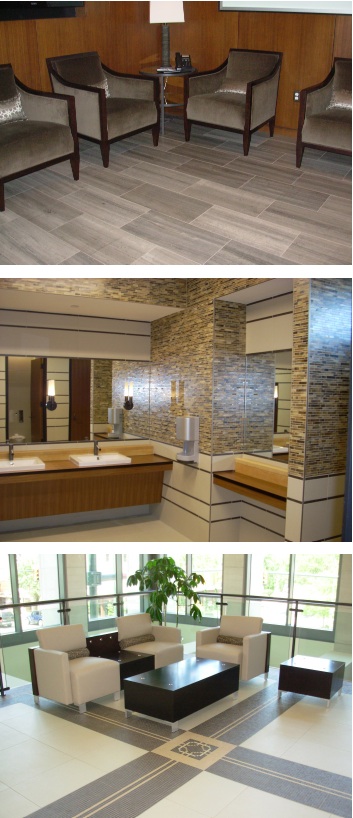 Construction Manager: CSM Group, Kalamazoo, Mich.
Owner: Catalyst Development, L.L.C.
Architect: Eckert Wordell, LLC, Kalamazoo, Mich., and Mark Johnson & Associates, Pleasant Ridge, Mich.
From February to June 2010, F.D. Berardino Tile furnished and installed 9,000 square feet of 24"x24", 12"x24", and 5/8"x5/8" Atlas Concorde porcelain floor tile and wall tile, stair tread and riser tile, and Hirsch Glass Mosaic tile for three lobbies, elevator cabs, the main stairway from the basement to fifth floor, and four toilet rooms.
The job posed many obstacles.  Located on a tight urban site with no onsite parking and no room for onsite material staging, planning for production became a priority. The large-format floor tile required extensive floor prep with many of the floors requiring a full mud-bed installation. All the stair-riser heights had to be adjusted before tile, thereby requiring that the treads and landings be mudded, feathered or ground down to meet the required elevation. The three-color pattern of the 5/8" mosaics was not available factory-mounted, and the pattern had to be installed individually onsite.
Since completion of the base building, Berardino Tile has been contracted for all of the office space build-outs, incorporating the installation of 12"x24" marble floor tile, 12"x24" porcelain floor tile and glass mosaic tile.
Since February, Berardino Tile has been tiling the floors and walls for the five luxury apartment units in the building, as well as the lobby and public corridors for the residential units. The design is based on timeless luxury involving custom installation of 9,000 sq. ft. of ceramic, porcelain and natural stone tiles and ceramic and glass mosaic tiles. This has required close collaboration with the construction manager, owner, architect, and design architect.