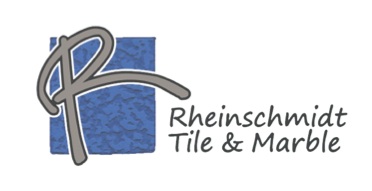 Rheinschmidt Tile and Marble, Inc., based in Burlington, Iowa, is a dedicated, tight-knit, family-style traveling troupe of expert installers that comb the country together for months at a time, installing mall floors in the wee hours of the morning wherever opportunity strikes.

This family business got its start when Walter and Erma Rheinschmidt entered the flooring business in 1935. In 1969 Larry Rheinschmidt, Sr. (son of Erma and Walter) took on the family's first shopping center project in Iowa. Soon after, his customers were dragging him from state to state to put floors in new malls all over the country.
Today the firm is managed by Larry Rheinschmidt, Jr. along with Darya Rheinschmidt, Robert O. Jones, Jr., and Jeffrey Crowner. With the help of their road warrior staff of 130 people or more, they still travel from state to state putting floors in malls.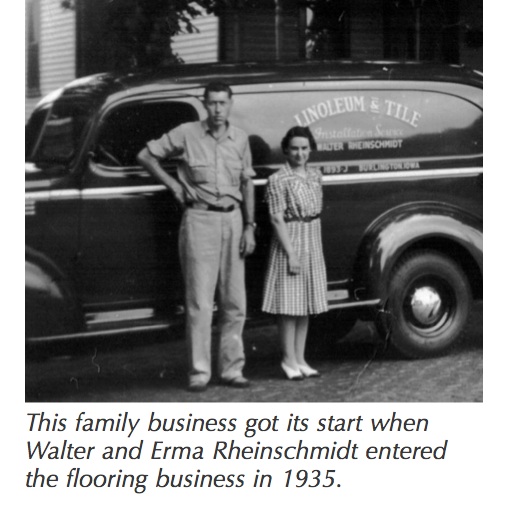 One of the most unique aspects of this company is the quality and dedication of its staff. These traits may not be unique in themselves, but considering the demands of a traveling contractor, these characteristics are exceptional.
Rheinschmidt's average projects are four to six months long. Once the job gets started, most of the crews only visit their home once every six to eight weeks. That puts them on the road for more than 11 months out of the year. It is a life in hotels and away from their friends and families. Not only are they away from home, but in the shopping center world, 90% of the work is renovation work, which is all performed at night. Working from 9 p.m. to 6 a.m. means rarely getting to see the light of day.
Even though the work is physically demanding, and the conditions difficult, Rheinschmidt Tile and Marble has assembled one of the most loyal groups of hard-working individuals you could imagine. Several of the employees have been working on Rheinschmidt projects for over 40 years. This really means their home has been more "on the road" than that of their postal address.
At one point, most of the traveling employees were from the company's home base in Iowa. Since the company started traveling, it has been picking up quality setters and helpers from every state where it works. This crew comes from as far Northwest as the state of Washington, and as far Southeast as Florida.
It takes more than the average setter to want to work nights on the road all year long. Because of that, it has taken years to assemble a traveling family this big. However, the company is still growing, and is always looking for more talented individuals. Not everyone makes the cut. The company is known for its quality, so only above-average setters become traveling members of the team.
Rheinschmidt Tile and Marble is a family business in more ways than one. There are six Rheinschmidt family members currently involved in its operation. In addition to that, several Rheinschmidt employees bring their families on the road. However, in the case of Rheinschmidt Tile and Marble, the term "family business" refers to the fact that the people of the company feel like part of the family, related or not. The road warriors at the heart of this company are a family like no other.
Rheinschmidt Tile and Marble, Inc. is a big believer in participating in the NTCA and being a part of the Five Star Contractor program. This program provides access to a great source of technical information, and the Five Star Contractor group is a great community to learn from. Whenever a Five Star Contractor member poses a question to the group, the answers that come back demonstrate a wide range of knowledge and experience, and a great willingness to help each other succeed.
The Rheinschmidt team recently finished the Westroads Mall project in Omaha, Neb., consisting of over 120,000 sq. ft. of Italian porcelain tile in a pattern that included 18" x 36", 24" x 24", 16" x 24" and 12" x 24" tiles from three different collections. Tiles for the majority of the project have a lappato finish, which has some texture to it with a polished look and feel.
The existing substrate was all double-tee precast concrete, which leaves a potentially moving joint every six feet. The substrate was also far from flat enough to handle large-format tile. After the existing tile was removed, the floor was flattened with a quick-setting, self-leveling underlayment, then the entire floor was covered with a flexible, thin, lightweight, load-bearing, fabric-reinforced "peel-and-stick" crack-isolation membrane to handle any movement inherent in the double-tee construction. The large-format tile was installed with a premium, rapid-setting, non-sag medium-bed / thin-set mortar.