By Bart Bettiga

NTCA recently announced the Grand Prize Winners in our Five Star Contractor Installation Awards at Coverings in Las Vegas. Congratulations to Collins Tile and Stone of Aldie, Va., and Artcraft Granite, Marble and Tile Co., of Mesa, Ariz., for their winning residential and commercial project submissions, respectively. I urge all of our Five Star Contractor members to take photos of your best projects and submit them for consideration next year. Both recognition and a $2,500 cash prize can be yours when winners are announced at Coverings in Orlando.
In addition to award recognition, the NTCA staff organizes and partners with Five Star Contractor Program sponsors to host educational and networking events. At times, we schedule events in conjunction with shows like Coverings and Total Solutions Plus. In other instances, our sponsor will host a training program at one of their manufacturing facilities or training locations. For example, Crossville recently hosted over 40 NTCA Five Star Contractors and TCAA Trowel of Excellence members at their headquarters in Tennessee.
Tennessee is quickly becoming the manufacturing hotbed for domestic tile production. Crossville and StonePeak Ceramics have been producing quality porcelain tile for many years in Crossville, Tenn. Florim USA, our newest Five Star Program sponsor, is in nearby Clarksville, and Del Conca USA unveiled its beautiful new plant this spring in Loudon, Tenn., near Knoxville. Add to that impressive list the announcement that Daltile will be building a new plant in Dickson, Tenn., and that Florida Tile is nearby in Kentucky, you can see how this area is exploding in ceramic and porcelain tile production.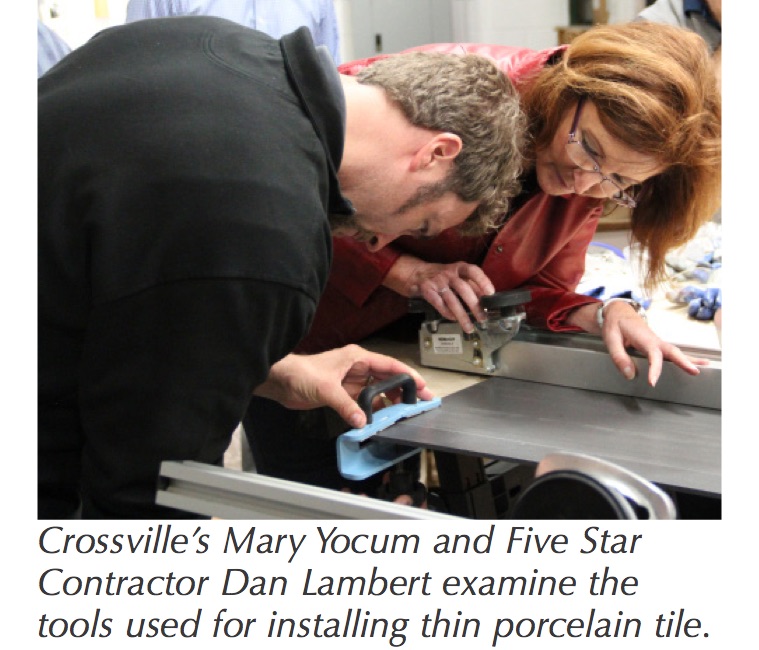 Thin porcelain tile was the primary topic of conversation at our networking event held at Crossville. The NTCA, TCAA, IMI and IUBAC recently released a statement on thin tile, asserting our recommendation to installers to not accept projects with floor applications for thin porcelain tiles less than 5.5 millimeters thick until product and installation standards are developed. The attendees discussed everything we have learned to date about installing thin porcelain tile, and shared ideas related to training and the development of certification. We are all excited about the opportunities that thin porcelain tile present, but we want to ensure that the products are sold in the right applications, in order to prevent failures that will hurt the future of this exciting technology.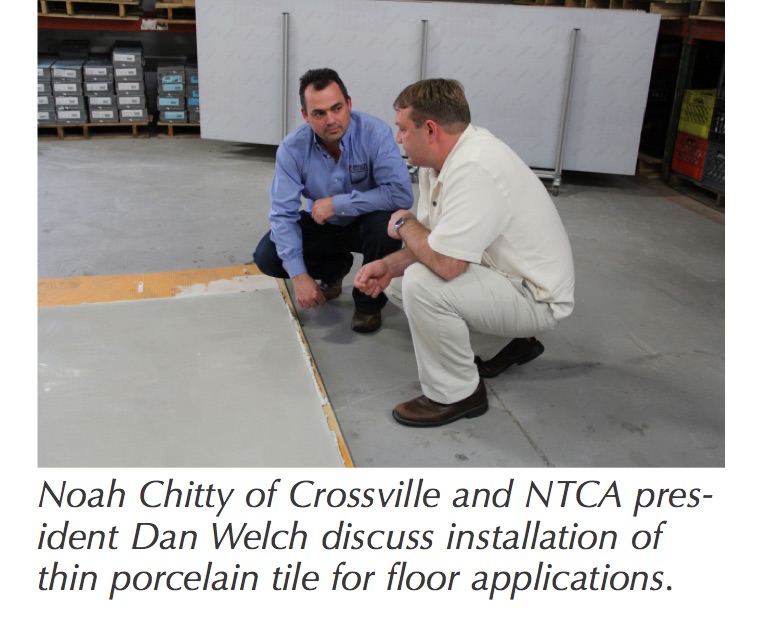 In addition to technical discussions at our Five Star events, we often retain the participation of strong business speakers, and we hold Best Practice discussions among our peers on subjects such as project management, financial and strategic planning, estimating and bidding procedures, and more.
Efforts to promote the Five Star Contractor Program are beginning to pay dividends. Many project specifications contain language referring to the program in the quality assurance section, generating interest from both NTCA members who have not applied for Five Star Contractor recognition as well as contractors who are not members of the association.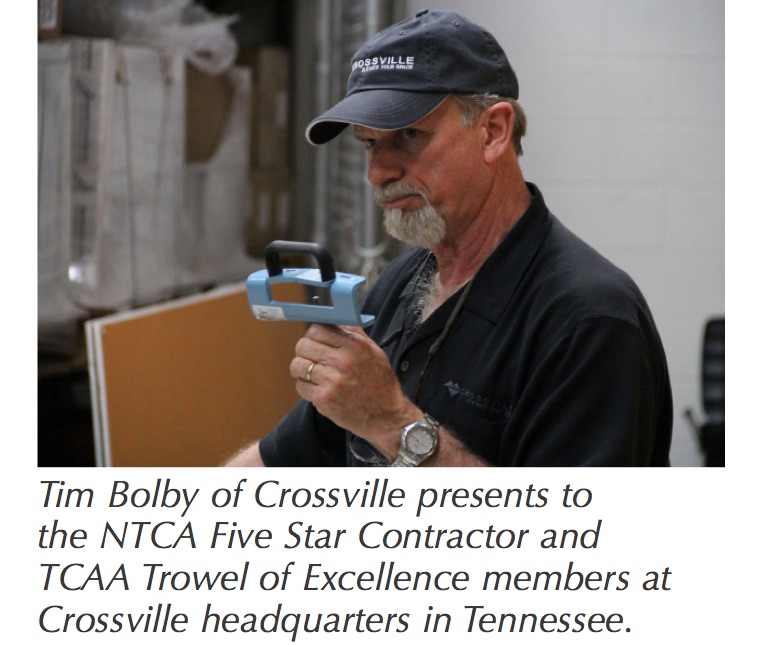 Florim USA's recent announcement to offer a rebate program to Five Star Contractors was met with sincere appreciation by our members. In a short presentation to the NTCA Board of Directors, Stefano Rabaioli, vice-president of sales and marketing, gave an overview of the company's goals and objectives and indicated its intent to grow a stronger presence in the commercial sector of the industry.
In addition to Florim USA, we are finalizing a program sponsorship with Schluter Systems that will be announced in July. These companies join a growing list of supporters who either offer volume rebates or product vouchers to support the investment that contractors make for this recognition.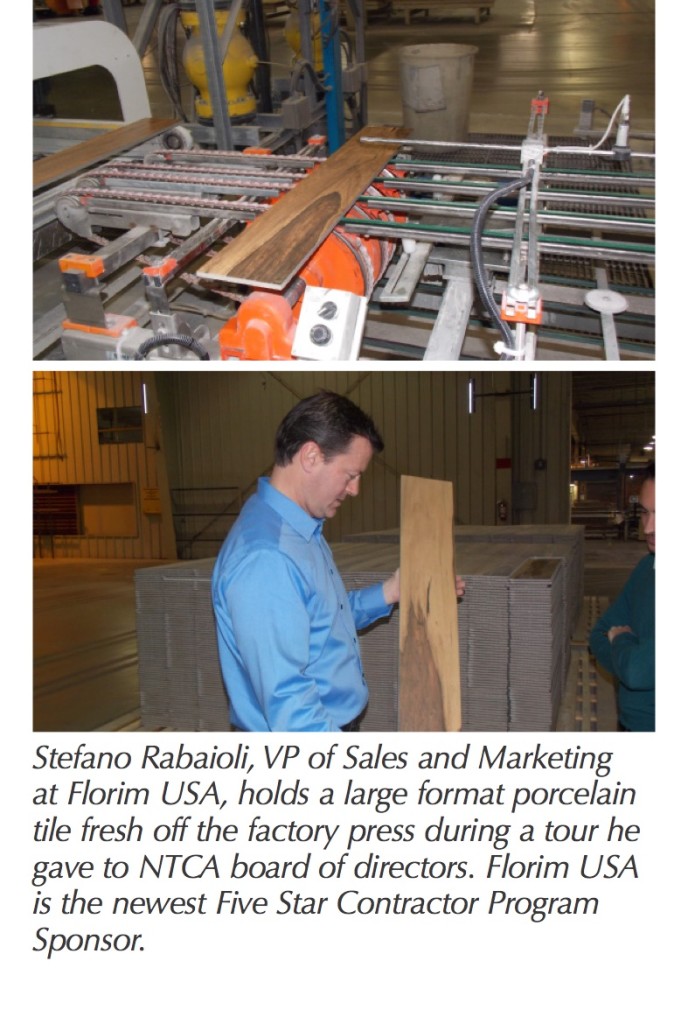 The NTCA Five Star Contractor Program is gaining momentum. NTCA members who feel their company can benefit from this recognition should contact Jim Olson of NTCA at [email protected]