"Do what you love to do and give it your very best. Whether it's business or baseball, or the theater, or any field. If you don't love what you're doing and can't give it your best get out of it. Life is too short. You'll be an old man before you know it."
– Al Lopez
Happy New Year one and all!
We find ourselves with a blank canvas stretching before us – 12 months of 2014. What are your plans to make it a good year, both personally and professionally? With what attitude will you enter the new year?
I'd like to draw your attention to one new section in TileLetter: Qualified Labor. We are dedicating some ink each month to bringing you news about certification events that are upcoming – or notable ones that have been held recently, like the Albuquerque certification for TWENTY local installers held last month.
Now that qualified labor language is in both the TCNA Handbook and is part of Master Spec, it will be easier for the A&D community to recommend qualified labor on their jobs. And why wouldn't they? With highly technical products in the marketplace, like huge porcelain panels, A&D professionals aren't going to want to specify beautiful product and leave its installation to the unskilled. Be sure you are taking full advantage of educational opportunities sponsored by manufacturers and suppliers as well as taking part of the NTCA workshops in your area. We list the upcoming ones in each issue of TileLetter, or you can go to https://tile-assn.com/Training/EducationOpportunities.aspx?mid=41 to see a list of workshops planned for the year, as well as a list of upcoming webinars.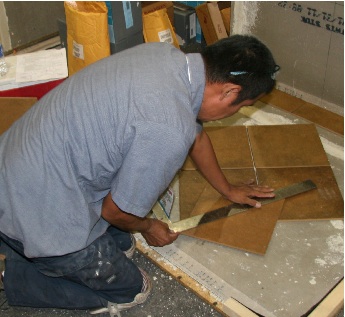 And if the workshops weren't enough value in themselves, this year, NTCA is giving away a free NTCA membership at each workshop and giving you a chance to win a free trip to Coverings in April or Total Solutions Plus in October. We offer 70 workshops this year, so you have a one in 70 chance of winning – you can't beat those odds! If a workshop is in your area, be sure to attend!
Also consider VALIDATING your skill with a Certified Tile Installer evaluation or if you are already a CTI, with ACT – or Advanced Certifications for Tile Installers – credentials. This is a tool that sets you apart from the competition and brands you immediately as the cream of the crop to potential clients. To help prepare you for the tests, this year there are a number of pre-test programs in select cities around the country that give you a sense of what will be asked for and expected on the test to increase your chances of passing. Look for more information in the Qualified Labor section of this issue.
It may only be January, but I have Vegas on my mind – that's the site of the 25th edition of Coverings this year, from April 29-May 2. Those of you in the West who have longed to visit Coverings, now's your chance. It promises to be a winning experience!
It's my privilege and pleasure to begin this new year with you and journey along its winding paths together. Here's to a prosperous, passionate and powerful year for us all!
God bless!
Lesley
[email protected]