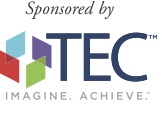 Radiant heat and electric floor warming is one of the fastest growing sectors in the tile industry. More and more products are being introduced that take advantage of NEST or smart phone technology to monitor and operate automated temperature controls, or new mat-and-cable configurations that speed installation while offering a more custom layout and guarding against cracking at the same time.
Electric floor warming systems seem to get simple to install all the time – a far cry from the days of cumbersome hydronic pipe systems. These simple, easy mat-and-cable systems make installation fast and relatively easy.
That being said, there are cautions when installing radiant heat systems that are best heeded to ensure a flawless project. The 2016/2017 NTCA Reference Manual examines Radiant Heat Issue for Tile & Stone Installations in chapter 6: Specialized Installation Procedures, page 134. Presented in a Problem/Cause/Cure format and compiled from decades of field experience, the recommendations in the NTCA Reference Manual help installers prevent problems in the field and give guidelines on managing them if they do occur.
For instance, a few of the scenarios include:
Problem: Excessive tile lippage
Cause: Lack of mortar of self leveling underlayment cement used to encapsulate the radiant heat system
Cure: Securely attach the radiant heat system so it stays flat on floor and cover the system with sufficient mortar or self leveling underlayment cement. 3/4" of dry pack of 3/8" SLU over the system.
Problem: Grout or mortar system is very powdery or weak.
Cause: Provided the grout and mortar system was properly mixed and installed, the main cause would be running the radiant heat system before the cement based products are allowed to cure: a minimum of seven days.  Excessive moisture exposure from below or above may impact mortars or SLUs.
Cure: Make sure all parties involved with the radiant heat system know the system cannot be put in service until the installation products are allowed to cure.
Problem: The thermostat overheats or even melts when the radiant heat system is turned on.
Cause: Damage of this type generally is caused by overloading the circuit, trying to heat too much floor area on one thermostat or running a 120v thermostat on a 240v circuit.
Cure: Make sure the radiant heat system is matched in terms of voltage and sized correctly to the circuit capacity and thermostat. It also could indicate the wire nuts are not sufficiently tightened. Make
sure a licensed electrician makes the final connection.
Problem: The radiant heat system doesn't warm up.
Cause: The main reason for this is a broken or severed heating element.
Cure: Take care to protect the heating system during installation. This problem will require splicing/repairing the heating element.
Problem: The radiant heat system doesn't provide evenly spread or consistent warmth.
Cause: The main reason for this is varying or wrong spacing of cables or tubes. Follow manufacturer's recommendations. Lack of insulation under the heat system may also cause heat-loss or heat-sink in areas of the subfloor. Proper insulation underlayment should be designed by the architect.
Cure: Re-design floor and heat system installation including insulating tile underlayment. This cure will require splicing/repairing the heating element. In case of heat loss due to lack of insulation under the heat system, the application must be redesigned.
The NTCA Reference Manual provides more recommendations for successful radiant heat installations – and successful installations for a range of situations and products. To obtain your copy, visit the Industry Technical Manuals section under the NTCA Store link on the NTCA website, www.tile-assn.com, or enter http://bit.ly/2mqafg9 into your browser.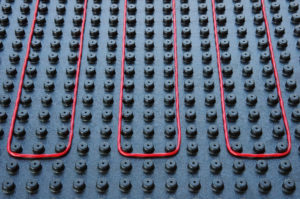 RPM Mats, "the original" heat wire installation mat system, can be used to replace anti-fracture membranes and are designed to ease the installation process for all brands of electric in-floor heat wire with wire spacing at any 1/2″ increments. Made in the USA of recycled materials. www.rpmmats.com