Lofthouse Tile & Mosaic:
Striving for perfection is worth the investment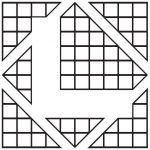 Randy Lofthouse is an independent residential contractor, specializing in waterproof showers featuring glass mosaics and large format porcelain.  Lofthouse Tile & Mosaic, in Bloomington, Ind., (www.LofthouseTile.com) offers comprehensive service relevant to tile, stone and mosaic installation.  This includes demolition, framing, subfloor amendment, sales, design, installation, finish carpentry and associated touch-up necessary to complete the project.
Lofthouse started out in his home state of Texas, first using tile nippers in 2006.  The creation of mosaic flower pots and coffee tables helped cultivate an interest in future tile setting.
"I w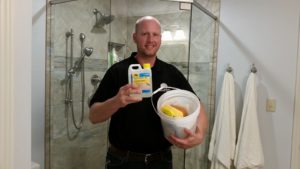 as on a bicycle ride in Fort Worth, Texas, when the window display at Lucasso Stone caught my eye," Lofthouse said. "I walked in at the right time and met the owner; he referred me to an associate who needed a warehouseman.  I eventually gained employment with a natural stone importer in Fort Worth.  I was responsible for unloading freight including fine stone from Pueblo, Mexico."
The team handled slabs of natural stone, crated dimensional stone, and cases of sheet mosaics. This first hand witnessing of Rojo, Noche, and Fiorito Travertine, Emperador Marble, tumbled, hammer brushed, honed and filled, and all of the terminology fascinated Lofthouse.
"From material handling and general warehouseman I eventually cut and produced sample boards to display at showrooms that offered our stone," he continued. "Eventually, I tiled the entryway to the warehouse with an assortment of travertine — our best selling varieties.  The owner was impressed, and compensated me accordingly."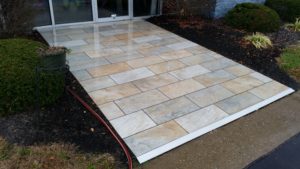 From there, Lofthouse moved into small bathroom flooring remodels, and eventuallyI acquired the correct tools of the trade.  "I remember buying my first wet saw at a pawnshop in Irving, Texas." He said.  "Timing was perfect. A realtor recommended my services to a pilot that contracted me to tile a second story shower within an aircraft hangar in Saginaw, Texas."
Lofthouse didn't have a sophisticated truck to start – just a 1982 El Camino, which he said was very easy to load but not so fuel efficient. The downturn of the building industry in 2007/2008 brought difficult years.  But over time, work picked back up, with Lofthouse considering  each project more exciting than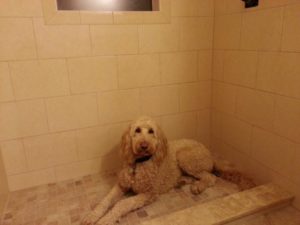 the previous.
Joining NTCA
After struggling in the development of my trade, witnessing the failed installations which are so prevalent, and learning to become a much better negotiator, Lofthouse decided to join the NTCA two years ago.
"I've always felt strongly about strengthening the industry," he said. "Even among other tile setters, my question has always been:  'What are you doing to make conditions better?'  I've learned to use the word 'NO' whenever necessary.  This means turning down projects with insufficient budgets or expectations.  With the support of NTCA knowledge and networking, combined with my solid reputation, homeowners recommend my business naturally.
This approach has worked out well for Lofthouse. "With my experience and confidence, I offer a level of service few are willing to match," he said. " The majority of my clients are homeowners wishing to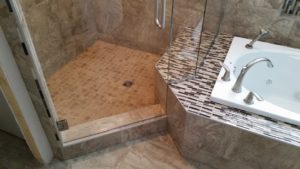 update their existing shower, whether a failed installation or simply out of date.  A very small percentage of my work has been new construction; although I am highly experienced and very much appreciate a fresh canvas.  I continue to reach out to reputable builders in search of establishing a mutually-beneficial relationship.  When I meet that special builder, we will both attain new levels of project efficiency and longevity."
Lofthouse beams with pride in demonstrating professionalism, beginning with the initial quote, procuring materials, staging the project, making timely progress while honoring manufacturers' recommendations, right through grout, caulking, and sealing.  He's happy to educate the homeowner if they are curious as to why he installsl tile and stone in such a manner.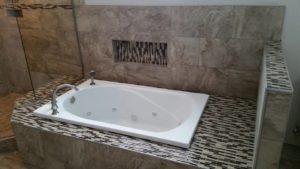 "What a great feeling when you are operating your business correctly; the end product is of museum quality," he said.  "I have developed the habit of 'service after the sale' (which I learned from a respected jeweler).  I follow up with an email describing care and maintenance of the investment, and my warranty is:  'If you should have an issue with your tile, I would like to be the first person you contact.'  Thankfully, when a homeowner calls you back, it's for ADDITIONAL WORK!"
Recently, Lofthouse  purchased a home about two hours north of Evansville Ind., where he had built his solid reputation.  "I feel accomplished, receiving referrals from homeowners to take care of family and friends here in the city of Bloomington, as far as Indianapolis," he said. "Striving for perfection is worth the investment. I truly enjoy my career!"