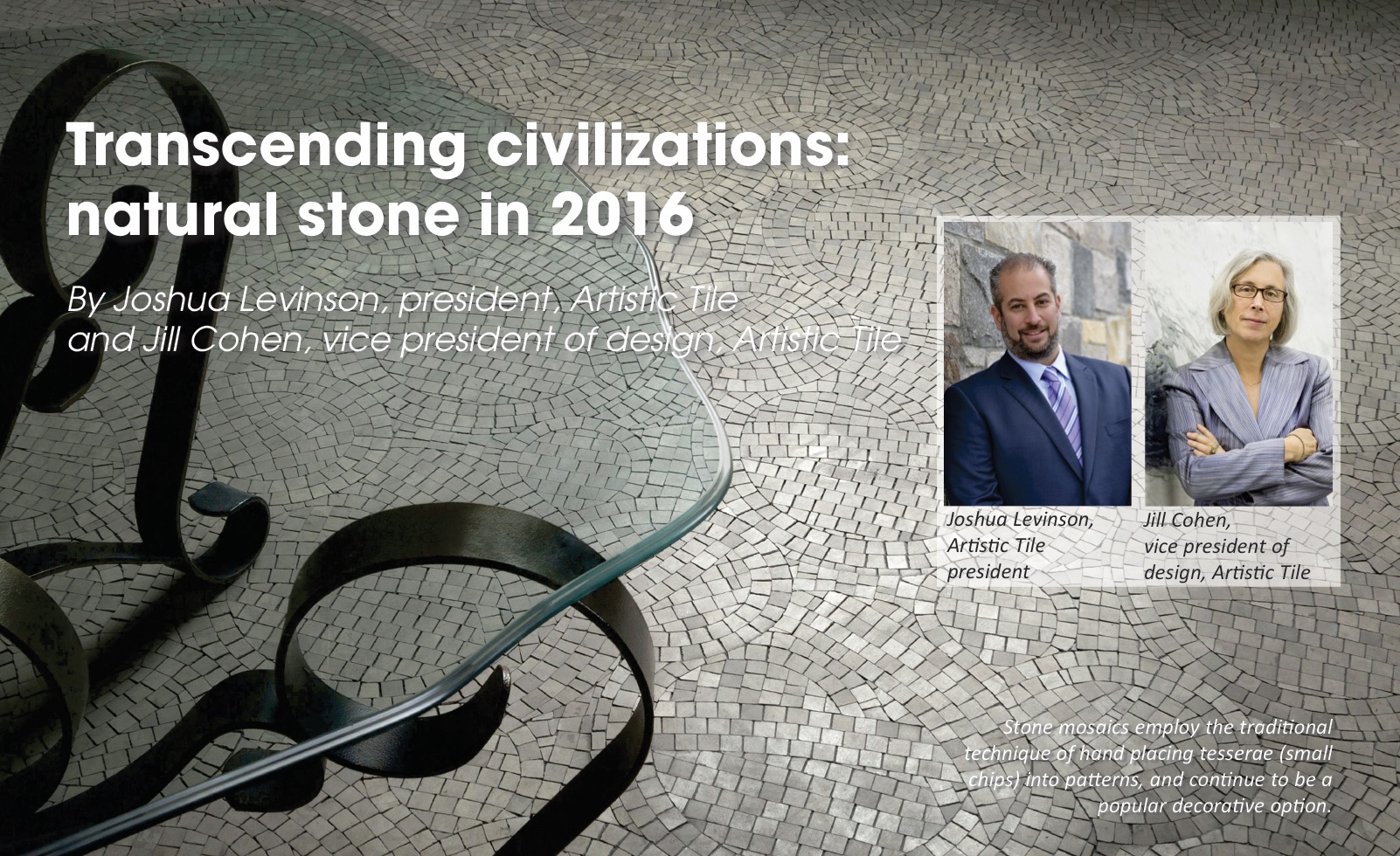 Transcending civilizations, the use of natural stone in architecture and design evokes a strong emotional experience. Valued for its versatility in format and overall aesthetic, natural stone has the power to enchant in iconic or everyday structures. One can bear witness to this impact, metamorphosing through antiquity from the great temples of ancient Greece into towering structures of the Roman Empire. Stone is eternal, with an ability to be refined, reused, reimagined and repurposed.
Stone's characteristics are extremely unique, making it difficult to replicate its look and feel in manmade materials. The veining in many copies may appear authentic, however the color, tone and "hand" of a reproduction typically cannot achieve the nuances of a natural stone product. Specifiers will notice this difference. Combining these natural nuances with the desire for an authentic experience by the end user places natural stone at the top of the list of materials when designing any space. Advances in technology have given us new ways to elaborate, design and install natural stone, allowing endless options only limited by the specifier's imagination.
Lifecycle advantages, monolithic effects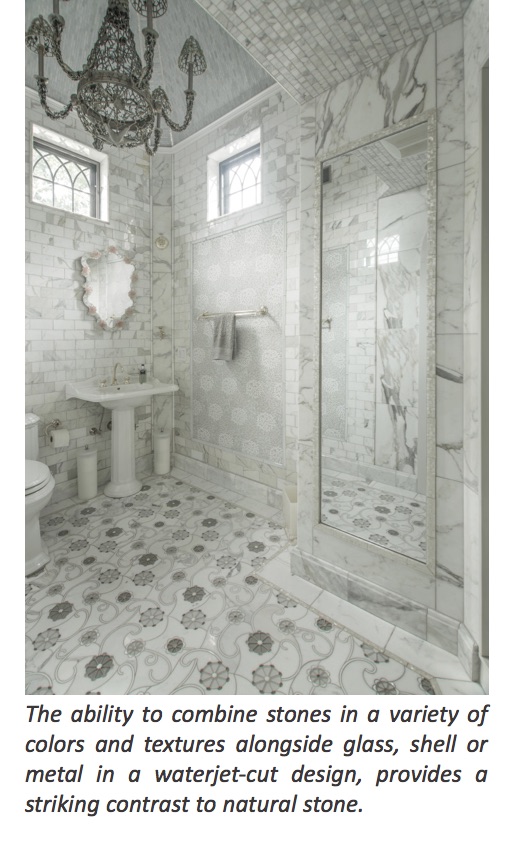 When considering the use of natural stone it is important to analyze the lifecycle cost, a process for evaluating the total financial impact of acquiring, owning and disposing of the product. Due to its extremely long life span, natural stone is a cost-effective material, although initial expenditure may appear higher than other options. As man's oldest known building material, stone's potential for a cradle-to-grave lifecycle can be used to the material's best advantage, supporting its claim as a sustainable building material.
Today, specifiers are insisting on larger and thinner stone slabs and field tile, offering a monolithic effect with fewer grout joints. Tiles measuring 24" x 24" and 18" x 36" by 3/8" thickness are now accessible in many stones. It is possible to acquire cut-to-size panels (from slab) in sizes such as 48" x 48", typically supplied at 3/4" thickness. Large sizes will command a premium, due to lower production output and yield rates from the block.
Thanks to improved manufacturing techniques increasing the array of available stone, full slab wall installations are resurging. This allows for book-matching or diamond-matching of the slabs, featuring the natural grace of an individual stone to define the space it occupies. Book-matching sharply-veined slabs provides a mirror-like reflection from one piece to the next, creating a symmetrical effect radiating from the joint between the slabs. In order to achieve the desired effect with natural stone slab walls, the slab selection and layout process is vigorous. The use of CAD programs allows the designer to accurately mock up the installation.
White marble, grey tones define today's design
Historically, white marble quarried in Italy, Greece, Turkey, Asia, and the United States has been highly sought after for both interior and exterior use. This is no different today, with an abundance of varieties that range from clean, minimal veining, to graphically-veined displays. This plentiful marketplace of white marble allows for a nuanced selection that contributes to today's clean and modern aesthetic. While white remains classic, grey tones are the fashion statement of the moment. Limestone, travertine, marble, quartzite, or soapstone, warm or cool, quiet or veined – the use of grey is the most significant color trend we have seen in recent years.
Quartzite: a good choice for kitchen countertops
In kitchens, the use of marble slabs has also grown dramatically in recent years. Whether honed or polished, clients must be informed of maintenance considerations as well as finish choices that minimize the risk of etching due to acid contact. For clients desiring the look of a marble countertop, but who are not willing to accept surface etching, the use of quartzite has grown in recent years. Although typically not available in tones quite as white as marble, certain varieties of quartzite do offer a light, contemporary color option, as well as grey tones. At the high end of the market, quartzite has largely replaced granites as the stone of choice for kitchen use. When considering a quartzite for a project, it is important to be informed as to its composition and acid sensitivity. Interestingly, despite its popularity in slabs, quartzite tile is still relatively scarce.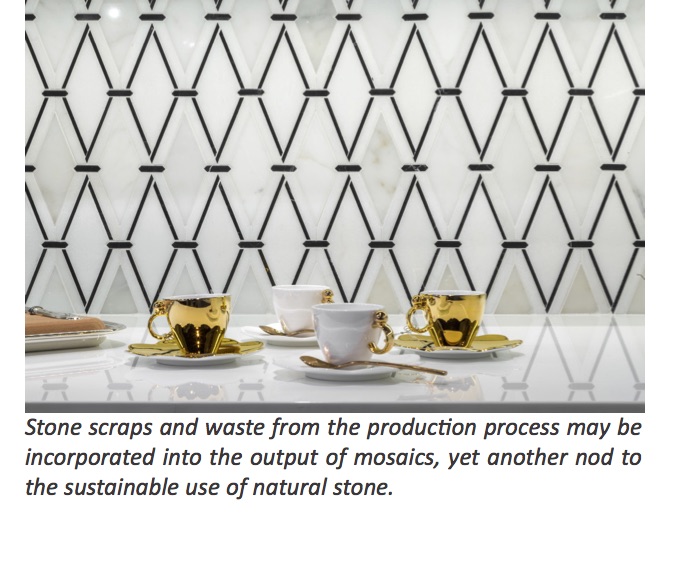 Vein cutting expands design options 
Counterpoint to the plethora of white surfaces, vein-cut material offers strong horizontal striped effects with a graphic contemporary feel. Travertine, once hugely popular in cross-cut varieties, now predominates in horizontal vein cut options. Advancement in production techniques, plus the use of reinforcing resins and fiberglass mesh, has allowed for a larger variety of vein-cut and heavily veined materials to be marketed. This gives the consumer access to a fantastic selection of colors and textures. In all cases, the use of fiberglass mesh backing will impact your setting material choice. When designing with vein-cut stones, consider the veining direction to make a space appear wider or taller, depending on the orientation of the tile. The use of heavily veined stones affords the specifier limitless direction in design, ensuring that the end result is a one-of-a-kind work.
Surface finishes add tactile dimension
Another important factor affecting the look and feel of any project is the escalating demand for textured finishes. Stone textures today are more refined than ever before, with inspiration coming from high-fashion fabrics and other textile surfaces. These new finishes are often lightly brushed, closing down the pores and highlighting the natural color in the stone. This is in sharp contrast to the rough, dusty, gritty textured stone finishes of the past.
Another unique benefit of natural stone is the potential for creating surface effects and dimensionality. When studying natural stone, one must imagine any vein or feature in three dimensions. Hand or machine carving patterns exploit these natural features and provide a dramatic backdrop for walls in any commercial or residential application. Visiting a quarry, seeing stone in-situ and inspecting blocks is the optimum method for appreciating these traits. This characteristic has led to the development of many three-dimensional patterns in natural stone, most too difficult to reproduce in man-made materials, especially in more deeply carved designs.

Stone stars in waterjet patterns
The incorporation of natural stone into waterjet cut patterns has continued to grow in popularity. Inspired by ancient works from places such as the Church of San Marco in Venice or the Taj Mahal in India, today's stone waterjet patterns offer the sophisticated union of art and technology. The ability to combine stones in a variety of colors and textures alongside glass, shell or metal, provides a striking contrast to natural stone. Furthermore, a seamless interlock within the overall pattern creates the sophisticated effect of an endless design. Bold geometric forms and elegant curves are at the forefront of current waterjet design.
Stone mosaics: a timeless design option
Stone mosaics employ the traditional technique of hand placing tesserae (small chips) into patterns, and continue to be a popular decorative option. Stone scraps and waste from the production process may be incorporated into the output of mosaics, yet another nod to the sustainable use of natural stone. Mosaic designs often derive their inspiration from ancient sources, adapting the pattern to meet modern design trends. Designers and specifiers often utilize this technique, incorporating new stone colors, finishes or waterjet cut shapes to give a more contemporary look and feel.
Stone: beauty from nature that transcends time
Natural stone use goes beyond trends and is part of the essential fabric of wherever humankind has chosen to live and build. Advances in technology, both in the processing and designing of natural stone, have allowed a multitude of new ideas to evolve. Informed selection and installation means there is virtually no limit to how natural stone can be beautifully incorporated into any space that can be imagined. Nothing is more authentic than to live with the most basic material from nature, the geology below our feet.