TEC® provides multiple solutions for headquarters of renowned medical institute
By Tom Plaskota, TEC® technical support manager
The Regenstrief Institute in Indianapolis, Ind., is an internationally-renowned healthcare research organization – itself a model for research, efficiency and innovation – that recently benefited from those same attributes, courtesy of numerous TEC® tile installation solutions. Altogether, a total of 7,100 sq. ft. of TEC® products were used throughout various spaces for this project.
Known for developing better pathways to wellness, Regenstrief built a four-story, 80,000 sq. ft. building as the latest addition to its already impressive campus that serves as the institute's headquarters. The new building is now home to the institute's global research facility, with 165 staff members and a large number of allied scientists.
Regenstrief prides itself on improving the quality of care, increasing the efficiency of healthcare delivery, preventing medical errors, and enhancing patient safety. But those ideals could have been put at risk when serious issues arose with some of the new building's floors during the early phase of construction.
As work was just underway, the contractor, Indianapolis-based Certified Floorcovering Services, Inc. – a NTCA member – discovered that more than 3,000 sq. ft. of the concrete slab in the foyer and bathroom had a high relative humidity (RH) of 96. Moisture mitigation was the only way to solve the problem on the burnished, contaminated concrete, and TEC® moisture mitigation systems were the solution.
How MVER may affect tile installations
Subsurface moisture has always been a potential Achilles' heel of floor covering installations, but excessive moisture vapor emission rates (MVER) recently have become occasional problems with ceramic and natural stone tile installations.
Today's tiles – not as porous as they once were – are now often bonded directly to concrete, which has been covered with a waterproof and anti-fracture membrane, making installations more convenient and successful, but less breathable. On top of that, today's fast-paced construction timelines mean installations may take place before concrete moisture levels are completely stabilized.
Innovative and efficient
Certified Floorcovering Services, Inc. decided to use TEC® LiquiDam EZ™ moisture vapor barrier to moisture mitigate 3,000 sq. ft. of the floors. Another 450 sq. ft. were mitigated with the original TEC® LiquiDam™. Both formulas, which can be directly applied onto green concrete up to 100% RH and may not require shotblasting on clean, sound surfaces, helped achieve a high level of moisture control and allowed the contractors to quickly move on with the installation.
TEC LiquiDam EZ, which launched January 2016, is the industry's first single-component, liquid-based moisture vapor barrier. It protects flooring and tile systems from damage caused by severe moisture and alkalinity, and can be hand-stirred and then directly applied. The single-component formula dries in a quick four to five hours, allowing for same-day flooring installation.
"TEC LiquiDam EZ easily saves 30-40% on labor," said Brian Estes of Certified Floorcovering Services, Inc. "We were able to reduce our application crew by one person due to the ease of the new installation process required by this non-epoxy product."
LiquiDam EZ impressed the contractors with its resealable packaging – a bonus when reusing product for next-day jobs. LiquiDam EZ can be resealed and stored up to six months, and eliminates waste and special handling.
Since the Regenstrief Institute is closely associated with the busy Indiana University School of Medicine and Health and the Hospital Corporation of Marion County, the job needed to be completed properly and in a timely fashion. When moisture problems are not addressed properly pre-installation, all sorts of potential issues may arise – particularly problematic for healthcare facilities that require sterile environments. Moisture control is one of the most crucial steps to carry out on the floor installation checklist. Yet this aspect of the process is all too often overlooked.
Other TEC tile installation solutions for the Regenstrief project
Within the new Regenstrief building, TEC quality product solutions extended well beyond moisture mitigation. Four flights of steel stairs in the Regenstrief headquarters were covered in 12"x 24" large-format tiles – a challenge since steel is a difficult-to-bond-to substrate for tile installations. TEC Multipurpose Primer created a quick fix, directly bonding the tiles to 120 large steel stairs. TEC Ultimate Large Tile Mortar was used for its non-slump and non-slip formula for heavy tile and stone applications.
Additional TEC products relied on during building construction include: TEC HydraFlex™ Waterproofing Crack Isolation Membrane, TEC PerfectFinish™ Skimcoat, and TEC Power Grout in DeLorean Gray. TEC products were used throughout the headquarters in the hallways, bathrooms, and stairwells.
Distributor Louisville Tile provided the 12" x 24" large-format tiles from Crossville, which were a sleek gray with subtle accents. Designed by Schmidt Associates of Indianapolis, construction started in October 2014 and was completed in November 2015.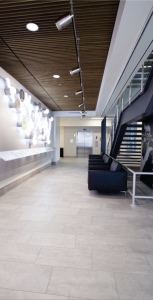 The nonprofit medical research organization is dedicated to improving the quality, cost, and outcome of healthcare around the world. Regenstrief investigators work closely with nearby schools and hospitals – Indiana University's School of Medicine, Sidney and Lois Eskenazi Hospital, the Roudebush VA Medical Center, Riley Hospital for Children at IU Health and IU Health University Hospital.
For more information about TEC, visit www.tecspecialty.com.
The TEC® brand is offered by H.B. Fuller Construction Products Inc., a leading provider of technologically advanced construction materials and solutions to the commercial, industrial and residential construction industry. Named "one of the world's most ethical companies" by Ethisphere in 2013, and headquartered in Aurora, IL, the company's recognized and trusted brands – TEC®, CHAPCO®, Grout Boost®, ProSpec®, Foster®, and others – are available through an extensive network of distributors and dealers, as well as home improvement retailers. For more information, visit www.hbfuller-cp.com.