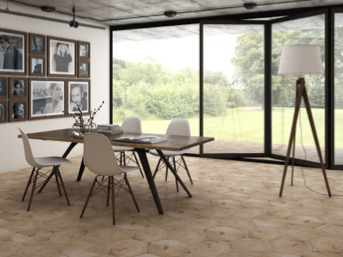 Cevisama showcases a range of trends to international audience
By Lesley Goddin
Cevisama was an especially important international event for NTCA this year, as NTCA executive director Bart Bettiga and NTCA president James Woelfel were both invited to participate in the Qualicer '16 conference taking place in Castellon, Spain, right before the show. The trip marked the first time a contractor had been invited to present during the conference – and it helped to open up a dialogue between Proalso – Spain's counterpart to NTCA – and NTCA to foster knowledge and international collaboration as regards ceramic and porcelain tile installation. For more information, read Chris Woelfel's story in this month's Business Tip on page 26 and consult past issues of TileLetter for a more detailed chronicle of the events: March 2016, page 72: "NTCA meets strategic objectives at Qualicer 16;" Coverings 2016, page 10: President's Letter.
In addition to these groundbreaking events, Cevisama – which takes place in Valencia, Spain, each year – offered up a dynamic range of new tile products to answer and establish trends within the world of fashion and design in tile. Here is a range of new trends seen at the show:
Main trends seen in ceramic tiles in recent years will continue in 2016, with updates to meet the new demands of interior design today. These include innovative formats in terms of size and thicknesses, more sober basic colors, combinations of rustic and elegant styles, a mix of designs and revived classics – a collection of trends that range from rustic to refined.
Single colors. Color can create continuity between walls and floors, creating a uniform backdrop against which furniture or decorative items can stand out. Sober, neutral tiles in dark or stone colors often generally come in matte finishes with subtle shade variation to evoke nature and the passage of time.
Subtle designs. Taking a cue from single-colored tiles, décors have been developed with subtle designs and slight contrasts that interrupt the uniformity of walls and floors. They feature faded, randomly arranged finer details with no apparent order or criteria, adding a harmonious sense of rhythm and highly personal touch.
Interpreting nature. These ceramic tiles faithfully reproduce the beauty of nature, sometimes with modern or artistic license such as in the case of more contemporary looking wood-effect collections. Not-found-in-nature colors add interest, combined with shade variation and different designs that create a lived-in feel, with all the advantages of long-lasting ceramic tiles.
Endless different designs. Any visual you can imagine, you can create in ceramic tiles. This year, delicate floral patterns will again feature alongside abstract models and geometrical motifs.
Mosaics and more mosaics. Visual rhythm is created with small mosaic tiles in varying shades of the same glossy or matte color.
Mix & Match. This trend is still a must in 2016. Traditional motifs, in gentle delicate colors, are mixed with different materials, textures, colors, formats, patterns etc.
Unique Tiles. Instead of just being laid in rows, ceramic wall and floor tiles are now being used in designs that transform them into a star feature of the rooms they occupy in new and different ways. This can be angled layouts that offer a fresh perspective to traditional straight layouts; oversized and unusual formats that when combined in different colors can create 3D effects and optical illusions; sensory tiles that offer novel texturing like pleats, folds, carvings, bas relief or other effects that create an interplay with light and position of the viewer. Very delicate floral or plant patterns, perhaps also in gold to evoke the idea of jewelry bring interest, delicacy and a glint of metal.
Speaking of metal, a trend is the use of metal coating through physical vapor deposition (PVD) technology. These tiles are delicately coated with a layer of titanium nanoparticles, resulting in beautiful, functional, durable tiles. Digital printing techniques also continue to evolve to allow the creation of hyper-realistic designs, or patterned tiles combined in such a way that it is hard to find two identical models. By randomly mixing tiles with photographic designs, settings can be given a strong sense of personality.
In addition to these trends, attention and playfulness with tile shape are lending new effects to floors and walls, inside and out. For instance, manufacturers are exploring new uses of hexagonal tiles, mixing them with traditional shapes; integrating shades of grey, veined patterns, earthy colors, shade variation and "worn" effects, often with subtle polish or natural-looking glazes.
Square and rectangular tiles in a range of sizes are always popular, and are being used with traditional, vintage motifs, often with handcrafted looks in soft colors like whites, blues, greens and greys that evoke a sense of simplicity. Vintage designs are also updated with contemporary spins.
Tempus fugit is a continuing trend that focuses on the passage of time, creating sophisticated contemporary compositions with classical styling like black and white, symmetry, octagonal tiles, baroque decorative touches, and developing a sense of visual rhythm through tile arrangement.
Tile continues to evoke or incorporate stone and stone looks for timeless sophistication, often utilizing large-format, neutral colors of grey, beige and cream to blend harmoniously with other decorative features. Matte or mirror-like polishes can be mixed, zigzagged or combined in different shades of the same color for interest and dynamic effect.
Cervisama 17 will take place in Valencia February 20-24, 2017. Visit http://cevisama.feriavalencia.com/en/ for more information.