Since 1983, Arizona Phoenix Children's Hospital has provided hope, healing and best-in-class healthcare for young patients and their families. From its humble beginnings, Arizona Phoenix Children's has grown to become a leading pediatric hospital renowned for a culture of excellence that is woven throughout the entire organization, from medical care and education to research and even the facility's overall design.
A bold vision of building upon the hospital's national reputation for the highest quality pediatric care inspired the recent $588 million, multi-year expansion to the existing structure. With the expansion, Arizona Phoenix Children's Hospital is now a 775,000-square-foot, 11-story tower facility that is one of the largest pediatric campuses in the country. Through innovative products from industry-leading brands like Daltile, coupled with thoughtful design choices based on patient and guest experiences, Arizona Phoenix Children's is setting a new standard in pediatric healthcare facility design.
While cost, maintenance, code requirements and durability continue to play crucial roles in healthcare building material selection, many facilities are placing more emphasis on thoughtful design choices that positively enhance patient care and the overall experience for guests. This was the case for Arizona Phoenix Children's Hospital. The design team from global architecture firm, HKS Architects, was challenged to enhance the existing campus and improve upon its planning and flexibility, all while staying true to the facility's vision of providing children's care in an inspiring and comfortable atmosphere. For the tile installation, HKS worked with Kitchell Contractors Inc., with Desert Mountain Tile & Marble as the installing subcontractor.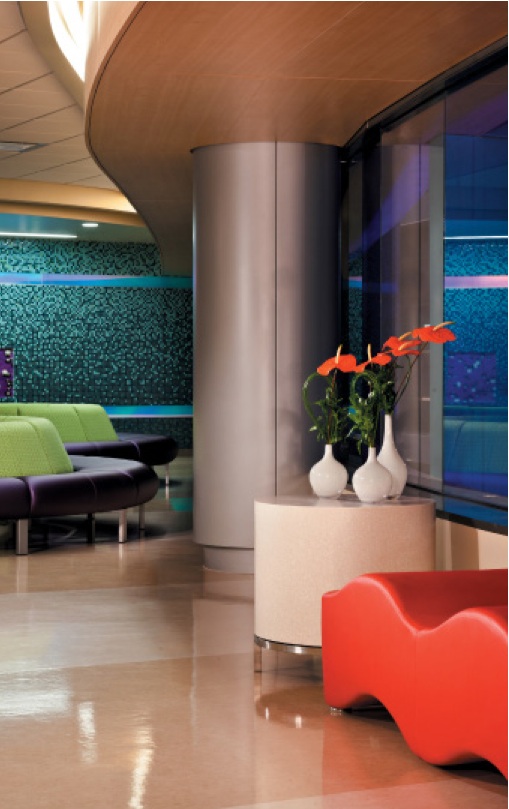 According to Iris Dates, RID, IIDA, EDAC, LEED AP, vice president, HKS, the overall design concept for the campus was to create a welcoming oasis that provided shade and healing, while emulating the natural beauty of the surrounding mountains and desert. The team based their renovation design on the theme of a desert flower blooming at night. As a result, HKS specified a vibrant selection of Daltile products to help create a welcoming distraction through color and movement for children and their families going to the hospital to receive medical care.
The use of tile continues to reign as a favored design staple in the healthcare industry because of its performance characteristics, design versatility, color options and beauty. Arizona Phoenix Children's Hospital features several Daltile product lines, including an expansive palette of colors from the popular Semi-Gloss™ glazed wall tile collection. In total, 450,000 1" square glass and ceramic Daltile tiles were used in this project. Other Daltile products used throughout the renovation include, Glass Mosaics™, Monticito™ ColorBody™ Porcelain and Concrete Connection™ Glazed Porcelain. These lines are most prominent in the kitchen cafeteria and all facility restrooms.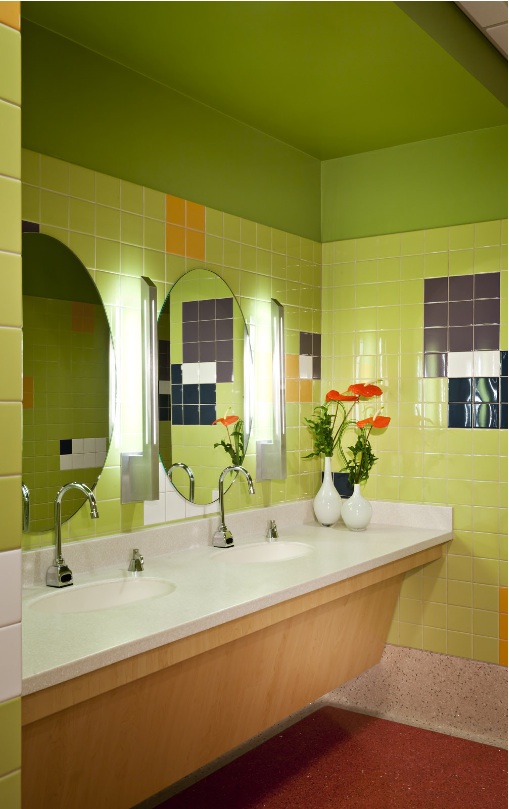 Consistency in manufacturing = predictable results
"Daltile made the entire tile installation process proceed effortlessly," said Michael Wolfe, Kitchell's principal-in-charge/project director on the project. "First of all, the product line is massive, offering unlimited options, and the company's manufacturing process yields an incredibly high rate of consistency. With Daltile, you know exactly how the tiles will perform while installing, and you can anticipate exactly what the end result will be."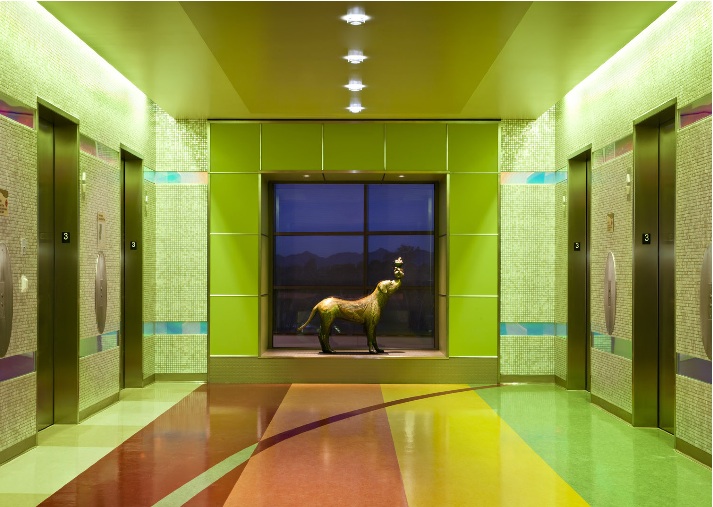 Arizona Phoenix Children's Hospital is devoted to providing care and comfort for the entire family, not just the patient, so HSK took special care to ensure that spaces like extended-stay rooms, gathering areas and public corridors felt warm and comfortable, as if the spaces are an extension of their own home. "These types of design choices allow patients to feel more comfortable and out of the mindset of a clinical environment," said Lori Kirk-Rolley, vice president, brand marketing, Dal-Tile.
The planning of the campus is based on a north/south and east/west axis to promote logical wayfinding, or ease of navigation. In addition to its performance and design qualities, adding decorative patterns through flooring has been known to aid in healthcare wayfinding – the movement of patients and guests in a desired direction throughout the campus. For Arizona Phoenix Children's, distinct color palettes, animal sculptures and wall murals also help guide the way. These elements serve a functional purpose, but again provide positive distractions for patients and guests.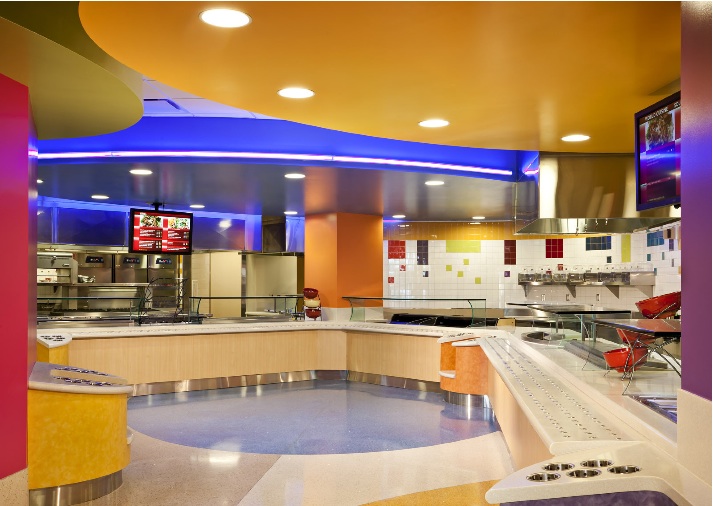 Sustainable strategies
In addition to prioritizing patient care and guest experiences, the design team also implemented sustainable strategies to lower the carbon footprint of the facility, including materials selection. Ceramic tile is one of the most environmentally-friendly floor/wall covering products due to its extremely long life (60+ years), zero VOC content/emissions and extremely low maintenance requirements. To date, all products manufactured by Daltile contain some level of recycled-materials content, including those specified for Arizona Phoenix Children's Hospital.
Like most healthcare facilities, the first priority is to ensure that it is supporting the care and treatment of patients. Beyond that, it's all about the experience patients are having, and the renovation of Arizona Phoenix Children's Hospital has set the bar high. Since opening in January 2011, patient, family and staff satisfaction rates have shot up, a testament to the thoughtful design choices that positively enhance the guest experience.