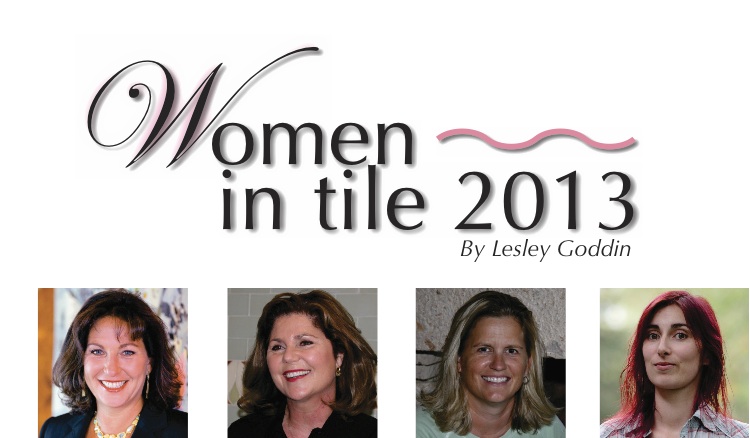 According to the Department of Labor's Bureau of Labor Statistics, 2012 saw a 1% drop in construction workers overall from 9,039,000 to 8,964,000. The percentage of women also took a slight dive to 9% of the total – 806,760 women in total – compared to 9.2% in 2011.
However, of the 150,000 carpet, floor and tile installers and finishers in 2012, 2.2% were women – that's up from .5% in 2011 – a significant increase in distaff installers. Female helpers in construction dropped from 8% in 2011 to 4.5% in 2012, perhaps reflecting more women taking on primary roles as installers and construction workers.
This issue of TileLetter looks at four women and their paths through the tile industry. Nancy Epstein, based in Secaucus, N.J., is CEO of Artistic Tile (www.artistictile.com), an importer, distributor and manufacturer of luxury tile and stone products, with a 110,000-square-foot manufacturing facility,  nine U.S. showrooms and 150 dealers worldwide. Michelle Griffoul, from Buellton, Calif. (www.michellegriffoul.com), has been creating stunning handmade tile for 35 years. Our two tile installers are Michele Kalec, president of Picasso Tile & Stonework in Tempe, Ariz. (www.picassotile.com), and Carole Loquet a.k.a. La Caroleuse (www.lacaroleuse.com) who is a tile installer, trained in France, who now practices the trade in Montreal, Quebec Canada.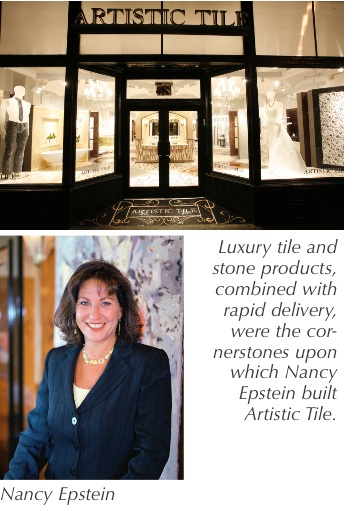 Epstein: making tile artistic
Nancy Epstein knew within three months of opening a tile showroom in 1993 that "developing quick-ship, in-stock luxury products would be instrumental to the success of the business," she said. "The unfolding trends of the new shelter magazines popping up, extended European travel among Americans, and consumers working without the help of an interior designer all led to the increase of requests for rapid deliveries." This knowledge led to the legendary rise of the luxury supply house that Artistic Tile is today.
Epstein was armed with a B.S. degree in business from Syracuse University, design classes at Parsons School of Design in New York City, and retail experience in furniture from her work with a luxury furniture importer, and exposure to retail from her father's floor covering and furniture retail stores. "I took the retail knowledge I had absorbed and a personal love for luxury and combined them into one business," she said.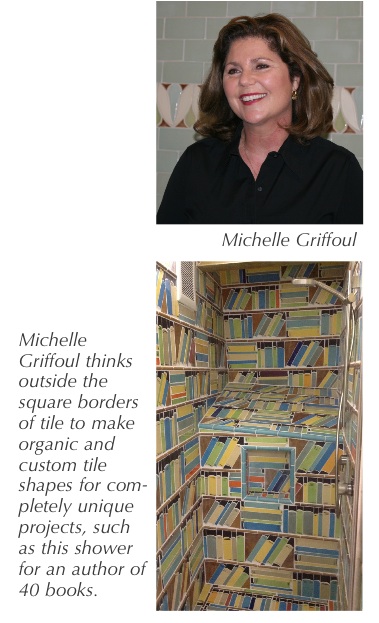 Griffoul: from sculpture to tile
Award-winning handmade tile manufacturer and artist, Michelle Griffoul, started making her first site-specific tile projects about 1980. In 1989 she started selling to Ann Sacks and was included in her first catalog when Sacks, impressed by Griffoul's ceramic sculpture and furniture, asked Griffoul to design a line. Griffoul snapped up the opportunity as steady income to support her two children in her work as a ceramic artist. "I could still be a very creative artist and make functional art as floors, walls, pools, kitchens, bathrooms," she said.
Griffoul's art perspective allowed her to think outside the square – shape of tile – that is. "I was used to being different. When I started making tiles in the shape of squiggles, leaves, fish, etc. many people told me that I cannot make tiles the way I made them as far as design. Those comments gave me more energy to prove them wrong and be really successful at it."
Griffoul brought her Masters of Fine Arts into her craft, but learned about the tile industry by "listening and participating in it," she said. "By being a member of the Tile Council of North America I learned about specifications and expectations from customers. Michael Byrne taught me about installation," she added.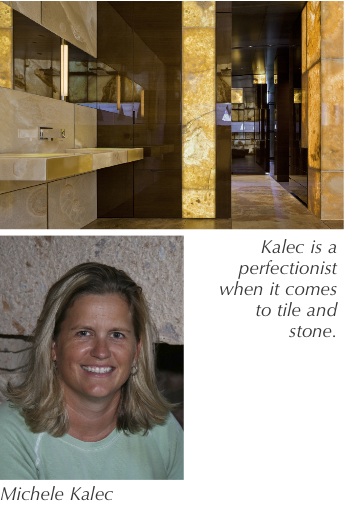 Kalec: choreographing beautiful tile and stone work
Michele Kalec – whose Picasso Tile & Stonework won the 2012 Contractor of the Year Recipient & Fabricator of the Year award from the Ceramic Tile & Stone Association of Arizona, and is a 2013 MIA Residential Interior/Exterior Pinnacle Award of Excellence winner – has been making art and building things since she was a child, learning how to handle tools from her woodworker dad. "With tile and stone, I combined my love of creating something with my hands into an art form. I've been hooked ever since," she said.
Kalec joined the tile industry in 1988, incorporating as Picasso Tile & Design, Inc. in 1994. The company added a fabrication division in 1996 and has since been doing business as Picasso Tile & Stonework.
"With a bachelor's degree in both sociology and choreography, I used what I had: the ability to listen, learn and make all the parts of the industry move in a beautiful dance," she added. "Once I got my feet wet, I researched everything I could find online, in books and spoke with distributors and manufacturers about available seminars and training venues. My best asset was the fact that I am a perfectionist when it comes to tile and stone. I tried to leave no stone unturned in the learning process."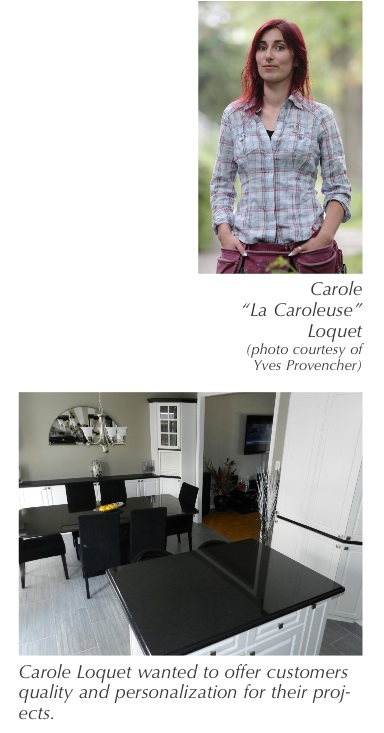 La Caroleuse: dedicated and passionate
French-born Carole Loquet has been a tile setter since 2002, originally studying to become a social worker. While she was demolishing the outdated bathroom in an old house she was renovating  with her boyfriend, she realized she wanted to become a tile setter. She chose training with Les Compagnons du Tour de France, even though she faced a lot of opposition from women in the organization's administration who felt tile setting was a man's job. She prevailed through the year of intensive training with work placements throughout France, getting work immediately after graduation with various companies.
In 2005 she created La Caroleuse in France to "do my work in accordance with the rules of art and my values," she explained. "I wanted to offer customers quality and personalization of their work." After five years, she and her boyfriend immigrated to Canada, where she worked on mosaic murals for a year. After becoming licensed in Quebec and working on a large hotel job, she again felt the passion to start La Caroleuse in Montreal.
"La Caroleuse" is a play on words: The word for tile setter in French is carreleur for men and carreleuse for women, so she made a pun using her name "Carole." Suprisingly, the word "caroleuse" is now known in France and other countries as the name for her craft!
Building credibility
Almost universally, at one time in their careers, the women in our story were not taken seriously, but over time, their business or technical prowess woke business associates up to their competency. "It wasn't until I placed container orders that they would take me seriously," Epstein said.
"There is a learning curve of acceptance in this business as in most construction industries," Griffoul said. She enjoyed greater acceptance once she won the Spectrum Design Awards Grand Prize.
"On many job sites I have been treated as if I didn't know anything and should not even be there," Griffoul said. "That was before they knew that I designed and manufactured the project they were installing. I never let anyone on the job site intimidate me, but that's easier now than when I started 35 years ago."
Kalec, who said she hopes "the undertone of 'the boys club'" is obsolete by the time her daughter takes over the business, has seen a lot of acceptance and improvement on the jobsite, where "women are filling lots of different construction positions and have added a value and perspective that didn't exist before. I think that competition in the field has provided an opportunity for new creative ideas and improvements in efficiency," she said.
Peers and bastions of the tile industry have generated a lot of support, as have family members. Epstein's husband constantly encouraged her – and then Epstein herself went on to be an inspiration and support for Michelle Griffoul, as were Michael Byrne, Bob Daniels, and NTCA's own Bart Bettiga.
A local licensed contractor taught Kalec how to do her first Roman tub, just for the asking. "I will never forget that kindness," she said. Fellow women in advertising, the A&D community and in related construction fields bolstered her confidence and knowledge as well.
Loquet gained knowledge and support from a visit to the Porcelanosa factory and continues to get feedback from professional tile setters around the world through her website and professional Facebook page. She's also received a lot of support from U.S. tile setters.
"I never imagined such support from my peers," she said. "I am honored." In fact, it was a group of tile setters on a Facebook group that first introduced me to Loquet and praised her professionalism and setting skills.
The bottom line
The bottom line is that our group of professional women endorses tile setting for those who love the building industry, are competitive, strong and not easily intimidated, and have passion and fresh ideas.  "Never strive to keep up with the competition, strive to outpace them," Epstein said.
Education is a common thread from all our luminaries in this story. Said Griffoul, "Educate yourself so you are the smartest person in the room or job site. Know design and the technology of manufacturing and installation. They are all integrated in a good job application. Learn from others around you and be open."
"Do what you love and the money will follow," said Kalec. "Know your passion and know your trade…It can be very rewarding to see projects come to fruition."
Loquet summed it up, saying "This is an industry with numerous possibilities, changing where you learn every day. The tiles are endless, and manufactured throughout the world. It's just exciting!"