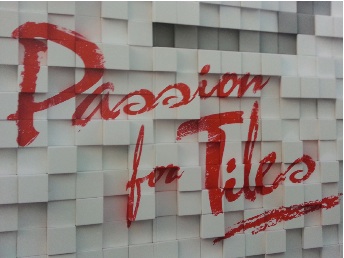 For those of you who are not convinced that we have come a long way, baby, in the tile industry, let me offer this photo: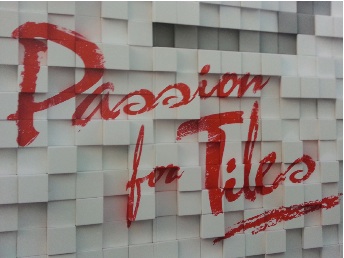 Awesome multi-dimensional tiles, right? Actually, no. This was a totally flat wall at the Vidres stand at the Cersaie show in Bologna, Italy in September. I was on my way to Tiling Town, where live tile installation demonstrations were scheduled like those on our Live Demonstration Stage at Coverings. But this booth – and others from digital equipment and pigment suppliers – stopped me in my tracks with vibrant color, and optical illusions of depth and three-dimensionality. WOW!
Digital printing has literally changed the face of tile. Rotocolor was a stunning development for its day, but modern digital printing technology can create the look of ANYTHING, with the illusion of texture and depth that we've never witnessed before. Marry this with the new slim porcelain panels that are being produced today (and that I got to see manufactured at Lea Ceramiche during the visit to Italy) and the possibilities are endless. We'll explore a few of those possibilities in our December issue, but I just wanted to whet your appetite for what's coming.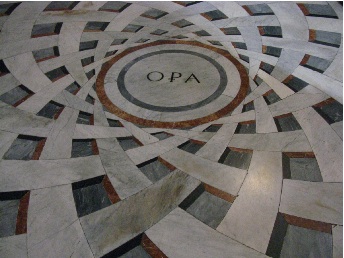 While I'm at it – and we're talking about optical illusions – let me offer another photo:
This is a sort of antithesis of digital printing. It's solid stone designed, cut, and installed in a dazzling pattern by skilled craftsmen of old in the floor of the breathtaking Duomo del Santa Maria del Fiore in Florence. The technology here is superb design, cutting, placement and installation that has lasted since the 16th century (with some restoration after the 1966 flood of the Arno river in Florence). Longevity is a key part of our trade – the work you do, when done well, will last for eons. And it's something you can be proud of.
As for THIS issue, we have some great comments from John Bridge Forum members who attended the recent Schluter training in Reno, and the announcement of the first eight installers to gain Advanced Certification for Tile Installers at the exam held at Coverings. See some wearable tile fashions in the NTCA News story about the Handmade Tile Association Festival in September, and examine tile patterns that might be a boon to your next project in our story by Corintha Runge, Daltile Design Studio manager. We have a special Business Spotlight by Custom Building Products' Dave DeBear that is a cautionary tale about assuming too much on your project bid. Our Tech Talk feature by TEC's Tom Plaskota tackles thin tile installation, while our Five Star Contractor spotlight shines on Lambert Tile & Stone in Eagle, Colo.
One more thing I want to mention – before you settle in for the Thanksgiving holiday this month, drop in on the free webinar sponsored by NTCA on November 20. Custom's Mike Micalizzi will present "Grout in Tile Specifications – What is the Real Cost of Grout?" Visit www.tile-assn.com and click on Training & Education/Education Opportunities to register.
Have a great Thanksgiving, counting your blessings at work, at home and with family and friends. God bless!
– Lesley