Cutting Edge Tile meets client needs in a "Flash!"
Carl "The Flash" Leonard is a third generation tile setter, and owner of Cutting Edge Tile
(www.cuttingedgetilenj.com) in Florence, N.J. Leonard explains that he got his nickname because "I'm primarily known for my speed and quick turnaround of projects."
Leonard has done commercial, residential, remodel work, new construction and custom work including gauged porcelain tile panels (GPTP), exterior pedestal tile installation and bonded large-format tile on exteriors. 
Cutting Edge Tile prides itself on attention to details and offering new and exciting ideas helps it stay ahead of its competition and set the company apart. "I pride myself on being a well-rounded installer in my field of expertise," Leonard said. "Listening to the client and understanding their needs is very important! I am also certified to install and use a variety of products to aid in providing the best installation available." The company motto is "Quality YOU can afford."
Leonard joined NTCA in 2015, primarily for the education membership offered. "I love to learn new installation techniques and correct practices," he said. "Also joining allowed me to be in contact with a network of tile professionals that I can reach out to for help or just advice.
"The greatest reward of being an NTCA member would be all the knowledge I've gained through educational programs and events," The Flash added. "This has helped me and my business to grow tremendously. The education and knowledge gave me the confidence to do tile installations properly. It also puts my clients at ease knowing that I've invested in my company to ensure proper installation on their projects."
Leonard took his Certified Tile Installer (CTI) test in Cherry Hill, N.J., in 2017 with nine other installers, and successfully passed to become CTI #1393. He makes it a point to tell potential clients all about his certification. "It is the determining factor in them choosing me over others in most cases," he said.
Leonard said, "being a professional tile installer brings a lot of satisfaction, knowing that my clients will be using something that I built and will last a lifetime!"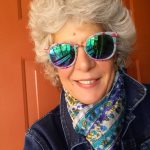 Editor for TileLetter, TileLetter Coverings, TREND and TECH publications.
Lesley Goddin has been writing and journaling since her first diary at age 11, and drawing and sketching since she could hold a pencil. Her penchant for observation led to her becoming a paid professional as a trade journalist, publicist and is editor for TileLetter. She has also written for Guideposts, Walls, Windows and Floors, Floor Covering Weekly, and Low Carb Energy.