OCTOBER 2017: MEMBER SPOTLIGHT – Surfaces 15
Sponsored by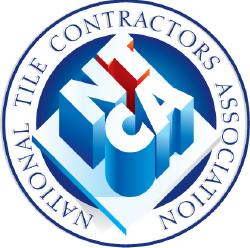 Partnership parlays passion and change for good into benefits for business and the industry
Greg Twarog and Edwardo Martinez formed the partnership Surfaces15 (www.facebook.com/surfaces15) three years ago with the concept of creating a diverse clientele and body of completed work. The company has held true to that goal, with an average of 25 projects going at all times, varying in size and job scope. By utilizing the vast talents of its teams, Surfaces15 (S15) – located in Downers Grove, Ill. – can tackle projects ranging from small remodeling repairs like replacing sealant on an old tub back to full scale remodeling projects refinishing basements, kitchens and baths or small to medium scale commercial build outs.
The company focuses on detailed, custom jobs, but also undertakes install production type projects on occasion, never sacrificing quality. S15 utilizes CTEF Certifi ed Tile Installers (CTIs) to install stone tiles, Saltillo, stone slabs, large thin gauged porcelain panels, LVT, VCT, custom and commercial carpet, hardwood, hardwood refinishing, engineered hardwood flooring, large-scale floor prep, epoxy, and conduct moisture mitigation. The team is Nuheat pro certified, skilled in wedi waterproof shower systems, and steam
shower installations. Though leading a young, three year old company, Twarog and Martinez have over 50 years of installation experience between them. Martinez is a second-generation flooring installer, working in the commercial and residential arenas;
Twarog is a first-generation tile setter, classically taught the tile trade from laborer to journeyman and eventually business owner – all the while specializing in the custom residential market. Both men bring the experience of owning their own flooring businesses to the mix. Twarog transitioned from business owner to working for a Chicago-area distributor during the recession, eventually moving up to outside sales rep. "When Edwardo and I met, and we both realized we shared the same passion and philosophy for the industry, we decided to move towards our common goal and form Surfaces15," Twarog said.
Both agreed to build S15 from scratch from hard work and from their own skills and contacts and networks. After a year of business they decided – as Coverings 16 Chicago approached – that they would make it a point to attend and to participate with their vendors and network as much as they could for the week.
"We went and after a weeklong discussion we both decided to make the investment into the NTCA," Twarog said. Why did it take a week? Why not sign up right away? After all, there are vouchers after all and many benefits to be had. "Edwardo and I don't do anything halfway," Twarog said. "We knew if we decided to sign up we would be all-in. All-in for us, means we would want to both be CTEF CTIs and we would also both want to be State Ambassadors so we could both be a bigger part of the tile industry in a way that would set us apart from all the rest."
Now, just over a year later they are both CTEF CTI certified as well as many in their network of installers. "In this short time we have been involved with many of our vendors through both the NTCA and the CTEF," Twarog said. "This has been extremely gratifying to see the positive changes in both ourselves as well as our local industry."
Surfaces15 and NTCA: creating change for good
As Martinez and Twarog show up as new NTCA Illinois Ambassadors, they have shared their vision with vendors and discovered they share the same passion for the goal for change. "We asked if they would be interested in hosting NTCA events and CTI test days," Twarog said. "They liked the idea so much, that they have made special provisions with the CTEF for eligible contractors to take CTI tests at their local stores anywhere nationally. This is not only a huge commitment to their contractors but also their clients to help assure a successful install of their products they sell.
"That has been the greatest value that the NTCA has yielded to us, being able to successfully make a positive change and impact to our industry as a whole," Twarog
added. "When you see Mark Heinlein drive into your town in the NTCA truck you know something will be learned and good change will come from it," Twarog said. "That's what is most important to us, and that is what we volunteer for – the positive change and the sharing of good installation practices so fewer failures occur.
Failures are never good for our industry. They make all our jobs more difficult when we go out to sell that big project we want to work on to the Mr. and Ms. Smiths or the general contractor that we have just met. "As you will see in our installations, it does not matter if Edwardo or I install the project, or if it's our team members from our network, Surfaces15 has a passion for what we do that shows through in our workmanship and finished product,"
Twarog said. "We are always willing to lend an ear and offer or research advice to help," he added. "Many already know this about us and it's something that I don't see ever changing."