Sponsor Product Spotlight: LATICRETEⓇ HYDRO BANⓇ BOARD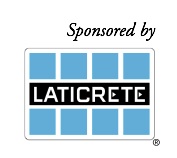 LATICRETE® HYDRO BAN® Board is a lightweight, easy to install, ready to tile wall board designed for bonded tile or stone installations. It is made with a waterproof high-density extruded polystyrene core and a waterproof membrane on both sides to give triple protection from water and vapor intrusion. Available in thicknesses from ¼" to 2" HYDRO BAN Board can be used on walls, floors, ceilings and in many installations requiring dimensionally sound and stable substrates as well as in steam rooms and steam showers. HYDRO BAN Board does not contain cement, fiberglass or paper products and will not cause itching or create messy cement debris during installation. No tab washers are required for floor and wall installations when using HYDRO BAN Board Screws.
For more information, visit www.laticrete.com.