Developing an attractive career path in the tile trade
President's Letter – July 2017
This month, we follow up on last month's President Letter discussing how we become "Best in Class" contractors, and how one of the centerpieces is being skilled and trained craftspeople. Let's talk about the elephant in the room; there is a serious shortage of young, talented workers entering the construction field as a career choice.
In last month's Editor's Letter, we learned that in the 2016 U.S. market, the public consumed approximately 2.8 billion sq. ft. of ceramic tile. Based on some quick number crunching and lots of assumptions, between 70,000 and 80,000 full-time tile mechanics would be required to install that volume of tile. This does not include installing any stone finishes. Even though the NTCA has approximately 1,400 members and CTEF has certified approximately 1,300 Certified Tile Installers nationwide, added together, it's all a proverbial "drop in the bucket!"
This doesn't mean that most – or many – installers not belonging to one of these groups are unqualified; it does mean that we need to work hard to draw them in to a program of continuing education and training along with potential certification. Based on the number and scope of failures that exist in our trade, it's safe to say that a sizable number of those installing tile have neither been properly trained nor are seeking further professional development.
I was talking with a general contractor recently about this issue, and we began to think about all the impediments that keep non-college aspiring young people from taking a serious look at the construction field as a career choice. We came up with several that might be worth our attention. On average, there are few organized training programs regionally or nationally on the high school/vocational school level that allow students to learn and earn a diploma or work at the same time. The only exceptions we could identify quickly were the electrical and mechanical trades, which also require certifications – and in some cases, licensing – to climb the career ladder. Add to that, the often-poor working conditions on project sites such as limited elevators or buck hoists, non-air-conditioned work areas, and disorganized work spaces with numerous other trades often working in the same rooms. I'm sure there are many more you can think of, but probably one of the most important is the low earning potential of many workers during the training process and potentially even beyond.
We need to start the dialog about how we as an industry can develop an attractive career path, including training that will show entrants what they must achieve to earn their desired income. At the same time, we need to attempt to minimize some of the other negatives of the modern construction environment. As a finish trade with highly artistic components, I believe we have an advantage over some other trades because our work is always on display.
Dan Welch and Becky Serbin – along with the Education and Training Committee – are working hard to put together the complete apprenticeship program, which will include a career path and earning scale. If you haven't checked it out yet, I invite you to do so. This is only one piece of a comprehensive plan we must develop or eventually we will all suffer the consequences.
I welcome your comments and ideas about how to move forward and I ask for your involvement and participation in the solution.
Keep on tiling!
Martin Howard, NTCA president
Committee member, ANSI A108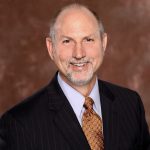 Martin Howard is the 2017 - 2018 president of NTCA and the Executive Vice President of David Allen Company and is an owner of the company.
Martin oversees the Tile, Stone and Pre-Construction Divisions, including all branch operations. He has more than 36 years' experience in the construction industry including 12 years in general contracting and 24 years in David Allen Company, where he has had management responsibilities in every area of the company's tile and marble operation.