Tech Talk – June 2017
Taking a look at the testing behind the tech: TCNA Lab and its contribution to the industry
Traditionally, Tech Talk is a place to bring information of specific, practical tips for day-to-day tile installation. But this installment will focus on a lot of the technical work that goes on behind the scenes in the TCNA labs, which impact testing, standards and other aspects of tile and associated products that contractors work with every day. This information was made public at Coverings in April.
TCNA Lab active in New gauged porcelain tile standard
When ANSI A137.3-2017 and A-108.19-2017 were approved recently, their 32 cumulative pages represented many hours of work on behalf of "thin tile" advocates across the globe. The science behind the standards, meanwhile, was provided by a tightly-knit group based out of Anderson, S.C., who logged approximately 4,000 hours over six months to make the standard a reality.
"While a number of folks in the industry were absolutely critical in spearheading the thin tile project, and in keeping it moving forward at an incredibly rapid pace, there's no question our lab played a decisive role in its eventual composition," said Eric Astrachan, executive director, Tile Council of North America (TCNA). "In fact, our lab plays an integral role in the development of many of this industry's standards – thin tile is just the latest example. We couldn't develop consensus as we do today without the lab leading the way through their R&D efforts. We're very proud of the work they do."
"Standards development is a challenging and interesting cross-disciplinary project for our staff," said director of Laboratory Services Claudio Bizzaglia. "We have a standards team that attacks each particular standards project we work on, and then, depending on the nature of the project, we pull in specific additional staff members, depending on their specialties. The standards we've worked on recently or we're working on now include a new surface abrasion method for ceramic tiles, multiple water absorption methods, various aspects of the glass tile standard, ongoing coefficient of friction studies, and the Robinson floor test method."
"Having a diverse talent base to pull from here at TCNA is a tremendous asset in standards development and other industry-facing projects, just as it is for customer assignments," Astrachan says. "With standards, the team has the additional benefit of knowing that they're contributing something to an industry that we care very much about – and then, of course, it's nice to have that expertise when it comes to helping our customers should a standard be ratified."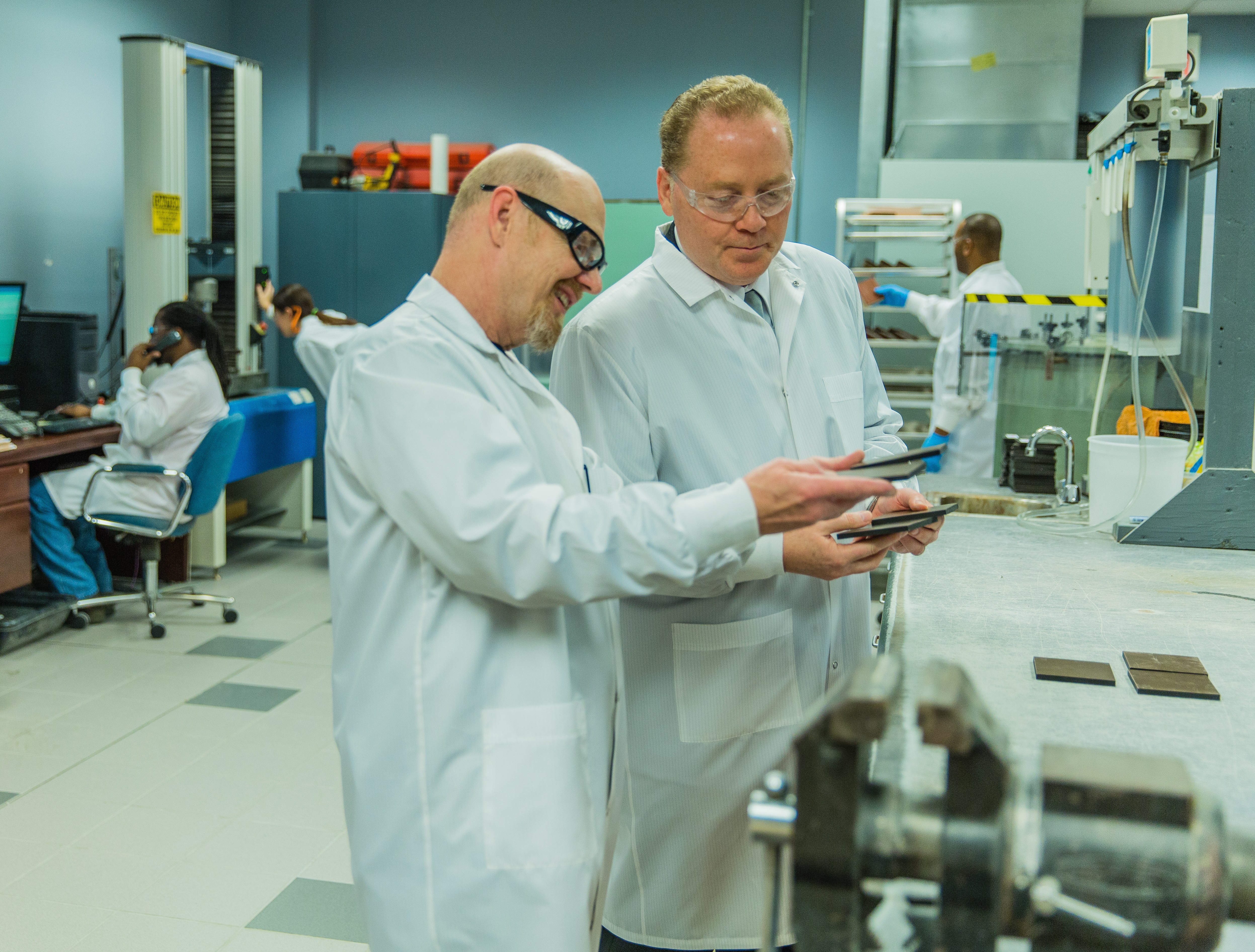 TCNA Lab Technician Scott Davis (l.)  reviews results with Claudio Bizzaglia. Testing and research conducted at the TCNA Lab contributes to the development of many tile (and related products) industry standards—the ANSI A137.3-2017 and A108.19-2017 "thin tile" standards being the latest examples. 
IAS Grants ISO 17025 Accreditation to TCNA Lab; Bizzaglia elected chairman of ISO TC 189 committee
The International Accreditation Service (IAS), a non-profit, public benefit corporation and internationally-recognized accreditation body based in the United States, has accredited the Laboratory Services department of the Tile Council of North America (TCNA) in all of the methods the lab submitted to IAS. Forty-five separate methods were submitted, including those most central and relevant to tile and installation materials testing.
This accreditation – a voluntary, third-party review process — underscores the Lab's acquisition of numerous "seals of approval" from a panoply of North America's largest corporate entities following evaluation based on their individual standards and practices.
"Our team worked very hard to make this accreditation possible, and our success is the result of their professionalism, as well as excellent teamwork," says director of Lab Services Claudio Bizzaglia. "We look forward to retaining our accreditation and perhaps gaining additional accreditations this summer."
The accreditation comes at a time of exponential growth for the TCNA Lab, whose revenues have more than tripled in over the past five years, growing consistently since 2009, with major growth since 2013. Bizzaglia attributes the growth to the lab's results-driven professional environment, a recommitment to customer care and customer service, an expanded sales effort, and, as he says, "a little bit of luck."
Bizzaglia also counts this growth as a big achievement, as are the result good practices of precision and recordkeeping demonstrated by the tightly-scheduled lab, which contributed to ISO accreditation, and to customer satisfaction.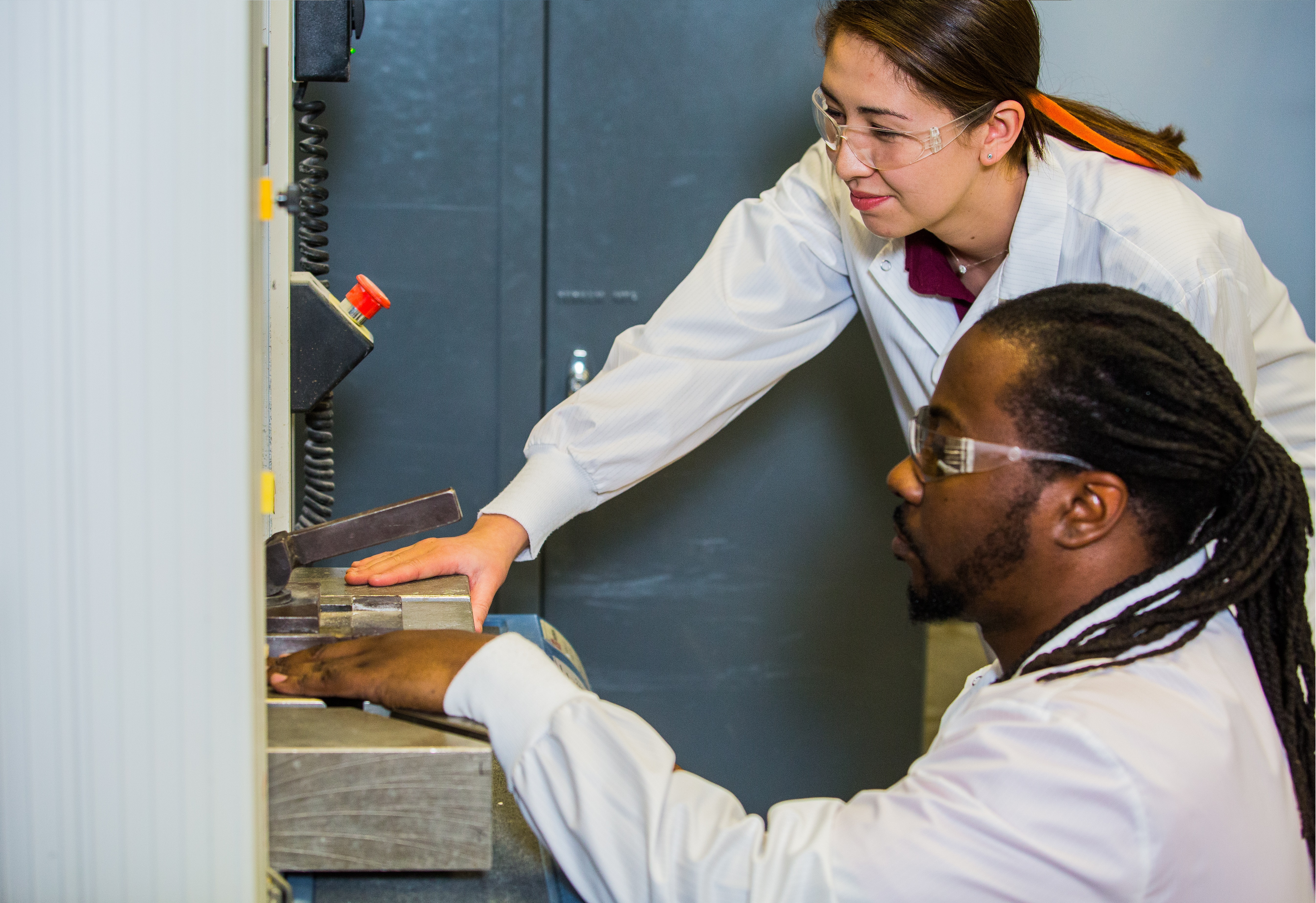 TCNA Lab Technicians Nicole Spandley and Damon McDowell testing the shear bond strength of thin set mortar on the Instron Universal Tester according to the ANSI A118 method, one of the many market-relevant test methods in which the TCNA Lab is ISO17025 accredited.
In addition, Bizzaglia was elected chairman of the ISO TC189 Committee. He will succeed the venerable Dr. Svend Hovmand, former president and former chairman of the board of Crossville, Inc.
Hovmand has served and is currently serving on numerous industry boards of directors, including those of the Ceramic Tile Education Foundation, Porcelain Tile Certification Agency, Coverings, and Tile Council of North America. Bizzaglia will become chair on January 1, 2018.
Hovmand praised Bizzaglia's extensive international work experience developing laboratory methods and standards and many roles in the tile industry, which includes experience in manufacturing and nearly 10 years leading TCNA's lab.
"It's an honor to represent TCNA and serve the industry on this international committee," Bizzaglia said. "Stepping into this role following Svend will not be easy, but I hope to be up to the challenge."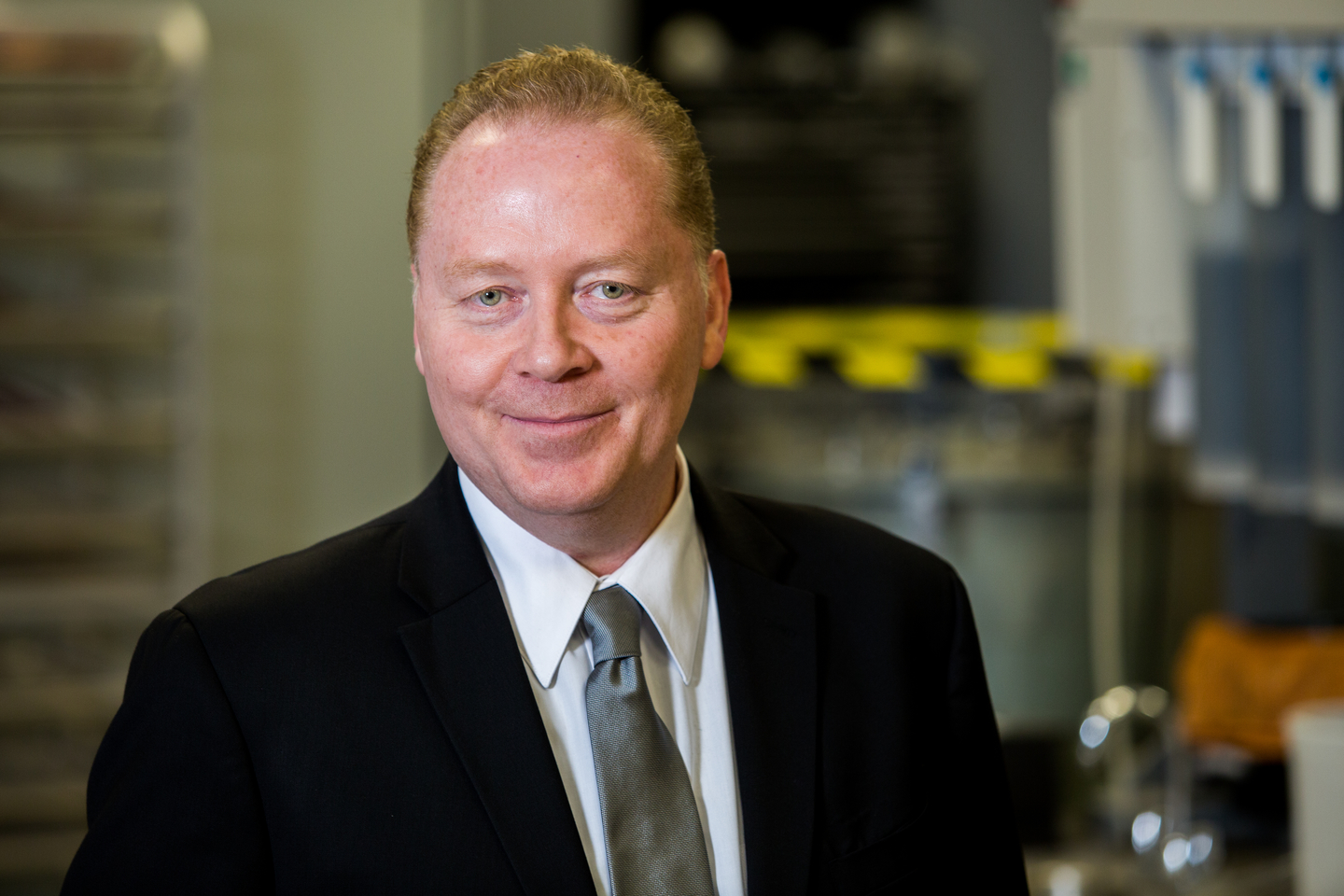 Claudio Bizzaglia, TCNA's director of Laboratory Services, has been elected to chair ISO's Technical Committee TC189 beginning January 1, 2018. This committee develops voluntary, consensus-based standards for ceramic tiles and related installation materials, including grouts, adhesives, and membranes.
TCNA works to coordinate Global Lab Network
Another aspect of Bizzaglia's work has been completing several rounds of conversation regarding the assembly of a Global Lab Network.
The goals of the Network include establishing standards for precision in test methods among its affiliates, as well as accepted norms for responsiveness and overall service, while also providing forums for best practices, problem-solving, and networking, Bizzaglia says. "We feel that intercontinental cooperation will be of great benefit to the scientific community – not only from a pure scientific standpoint, but from a business standpoint," Bizzaglia said.
The Global Lab Network can provide trusted lab resources for colleagues in other countries seeking referrals to a lab in the U.S. or around the world. In addition, it may be a vehicle to bring "education and understanding in lesser developed regions that penetrates into the marketplace," Bizzaglia noted. "It is possible that through reaching out on scientific matters, we may be able to assist producers, not always in compliance with international standards, and provide some help and assistance. We have had good results with this type of engagement before."
To date, the Network has commitments from the TCNA Lab, which operates facilities in both the US and Mexico, as well as a lab in Brazil. Plans are underway to engage European facilities in the Network.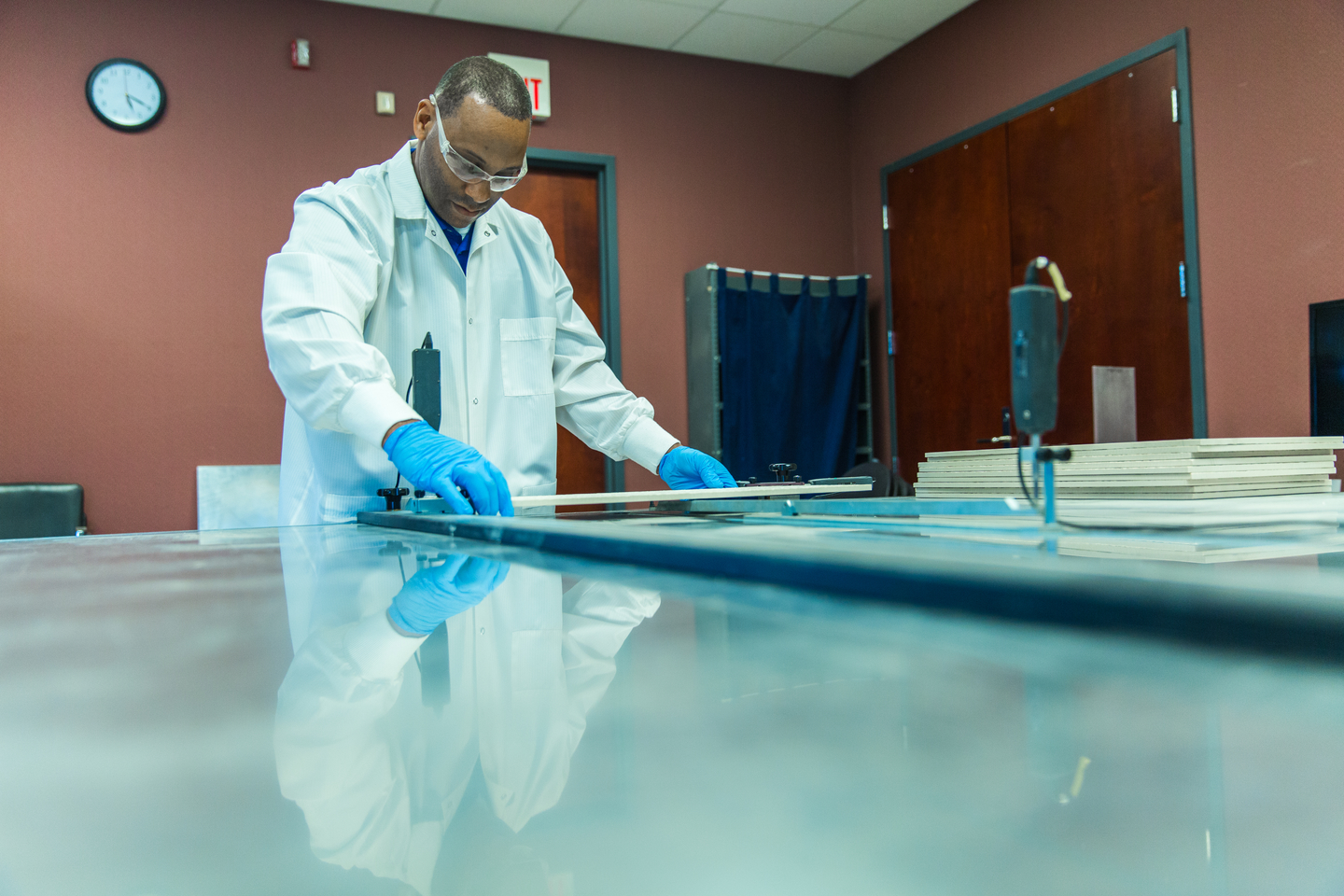 TCNA Lab technician Tracy Williams measures the warpage, facial and thickness dimensions, and the wedging of a ceramic tile according to ASTM C485, ASTM C499, and ASTM C502.