Editor's Letter – June 2017

"I wouldn't wish any specific thing for any specific person – it's none of my business. But the idea that a four-year degree is the only path to worthwhile knowledge is insane. It's insane." – Mike Rowe
There's a Mike Rowe video making the rounds on social media that prompted me to write this letter as a follow-up to the April Editor Letter that addressed the ersatz "job shortage" in our country.
In this recent 58-second video, which can be viewed at Rowe's website at http://mikerowe.com/2017/05/quixotic-attempt-to-close-the-skills-gap/, Rowe asks the question, "Why do we only glamorize expensive colleges?"  He shows covers of popular magazines that rank top colleges in the U.S. – but points out that NONE of these rankings ever include a trade school. His video notes that even though more students than ever are entering 4-year colleges, trade jobs account for 54% percent of the labor market. His video explains that over the next 10 years, 3.5 million trade jobs will need to be filled, but 2 million of those will go unfilled due to the skills gap.
Every parent wants to be sure his or her child is well-equipped to make it in the world in a fulfilling job that keeps them in good financial health. And yet it is clear that a huge swath of opportunities are going unheeded, ignored and overlooked because they aren't "college" positions. And jobs available NOW don't require incurring massive debt from a four-year college.
Maybe part of the evolution to greater respect towards trades- and crafts-people is to start referring to trade schools as "trade colleges" to get them on the radar of those high school students (and their parents) looking to take the best angle for the future.
Rowe's comment that trade schools are never mentioned in top colleges got me wondering, so I did a Google search for Top Trade Schools.  There ARE resources out there, but they don't get quite the attention, or seem as valued, as traditional college educations. Or it could be that young people, assessing their future opportunities, don't want to work with their hands, when technological devices have familiarized them with skills that are attached to keyboards and computer screens.
A little of what I found follows. Trade schools seem to lean heavily on medical, dental, mechanical and computer careers, but some schools offer construction training as well.
https://www.thebalance.com/best-trade-school-graduate-jobs-4125189:  Top 10 Jobs for Trade School Graduates
http://www.10besttrade.com/schools/: 10 Best Trade Schools, which includes Centura College in Virginia and South Carolina that offers studies in tiling and flooring in the Building Maintenance and Repair program; and Stratford Career Institute in St. Albans, Vt., and Fortis Institute Erie in Erie, Pa.,  have study in Construction Management.
https://www.trade-schools.net/articles/trade-school-jobs.asp gives a listing of 43 Trade School Jobs Among the Highest Paying Trades, and includes a search engine for trade schools.
http://www.abouttradeschools.com/overview/vocationalcareers/ provides a listing of trade schools in the U.S., Canada and the U.K., and a list of top 10 trade jobs, with construction jobs coming in at #6.
There are other groups that have made it their mission to promote, educate and prepare young men and women for careers in trades and crafts, such as the Construction Education Foundation of Georgia (cefga.org) and its involvement with the SkillsUSA (skillsusa.org) competition – which NTCA has supported —   and the National Center for Construction Education & Research (nccer.org).
There is heartening news afoot. On its website, CEFGA notes that Georgia public schools have over 150 skilled trade construction and metals programs and the 2016 Annual Report on the SkillsUSA site reports that in 2016, 1,299 middle-school students were enrolled as members of SkillsUSA, and 385 new chapters were added in 2015-16 according. It counts 385,488 members in its 2016-2017 year, which includes 316,197 students, primarily high school members.
What I DON'T see listed that often are tile installer training and programming. Masonry, contracting and construction management are popular curricula, but tile installer training still seems to be the purview of passed on family knowledge, apprenticeships, manufacturer and association training and self-learning.
This is one reason that NTCA University offers such an essential value – courses that support positions as finishers/apprentices in our trade. Visit http://www.tile-assn.com/?page=NTCAU to check out the offerings in apprenticeship, business and continuing education. And maybe pass it on to a young person who's contemplating their future.
God bless,
Lesley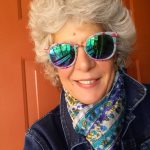 Editor for TileLetter, TileLetter Coverings, TREND and TECH publications.
Lesley Goddin has been writing and journaling since her first diary at age 11, and drawing and sketching since she could hold a pencil. Her penchant for observation led to her becoming a paid professional as a trade journalist, publicist and is editor for TileLetter. She has also written for Guideposts, Walls, Windows and Floors, Floor Covering Weekly, and Low Carb Energy.