Tile goes to the dogs at Coverings' TCNA Art Tile Courtyard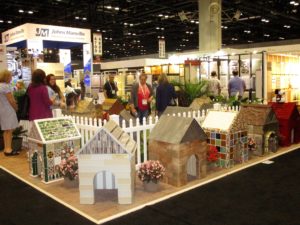 (Orlando, FL) – At Coverings 2017, eighteen beautiful doghouses tiled by TCNA members were on display in the TCNA Art Tile Courtyard. These unique works of art were installed over custom-made Wedi doghouse forms donated by TCNA and Wedi.
After the show these doghouses were donated to the Pet Alliance of Greater Orlando to assist them in their goal to provide compassionate and knowledgeable services for pets.
The following descriptions were provided by the companies/artists who tiled the dog houses.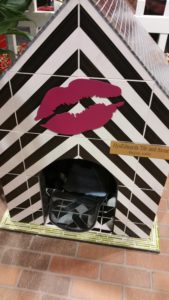 AlysEdwards Tile & Stone
AlysEdwards hopes the pup getting this home can feel the love in this timeless and fundoghouse. This great little shelter is sealed with AlysEdward's signature kiss, and features tile from AlysEdwards Feel, Gigi's Groovy Glass, and Wanderlust Collections. It was designed by Kevin Sanchez from AlysEdwards and installed by the AlysEdwardsTile &  Stone sample department.
Appomattox Tile Art
Appomattox's doghouse features its new "Barre Banc" pattern introduced at Coverings
2017.
BonTon
Created by artist Mary Anderson, owner of BonTon Designs, "Rescue Haven" has been fully encrusted in custom handmade tile exclusive to BonTon Designs. The petals and swirls were all hand-cut from wet clay and fired to their brilliant colors. The plaque that adorns the front door is from BonTon's "TEXTiles"collection. The white and platinum field tile is all hand-rolled, fired, and broken to create this mosaic design.
Casa Ceramica
Casa Ceramica's doghouse was designed and installed by its in-house design and installation team. The tiles and trim pieces are from their Mediterranean Tile Collection and are installed in a patchwork motif. The bones are made locally in Florida by an artist who produces Casa Ceramica's custom tiles.
Cider Press Tile
Cider Press Tile's doghouse features a whimsical fan-cut tile roof with pencil trim, brick style siding, and window shutters from its "Iron Age" collection. The tile colors showcased are Pecan, Indigo, New Moss, and Root Beer. The dog bowl is in Pecan and Root Beer, and dog bones are in Ivory. The doghouse was designed by Kenneth Walsh from Cider Press Tile and installed by Al Dibiccari from AD Tile in Marlborough NH.
Crossville, Inc.
Crossville's doghouse design, "Ruffin' It in Florida", is the creation of interior designer Mickey Searcy, founder/owner of Interiors by Lawrence David of Sanford, FL. Searcy envisioned this pooch palace in beachy colors that are bright, yet earthy – a nod to the natural inspiration that abounds in the Sunshine State. Crossville's colorful collections are an ideal covering for the doghouse, as tile is so popular and widely specified in FL residences.
Del Conca USA
Del Conca USA is proud to present its doghouse made with its new porcelain tile products. The bottom is made from their CANTINA series, which simulates rustic brick, and the corners are made with its special pieces of in and out corners. The roof features Del Conca's wood look, Providence 8″ x 32″ Dark Wood.
Florim USA
Florim USA's doghouse features Charleston Timber on the sides and back, Modern Stone Sand on the roof, and Galaxy Grigio Mosaic at the entry. The doghouse was tiled by Dave "Bear" Taylor at Bear Builds.
Iconic Design Concepts
Iconic Design Concepts used its 8″ x 8″ Silver Diamond Dust wall tiles for the doghouse sides. The roof features fiberglass/foam, walnut faux wood 18″ x 24″ wall panels and a custom-designed arch doorway in the shape of dog bones finished in Gold Diamond Dust. The concept and installation are by Lorne and Lynda Progosh, owners of Iconic Design Concepts.
Lunada Bay Tile
This pooch-friendly palace is clad in Tomei glass tiles etched with a custom design of tiny paw prints. The roof showcases a combination of Shinju Zen Garden ceramic and Lacquer ceramic mosaics. The eaves are illuminated with all-weather LEDs, lighting the way for four-legged friends come nightfall.
Marazzi
Marazzi's tile doghouse was inspired by its new Urban District™ collection. Influenced by the revitalization of downtown warehouse districts, the Urban District collection combines textures and colors to add bold character to any design style. A combination of wood, brick and concrete-look tile in light and neutral hues gives this doghouse a contemporary look with rustic charm. Featured products include Urban District MIX, a distressed 4″ x 28″ wood-look tile in Uptown white and Urban District BRX, a 4″ x 8″ realistic brick tile in Garden Cotto. The doghouse is trimmed in Marazzi's new concrete-look series, Block in Beige.
Shenfeld Studio
Shenfeld Studio's Craftsman Doghouse showcases its mosaic tiles used in various subway stations throughout the Metropolitan Transportation Authority (MTA). The field tiles are from the various colors used in the production of Stickley tabletops. The designer and installer is Shenfeld Studio's Tara Darjee.
StonePeak Ceramics
StonePeak decided on a "classic" doghouse look, using its Adamas collection in the color
Ruber. The Adamas series is a 4″ x 12″ wall tile that comes in 8 colors.
Stonexchange
For Stonexchange, a thresholds, window sills and baseboards manufacturer, this was a
challenging but fun project to provide a future roof for a puppy. Stonexchange used its 5″ x 36″ Black Absolute double Hollywood bevel thresholds for the roof, 2″ x 36″ Crema Sahara Marfil thresholds for the walls, and 2″ x 36″ Pure White engineered stone thresholds for the nametag area. The doghouse was designed by Stonexchange's Volkan Okay Yazici and installed by its warehouse team.
Syzygy Tile
Designed by New Mexico-based Syzygy's staff, Syzygy's doghouse was created to be a small space that is colorful, fun – whimsical.The roof features its 2″ Koi tiles, glazed in Reef, to create a shingled-roof effect. Small details like the simulated windows were added to give the doghouse a decidedly home-like feel.The walls of the house are Syzygy's 1″ hexagons in a custom textured white glaze. The trim pieces are glazed in Mandarin Orange.
Vitromex
Vitromex's doghouse features a very simple but creative design that combines key products in their ceramic and porcelain portfolio. It consists of its Brooklyn ceramic series and Brenta porcelain series combined to create a modern, sophisticated look.
Wizard Enterprise
Wizard Enterprise's doghouse features glazed thin brick tile from its Bison Brick series in
Glaze Matador. The doghouse was designed by Michael Meagher and installed by Lucio Mancia.
Wonder Porcelain
American Wonder Porcelain's doghouse features an eclectic mix of the following products:
Arcadia waterjet mosaic in Taupe, Light Gray and Greige; Ranch Wood 6″ x 24″ matte in Warm Brown and Light Gray; Carrington 8″ x 8″ lappato in Ivory Blend and Blue Gray; and Mars Stone 3″x 6″ matte in Black. The doghouse was designed and installed by Haley Brandeberry and Robert Provin.