The evolution of the tile membrane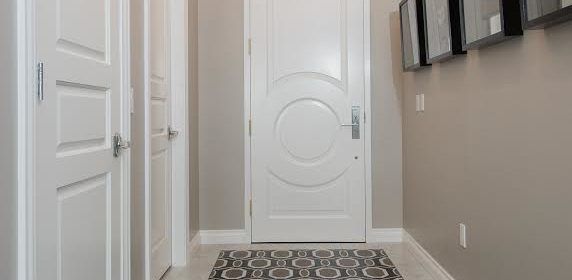 By Sean Gerolimatos, technical services manager, Schluter Systems, L.P.
In the beginning
Membranes for tile installation have come a long way since their introduction in the 1980s.  New products with different functions have since been introduced and the range of applications has exploded.  Membranes have created entirely new installation methods in the past decades, leading to improved performance of the assemblies and increased productivity for tile setters.  In recent years we have seen further evolution of this product category with multi-functional membranes, offering tile setters more versatile solutions.
Bonded waterproofing
Bonded waterproofing membranes were among the first tile membranes on the market.  They allowed for the direct application of tile, eliminating the secondary mortar bed.  This made for faster installation and increased productivity in addition to minimizing water intrusion, decreasing drying times, and reducing the risk of mold growth in wet areas.
Preventing cracked tiles and grout
Crack-isolation and uncoupling membranes soon followed, with the primary benefit being prevention of tile and grout damage due to substrate movement.  Crack-isolation membranes are dependent on flexibility from the elastomeric properties within a flat sheet, whereas uncoupling membranes are geometrically configured to limit stress transfer from the substrate to the tile covering.  Applications include tile floors in nearly every environment in both residential and commercial settings.
Sound control
In multi-story construction like apartments and condominiums, controlling sound transfer through the floor/ceiling assembly is essential.  There are requirements for sound control in building codes, and housing authorities may impose stricter requirements.  Both airborne sound (conversation, music, etc.) and impact sound (footsteps, dropped items, etc.) are of concern, but in general the tile assembly has the greatest effect on impact sound.  There are ASTM standard methods for testing and calculating impact sound transmission through a floor/ceiling assembly, with the result being a single-number rating— this is called impact insulation class (IIC for short).
A new ANSI specification
Tile can actually increase impact sound transfer through floors so the sound management challenge is significant.  In general, impact sound control is best achieved with floating systems such as mortar beds, poured gypsum, or lightweight concrete toppings that incorporate resilient materials underneath.  However, progress has been made in developing relatively thin assemblies to help control impact sound.  The first such products came from manufacturers outside the tile industry and didn't necessarily accommodate the requirements of tile coverings, which are different from other floor coverings like engineered wood or vinyl.  An ANSI specification was developed to qualify sound control membranes for use under tile.  ANSI A118.13 includes various requirements for bonded sound membranes, such as bond strength, Robinson floor test performance, and impact sound reduction performance.
ΔOne key feature of the specification is that the Robinson floor test and impact sound transmission tests are specified to use the same materials so owners and design professionals won't be misled by the use of different assemblies to maximize performance in each test.  Only one assembly can be installed on a particular job and the owner must be assured that the assembly will provide the expected sound control and still support the tile covering.  Another key feature is that the contribution of the floor covering itself to impact sound control over a standard concrete slab is tested and quantified with a value denoted ΔIIC (delta IIC).  This value can't be added to any floor/ceiling assemblies other than concrete with no ceiling below.  However, it allows design professionals to compare sound control membrane assemblies directly, without the potential to be misled by other elements in the floor/ceiling assembly tested, such as a sound-rated ceiling.  Still, the design professional will require full floor/ceiling assembly testing to validate specific assemblies will satisfy building code or housing authority requirements.
Warm tiles for comfort
Tile coverings can be cold underfoot, but there are various floor warming systems available to improve comfort and add a touch of affordable luxury.  The heat source for most electric floor warming is a cable system where resistance of the wire causes electrical energy to be converted to heat energy.  Originally, cables were purchased on a spool and anchored to the floor at manufacturer-specified spacing using clips or tracks.  Cable might also be mounted on a mesh or within a sheet and attached to the floor.  Best practice has been to embed the heating cables in a self-leveling underlayment and let it set before installing tiles.
The latest innovation in floor warming is a new form of uncoupling membrane which features studs to secure cables without clips or fasteners.  Cables can be placed wherever heat is desired without creating height differences and self-leveling compounds are not required to encapsulate the cables. Tile can be installed immediately after the cable is placed, thereby significantly reducing installation time.
Swiss Army membranes
With the range of tile membranes growing, we have seen a trend toward multi-functional products.  For example, crack-isolation and uncoupling membranes have often performed as waterproofing  membranes.  The combination of uncoupling, waterproofing, and floor warming in a single membrane is available as mentioned above.  The latest innovation is the addition of sound control and thermal break layers to the existing uncoupling/floor warming membranes.  A thicker bonding fleece on the underside performs two functions: it reduces impact sound transfer through floor/ceiling assemblies and reduces heat loss to the substrate for faster warm-up times.  This type of membrane can be the "go to" product for almost any tile installer, as seen in the project feature below.
Project feature
Mike Gwizdala of Mike's Custom Tile Company in Bay City, Mich., recently completed a project for Shaheen Development using one multi-function membrane that allowed him to address a range of project requirements.  THE H Residence is an 85,000 sq. ft., mixed-use development in downtown Midland, Mich.  The first floor is home to an art gallery, convention center, and a restaurant.  The second floor features the H Hotel, the third floor luxury condominiums, and the fourth floor residential penthouse suites with an elaborate common area and patio space.
Gwizdala's team installed porcelain and marble tile over concrete with sound-rated ceilings in all bathrooms, laundry rooms, entries and some kitchens.  The Schluter®-DITRA-HEAT-DUO uncoupling membrane and floor warming system with integrated sound control and thermal break was used under all floor tiles.  "DITRA-HEAT-DUO provided all the functions we needed in a single layer," said Gwizdala.  "This was critical for us because it reduced our labor, making it a more cost-effective solution than any other sound control system."
The membrane is relied upon for both uncoupling and sound control in all areas so it provides the performance results required throughout the building.  By using the same membrane throughout, the team knew they would have consistent floor thickness in all tiled areas.  Once the membrane was installed they had the flexibility to install heating cables only in areas where floor warming was specified.  In the bathrooms, membrane seams were sealed with Schluter®-KERDI-BAND for waterproofing.
The bottom line
Tile membranes have changed installation practices significantly by reducing assembly thickness, weight, and labor to produce high-performance applications and increased productivity.  Membranes have evolved from single-function products to highly innovative, multi-function solutions for virtually any application.  Consistent use of a single product or system can simplify planning, bidding, purchasing, and installation from project to project.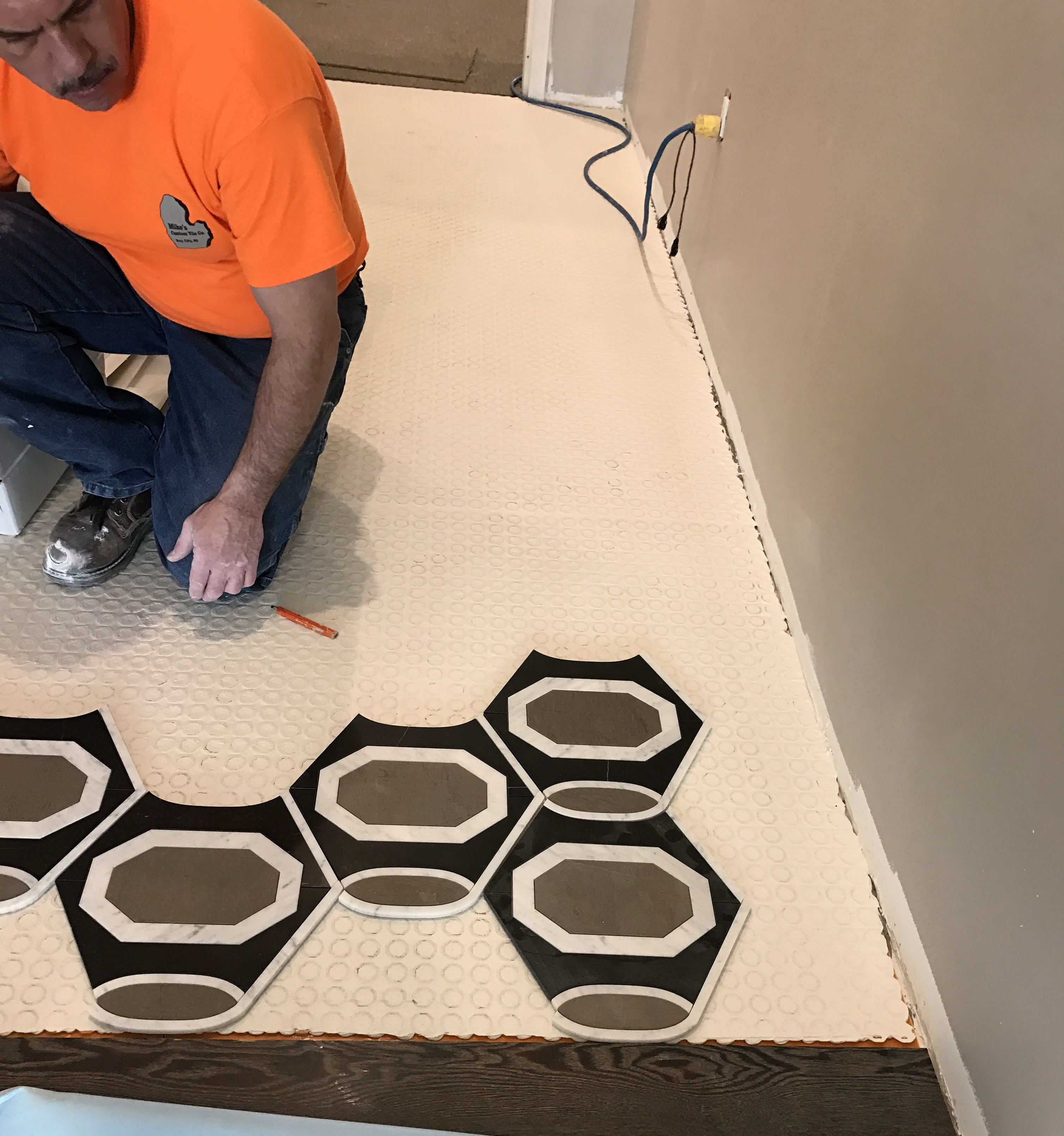 The tile inlay in the entryway was carefully laid out.  The inlay was surrounded by a frame of rectangular marble tile.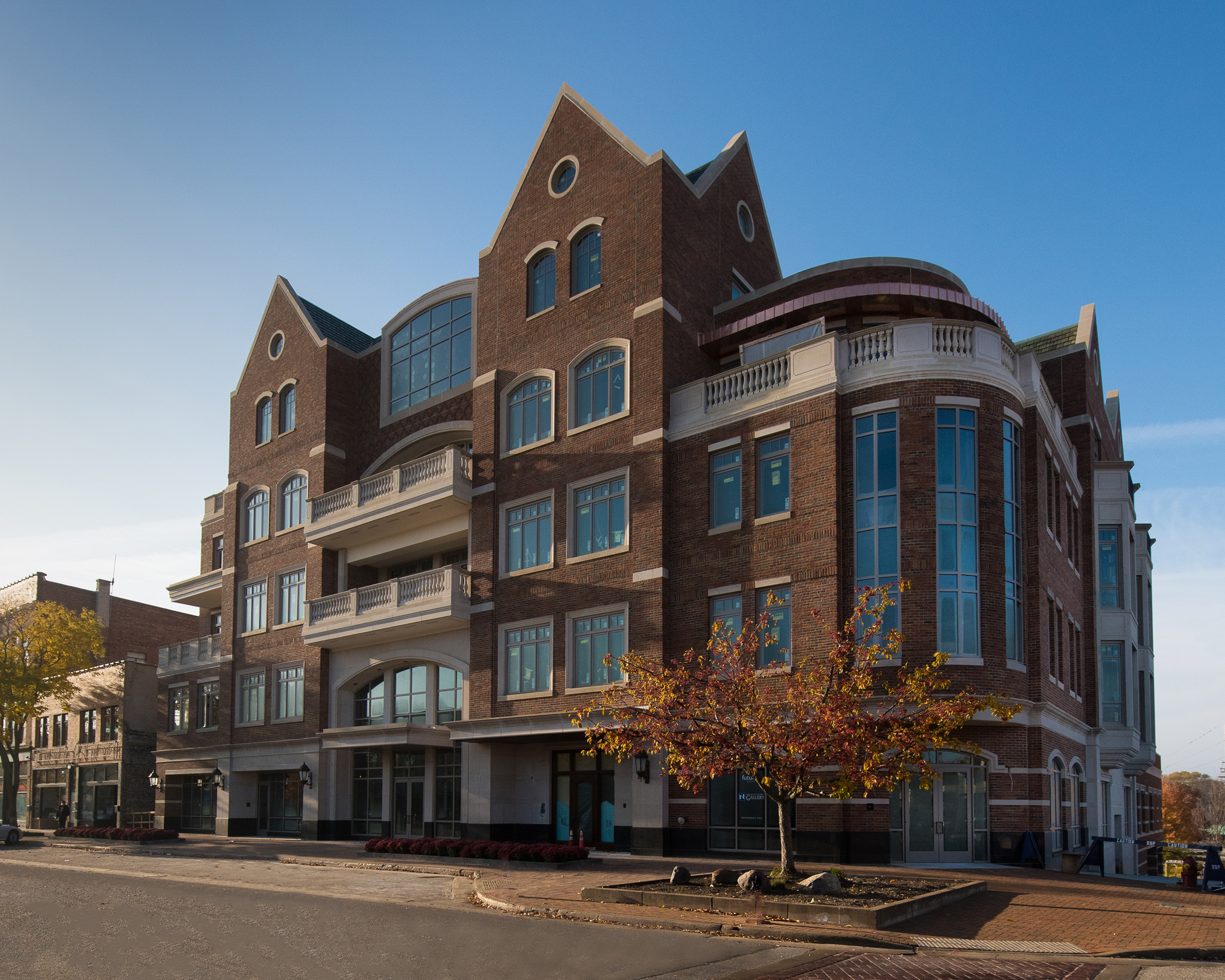 The Pinnacle Design exterior of THE H Residence in Midland, Mich., a high–end mixed use facility that opened in spring of 2017.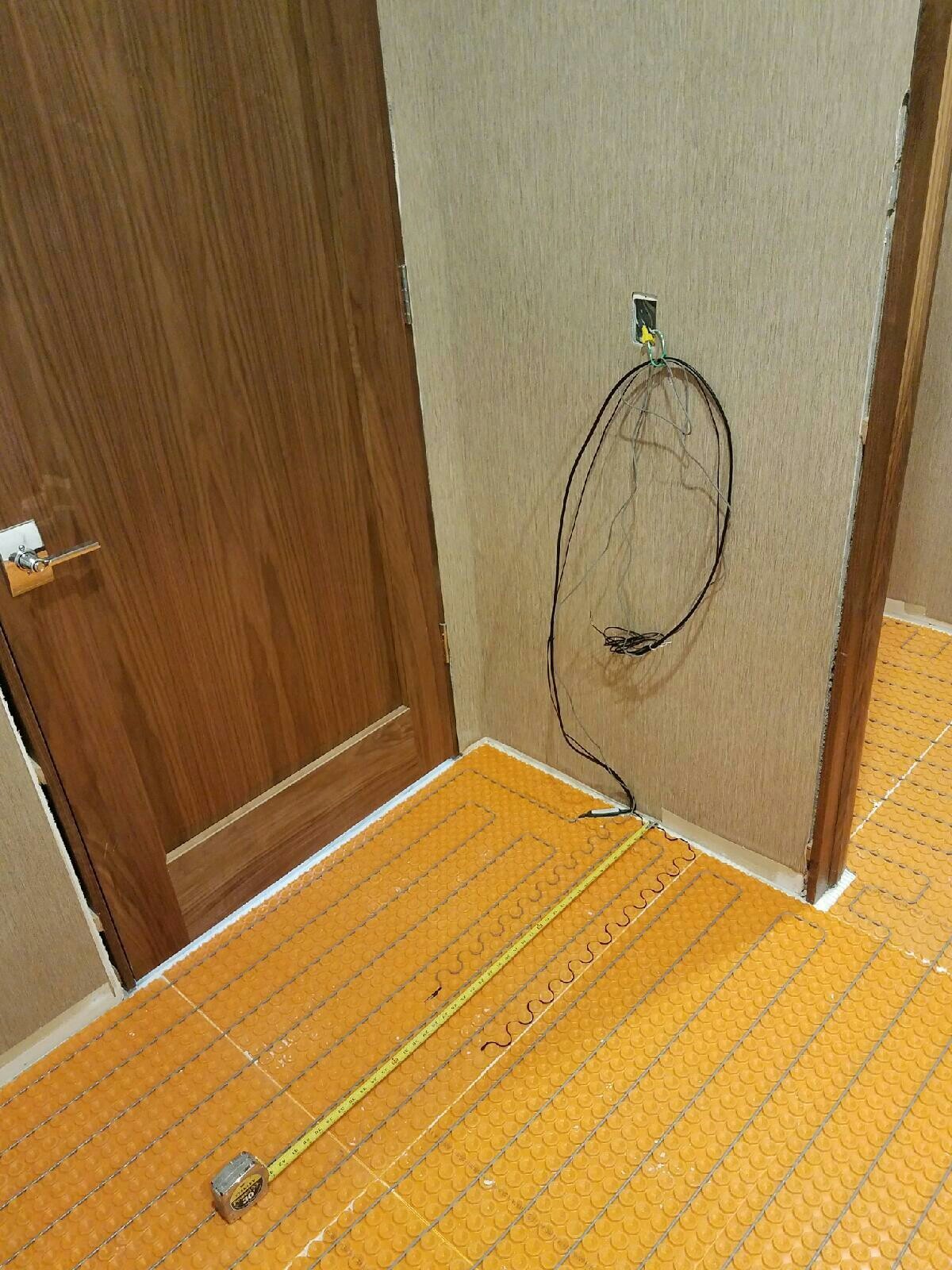 Gwizdala always takes photos of the placement of items like thermostat wires for heating cables so he knows where things are after the tiles are installed.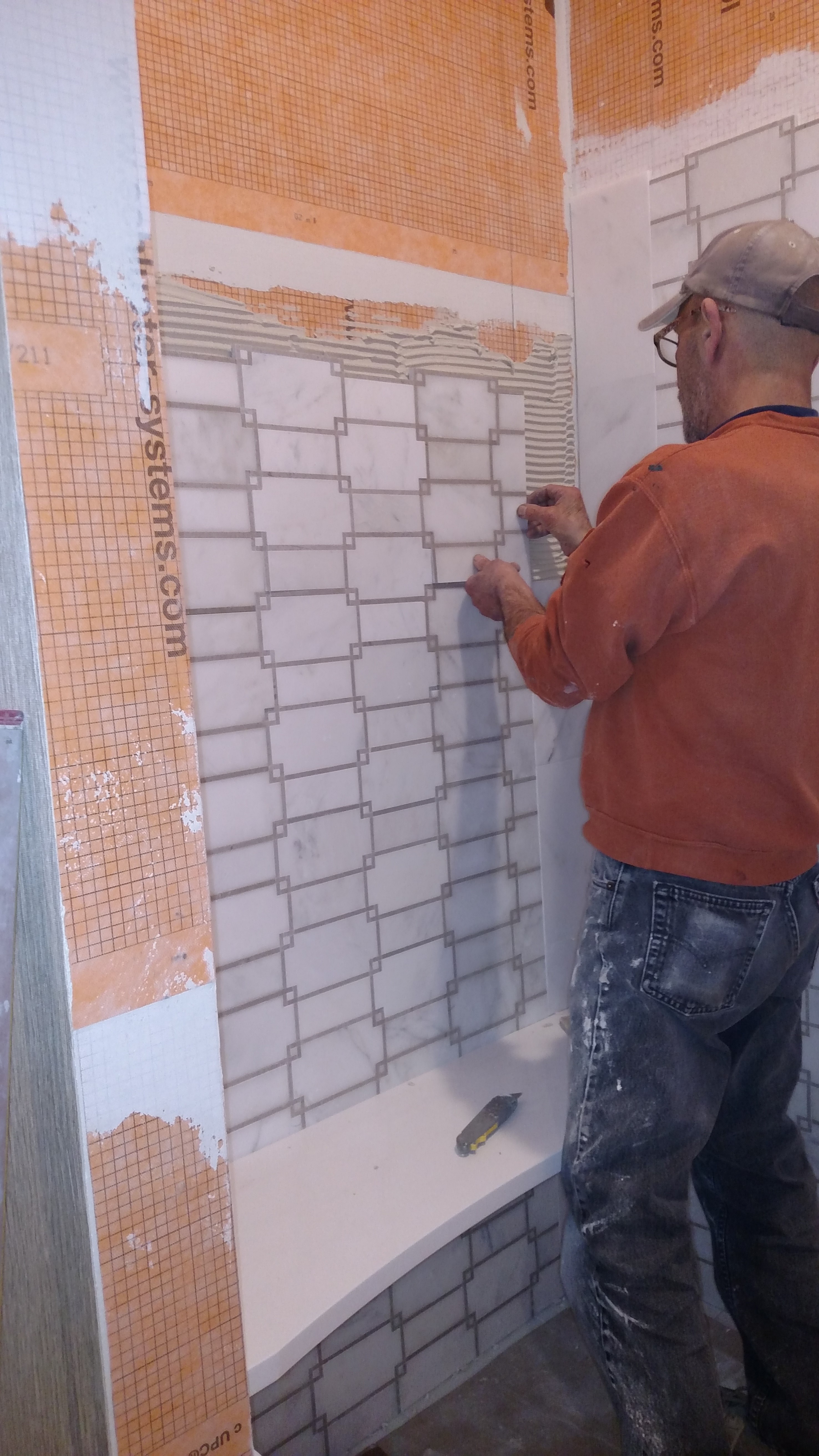 Tiles are installed over the waterproof membrane in one of the showers.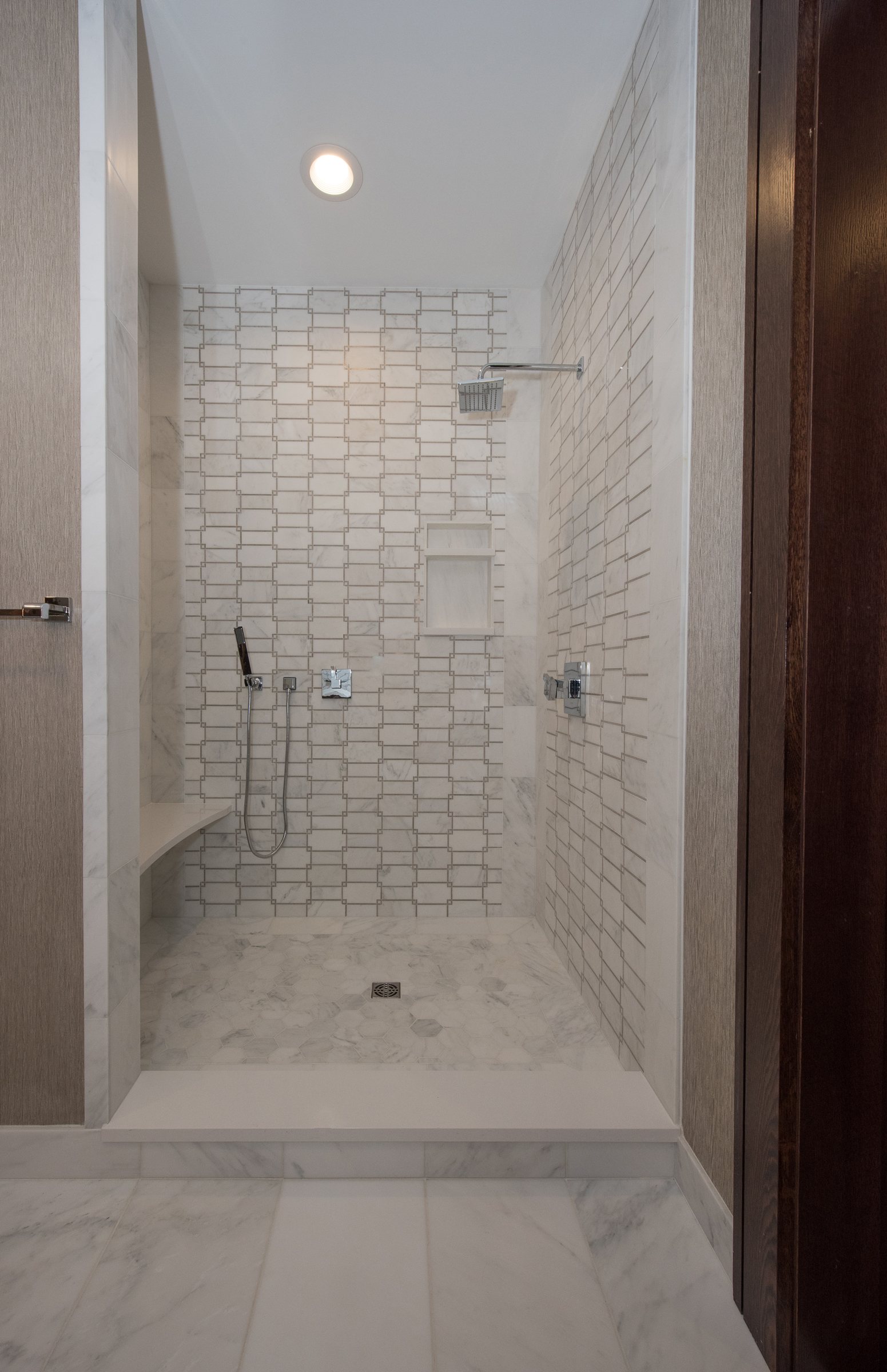 This is the completed shower.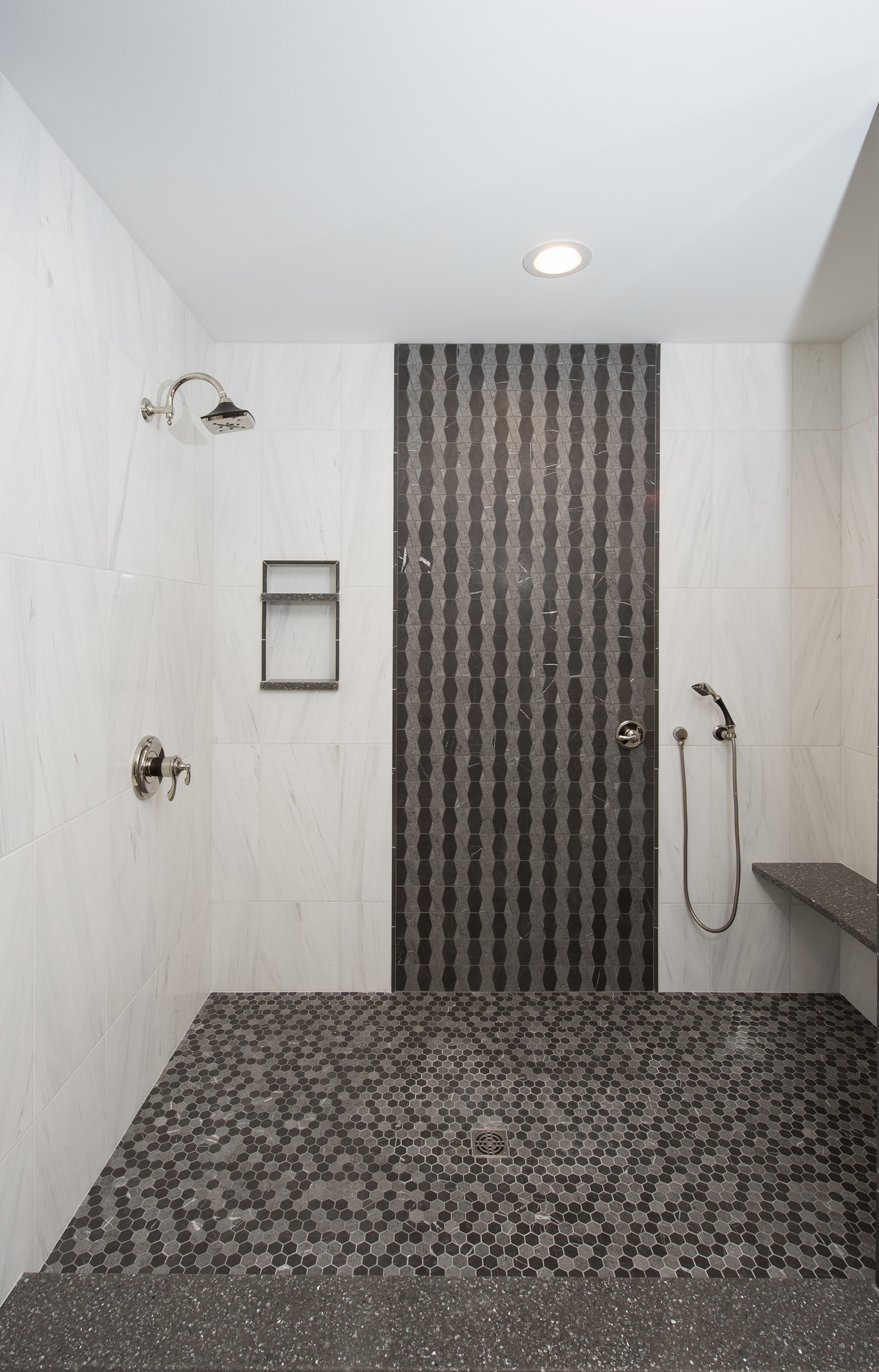 In the bathrooms, DITRA HEAT DUO membrane seams were sealed with Schluter®-KERDI-BAND for waterproofing.