ON THE COVER: Merkrete

Ilani Casino Resort center nears completion
Merkrete products allow installers to adhere to fast-track schedule
Developed by Salishan-Mohegan LLC in collaboration with the Cowlitz Indian Tribe, ilani will be the premier gaming, dining, entertainment and meeting destination in the Pacific Northwest. Construction began in September 2015, and ilani is scheduled to open during the spring of 2017. When it opens, the design of the 368,000 sq. ft. casino resort will project the culture of the Northwest and pay tribute to the heritage of the Cowlitz Tribe.
When Keystone Masonry was awarded the contract for the adhered stone cladding installation at the Ilani Casino Resort in La Center, Wash., (commonly referred to as the Cowlitz County Casino), Keystone's president, Steve Borman, was well aware of the inherent challenges when considering a direct-bond exterior stone assembly, particularly in the frequently-unfriendly climate conditions of the Pacific Northwest region. Steve and the Keystone Masonry team knew that a robust waterproofing and installation mortar would be critical to the success and sustainability of the project, and reached out to his long time 'go-to' resource for tile and stone installations – Merkrete, a division of Parex USA for the Northwest Region, as challenging bonding agents are often specified in the adhered-veneer masonry sector.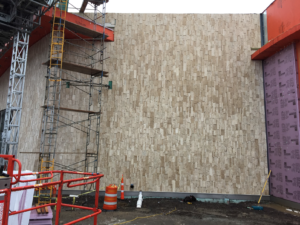 Merkrete products support 137,000 sq. ft.+ of exterior stone cladding
Representatives from Merkrete, in collaboration with Steve and the Keystone project team, submitted a complete installation system from Merkrete, inclusive of both primary Merkrete HydroGuard SP-1 waterproofing membrane and 820 Merlite, a high-performance setting mortar, providing excellent non-sag characteristics for vertical stone applications in exterior conditions. This sole-sourced Merkrete installation system was submitted and approved by the architectural and design team at Friedmutter Architects of Las Vegas, NV. The Merkrete team was available as a resource to the project design team at Friedmutter to answer any questions or address concerns relating to the installation system as recommended from Merkrete. The HydroGuard SP-1 / 820 Merlite System was approved as submitted, and stone installations commenced in late August of 2016.
As is often the case when installing adhered veneer masonry or tile in a stacked stone method, the first courses of stone directly above the ledger board at the base of the installation cannot immediately have additional stone courses stacked on top of them. That's because the bond coat will not cure rapidly enough to allow the installation to proceed with more than two to three courses of stone installed per day. This is where collaboration with the Merkrete team was critical. Merkrete Burst rapid setting additive was recommended and used with 820 Merlite, providing a rapid initial set, which allowed the entire installation to proceed quickly and far more efficiently than it would have with a standard-cure setting mortar.
As Brian Tuller, Keystone Masonry's project manager for the installation described it, "Merkrete's Burst was vital to our ability to keep this project on schedule, particularly when you consider the extremely fast-track work schedule that the general contractor assigned to the project. Had it not been for inclusion of the Burst Additive, we wouldn't have been able to install anywhere near the amount of square footage of stone that we would have with a standard mortar without the rapid setting characteristics that Burst provided."
Merkrete, Keystone Masonry teams collaborate to overcome weather challenges
Merkrete sales and technical teams worked directly with contractors to ensure the products were applied correctly to meet the projects specifications. Even in the face of rain, which it did on most days, the team came together with proper tarps and covers to make sure the exterior was secure and completed on time. Clint Anna, National Sales Manager for Merkrete observed that despite weather challenges, the project was completed seamlessly and Merkrete is proud to have been involved with this project.
In summary, Keystone Masonry and Swinerton Builders have been very pleased by the performance of all Merkrete materials used to complete the installation, and look forward to using Merkrete as their primary resource on future adhered veneer installations.
Project Information
Architect: Friedmutter Architects – Las Vegas, Nev.; Bergman Walls Associates – Las Vegas, Nev.

General contractor: Swinerton Builders – Portland, Ore.
Tile and masonry sub-contractor: Keystone Masonry – Yelm, Wash.
Merkrete products distributor: Emser Tile & Stone – Seattle, Wash.
Merkrete products used
Hydro Guard SP1 waterproofing membrane

820 Merlite high-performace setting mortar
Burst rapid-setting additive