TISE West: positive mood, effusive showing of NTCA members
Activities for contractors amplify in 2017 Surfaces/TISE West show in Las Vegas
By Lesley Goddin
Last month, my editor letter gave a preview of the Surfaces/The International Surface Event (TISE) West show in Las Vegas. The International Surface Event (TISE) is comprised of: SURFACES | StonExpo/Marmomac | TileExpo events.
Here's a bit more of what went on there, particularly regarding NTCA/CTEF events. I'm writing this just a few weeks before the Coverings show in Orlando – sometimes I feel our lives are strung together from industry event to industry event – just return from one and it's time to get ready for the next.
Optimism and crowds were evident in Vegas this year, whether it was at the conference sessions, the NTCA booth, the Certified Tile Installer exams or at the many exhibits for tile, stone and setting materials that populated the show floor.
There are many other positive indicators at the show as well. The  420,000 sq.ft. show floor was over 32,000 sq. ft. larger in 2017 than in 2016, with 800 brands exhibiting – more than 200 of which were new and had not exhibited at TISE before.  Over 100 countries were represented.
Attendance  jumped 7% in 2017 over 2016 – even more significant since 2016 showed a 10% growth over 2015. Exhibitors are pleased, evidenced by on-site rebooking for the 2018 event that accounted for nearly 80% of the 2017 show.
NTCA Executive Meetings
For NTCA, the whole show kicked off with an executive committee meeting, followed by a well-attended Training & Education Committee gathering, led by Training & Education Committee chair Dave Rogers of Welch Tile and Marble.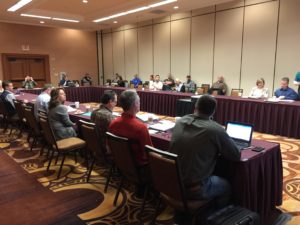 The Training & Education Committee meeting was very well attended.
NTCA State Ambassador Reception
That first evening of TISE West, NTCA held a reception and dinner in appreciation of its members and State Ambassadors with an address by NTCA president Martin Howard, presentation by Eric Astrachan of TCNA and a video on the history of NTCA and its accomplishments in the last 15 years, introduced by Will White of Custom Building Products.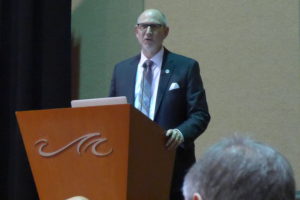 David Allen Company's Martin Howard, NTCA president, addressed the State Ambassador and Member Appreciation Dinner.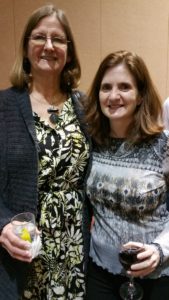 NTCA Five Star Contractor Jan Hohn (l.) of St. Paul's Hohn & Hohn, Inc., with Jen Hoff of Taffy Event Strategies, the management company for Coverings at the NTCA dinner.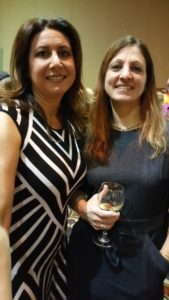 Amber Fox (l.) NTCA Five Star Contractor Coordinator with TCNA's Stephanie Samulski.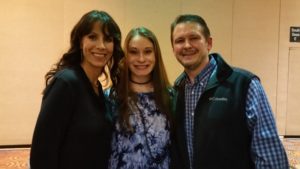 Rod Owen of NTCA Five Star Contractors C.C. Owen in Jonesboro, Ga., with wife Melinda (l.) and daughter Olivia, who was in Vegas for the very first time.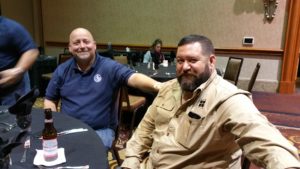 Robb Roderick (l.) NTCA Technical Trainer/Presenter with Kyle Maichel of Fox Ceramic Tile.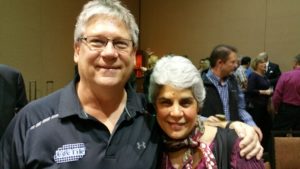 John Cox of Cox Tile, past NTCA president, turned 60 years old during TISE West – NTCA celebrated with a special cake during the dinner. He's shown here with TileLetter editor Lesley Goddin. 
Demos, talks and meetings abound
One of the most valuable aspects of the show is seeing products and methods in action, getting a chance to see products close up and meeting new people. NTCA had a full schedule of demos on the installation stage, and exhibitors also ran their own demos at their booths, and took time to tour TileLetter through their products.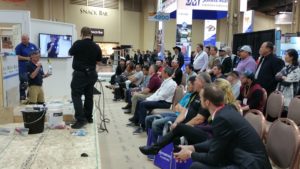 Crowds flocked to demos on the installation stage by NTCA technical trainer/ presenters Robb Roderick (standing) and Mark Heinlein.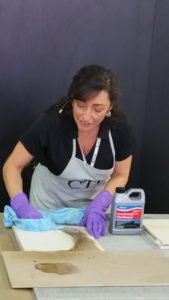 At the CUSTOM booth, Expert Care and Maintenance Senior Technical Advisor Sole Alcaino demonstrates the AquaMix Cement Grout Haze remover.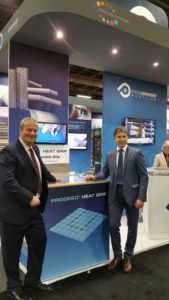 At Progress Profiles, Domenico Borelli and Dennis Bordin demonstrate Prodesso Heat Grip mat for floor warming/uncoupling/waterproofing. 
One of NTCA's newer manufacturer members, Mexico-based Cement Pro has over 40 years of experience manufacturing mortars, grouts, tile care products and bonding agents. Adrian and Alma Flores (pictured l-r) explained that Cement Pro also began manufacturing in 2009 in Riverside, Calif.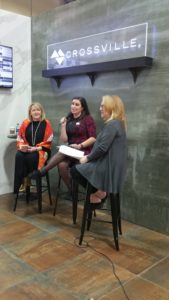 Broadcasting direct on Facebook Live during the show was Lindsey Waldrep (c.) of Crossville, moderating a discussion with Lisa Mende of Lisa Mende Designs (l.) and Patricia Gaylor of Patricia Gaylor Interior Design. (see the A&D feature in TileLetter TRENDS issue for more on this interview).
NTCA booth – a meeting place
Seven new members joined NTCA during TISE West. There was a frequent  crush of people at the NTCA booth, where State Ambassadors, members and curious showgoers clustered to talk about tile, education, business and membership.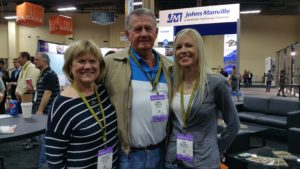 Christine Kotara (l.) Johnny Kotara and Erin Albrecht of J&R Tile in San Antonio stopped by the NTCA booth during a tour of the show.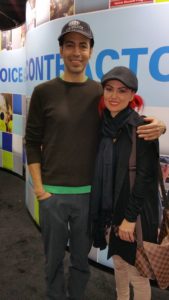 Jamen and Chanel Carrizosa of Icon Tile & Design talked about learning, training, design and installation while at the booth.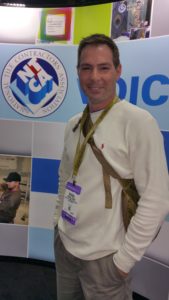 NTCA Florida State Ambassador Michael Weaver of Trendsetter Tile & Stone, Coral Springs, Fla.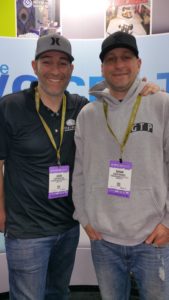 Stoneman Construction's Jason (l.) and Shawn McDaniels – brothers from Portland, Ore.
Certified Tile Installer testing and Regional Evaluator training
There was a strong showing at TISE West for Certified Tile Installer testing, with nine installers taking a timed test to lay tile on the CTI modules. The effort was supported by several of the new Regional Evaluators which will allow more frequent CTI tests to take place with smaller class sizes across the country. Twelve new Regional Evaluators are on the job, led by Kevin Insalato of California Flooring.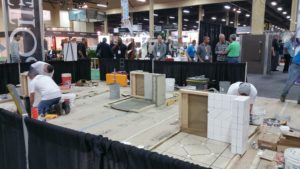 Nine installers took the CTI test at TISE West.
NTCA Arizona State Ambassador John Mourelatos of Mourelatos Tile, Tucscon, Ariz., took (and passed!) the CTI test at TISE West. At Coverings, he will train to become a Regional Evaluator.  
Next year, TISE West will be held at Mandalay Bay from January 29- February 1, with educational sessions beginning January 28. For more information, visit www.tisewest.com.