Rubi Returns to Coverings 2017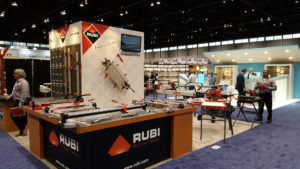 RUBI will be present at COVERINGS's fair this year, an event that will take place in Orlando, Florida, from April 4th to 7th.
COVERINGS's fair will an space to introduce new ground-breaking products like reinvented tile cutters, heavy duty "zero splash" tile saws, rubber buckets for mortar mixing, electric grout scraper, all in one spacers, diamond blades and much more!
The sales team wants to promote especially the DU-200 EVO tile saw, the RUBISCRAPER-250 joint remover, the SPEED MAGNET line of tile cutters, and TILE LEVEL QUICK tile leveling system.
However, the best moment will be the launching of a singular machine considered the most powerful tile cutter on Earth: the TZ tile cutter.
Visit RUBI booth #3726 and enjoy an interactive stand where you can test the upcoming RUBI tools.