LEVANTINA AND ITS CLIENTS FIND GOOD FORTUNE IN BUSINESS AT Xiamen Stone Fair, China
March 6, 2017 —  In China, superstition and symbols are deeply rooted in the culture. Levantina is introducing this allusion to the millenary culture on the occasion of the Xiamen Stone Fair, one of the most important natural stone fairs in the world.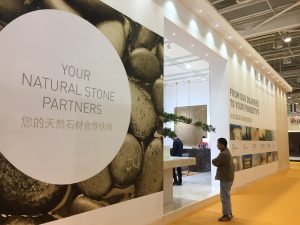 The fair, which is always held from 6 to 9 March in China, is a meeting place for many industry players, who come together during these days.
The stand of Levantina, leader European company, with the largest Crema Marfil Coto® marble quarry in the world, located in Alicante, attracts many visitors.
This exhibit is open to all visitors, and full of Asian symbology. The "good fortune in business" is the driver of this spectacular space in which symbolic allusions coexist:
– A large aquarium with 9 fish welcomes visitors and symbolizes wealth, abundance, and good luck.
– Inside, tables in the shape of Chinese coins foretell wealth and prosperity in business.
– A Peijing or Chinese bonsai provides harmony in a vital space.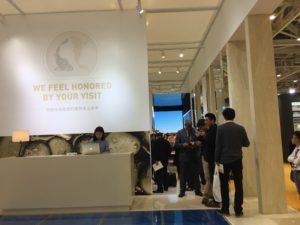 All this in a nature environment, source of the wide collection of marble, granite, quartzite, limestones and sandstones. With all these materials, we have created a new sensory experience, the "stone tunnel", conceived to "feel" natural stone through the senses: the sight of stunning images, the relaxing sound of nature and the delicate touch of its finishings.
ABOUT LEVANTINA
Levantina is a world leader in production, transformation and marketing of Natural Stone. Born in 1959, they have the world's largest deposit of Crema Marfil marble, located in Alicante. They currently own many quarries, 7 factories and 20 distribution warehouses. Their portfolio includes more than 200 different materials, among which national marbles and Brazilian granites stand out. They export to more than 100 countries all over the world.  www.levantina.com