Ask the Experts – March 2017
QUESTION
I have a school cafeteria with marble thresholds, all of which are broken. Is there something more stable that I can use to replace them? There are several:  3′, 4′ and up to 8' lengths. Thanks.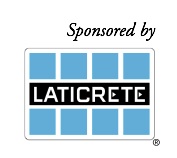 ANSWER
While marble is among the softer natural stones, if the substrate is sound with no deflection and if the marble is properly bedded, it should hold up well.
As an alternative, I would suggest contacting a stone fabrication shop.  They often have remnant pieces of harder stone, Corian, or composite materials that they can mill to your specifications for length and width.  They can also put beveled or bullnose edges on them for you.  I have found that 2cm thick material works well for this sort of thing.
TCNA Handbook Method TR611-16 is your reference for more information and a schematic detail for proper installation of a threshold.
Any material you install will still require proper preparation of the substrate and proper bedding with appropriate mortar. —Mark Heinlein – CTI #1112 NTCA Technical Trainer / Presenter
QUESTION
Any chance you've seen discoloration on grout that's brownish red? I have a few theories, but I honestly, never seen anything quite as grungy as the discoloration on this client's shower.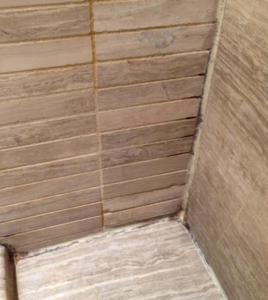 ANSWER
Sometimes mold that appears on grout is superficial and resides only on the surface of the installation. Most shampoos and soaps contain organic matter, some more than others .When you have organic materials temperatures and moisture, you have a great environment for mold to grow. Proper and regular cleaning of showers removes those materials. When used and not cleaned regularly you can end up with a "grungy" situation. Always use a neutral PH cleaners approved for cleaning the stone or tile in your shower. And always test them in an inconspicuous area to make sure you will have no adverse reactions. Double check for mold or wet areas outside the shower as well to ensure there are no leaks. If water has escaped the shower assembly and has reached the wood substructure this can also provide the organic matter needed for mold to grow. – Robb Roderick, NTCA Technical Trainer/Presenter