NTCA Reference Manual: Use of Felt and Similar Products as Crack Isolation Membrane
The NTCA Reference Manual is a compilation of documents generated by the NTCA Technical Committee, designed to identify recurring challenges to successful installations of tile and stone, recognize potential problems and gain consensus from industry experts on offering solutions. The NTCA Reference Manual is a companion publication that compliments other essential industry tools such as the TCNA Handbook and ANSI Standards. Annually, subcommittees review and revise each section as needed, as well as add new documents, making the NTCA Reference Manual a living document.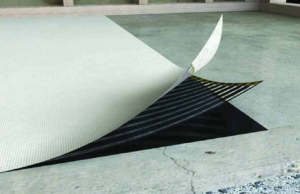 Presented here is an exploration of the use of felt and similar materials as crack isolation membranes and the issues that can result. This can be found in Chapter 10, page 256 of the 2016-2017 NTCA Reference Manual.
Various types of paper or sheet vinyl are occasionally used in certain geographical areas of the country and promoted as a crack isolation membrane. Use of roofing felt, sheet vinyl, scribing paper, or scrim reinforced kraft paper glued or unglued to both concrete slabs and over wood construction have a long history of failure. None of the testing done thus far on roofing felt, scribing paper, sheet vinyl or scrim reinforced kraft paper and similar products has met all the requirements of the ANSI A118.12 Crack Isolation Membranes for Thin-set Ceramic Tile and Dimension Stone products. Additionally, there is currently no product or applications of this type recommended for such use under current ASTM standards. As such, representation for suitability of use and installation would then lie solely with the individual manufacturer or installer. These products typically lack the performance features and criteria that would allow effective control of fractures without transmission through the finished tile surface. Despite their shortcomings these products continue to be used in a guise of being beneficial to the consumer while having a long history of poor performance. The initial financial savings realized by using such an inferior method or product often results in a huge replacement cost to the unsuspecting end user at a later date well after any warranty period.
There are numerous membrane systems available, which meet the current industry standards listed under ANSI A118.12 Crack Isolation Membranes for Thin-Set Ceramic Tile and Dimension Stone products. Products meeting these strict performance requirements provide warranted crack isolation.