Editor's Letter – February 2017
I just returned home from Surfaces a.k.a The International Surface Event (TISE) West in Las Vegas. You'll read more about the show in our March issue, since in the wonderful world of magazine publishing, the February issue is already designed and ready to be produced except for this letter. But here's a little taste of what took place at the show.
What I noticed is a LOT of people – crowds seemed fuller from day one through the end this year. People were excited – about the products, about the conferences, about what they could find to enhance their businesses and take them to a higher level. For instance, there were standing-room-only crowds at presentations by NTCA presenters Mark Heinlein and Robb Roderick conducted at the installation stage.
This crush of people was echoed at the NTCA booth, where State Ambassadors, members and curious showgoers clustered to talk about tile, education, business and membership, and where member volunteers like Chris Dalene of Five Star Contractor Dalene Flooring, and staffers like Amber Fox, newly hired Five Star Contractor Program Director, signed up seven new members. 
Also percolating at the show was Certified Tile Installer testing, with nine installers taking a timed test to lay tile on the CTI modules. 
The effort was supported by several of the new Regional Evaluators, which will allow more frequent CTI tests to take place with smaller class sizes across the country. Twelve new Regional Evaluators are on the job, led by Kevin Insalato of California Flooring. In the testing area were also workshops and testing conducted by other industry sectors like carpet and vinyl.
For NTCA, the whole show kicked off with an executive committee meeting, followed by a well-attended Training & Education Committee gathering, led by Training & Education Committee chair Dave Rogers of Welch Tile and Marble.
That first evening, NTCA held a reception and dinner in appreciation of its members and State Ambassadors with an address by NTCA president Martin Howard, presentation by Eric Astrachan of TCNA and a video on the history of NTCA and its accomplishments in the last 15 years. 
Wish you had been there? Stay tuned to our March issue for more details on the show. For now, enjoy all the information in this issue, from the Bostik's cover story on the stunning mosaic installation in a Utah lodge to LATICRETE's Sean Boyle's economic update, to an exploration of the confounding problem of discoloration of natural stone used in shower installations, to the list of installation track seminars at the Coverings show, coming to Orlando in April. We also have a bonus story on measuring wet film thickness from MAPEI, and voices from the field in our new Hot Topics section, focused this month on grout. 
The new year is building momentum. Let's make it a good one!
Be well, and God bless,
Lesley
[email protected]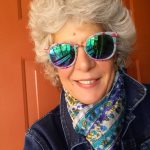 Editor for TileLetter, TileLetter Coverings, TREND and TECH publications.
Lesley Goddin has been writing and journaling since her first diary at age 11, and drawing and sketching since she could hold a pencil. Her penchant for observation led to her becoming a paid professional as a trade journalist, publicist and is editor for TileLetter. She has also written for Guideposts, Walls, Windows and Floors, Floor Covering Weekly, and Low Carb Energy.