Bostik Inc. – February 2017 Feature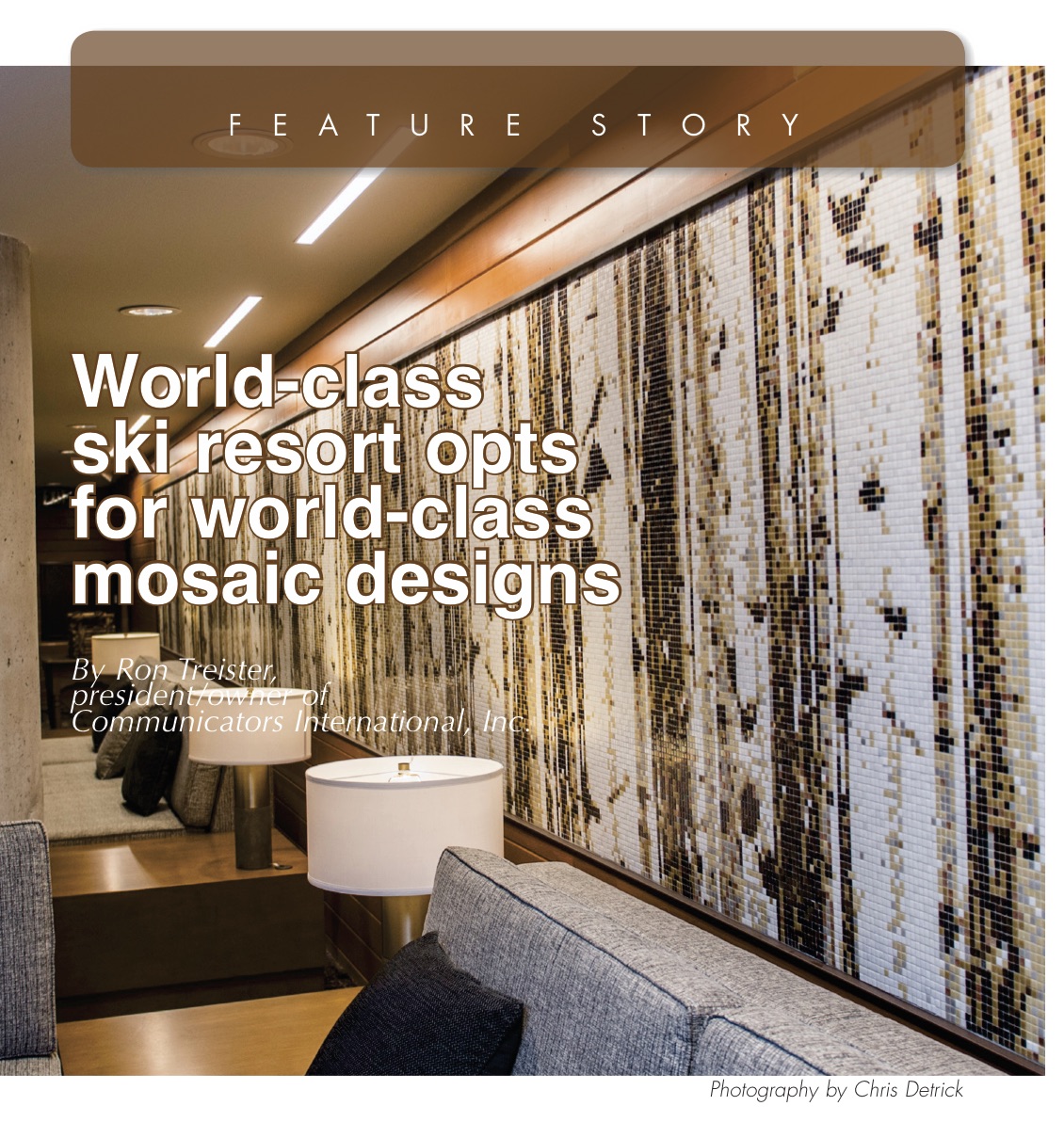 To many, Snowbird, Utah is known as a multi-facility resort community. 150 years ago, it was known for its adjacent silver mines, but the shining draw today is top-shelf winter powder skiing and snowboarding.
One major magnet, The Cliff Lodge and Spa, not only enjoys an outstanding Snowbird location near loads of Utah's finest ski resorts, golf clubs, and other attractions, it also boasts some of the most unique and progressive architectural and design treatments one could imagine. Featuring wall-to-wall windows with awe-inspiring mountain or canyon views, Cliff Lodge vistas are modern, spacious, and sumptuously well equipped. Cliff Lodge owners wanted some new indoor visuals, which resulted in two very large mosaic murals installed, designed by Edge ID.
Kari Bennett is principal/interior designer at Edge ID, a full-service hospitality design company, located in Salt Lake City. Bennett prides her firm on "researching, planning, designing, involving and orchestrating all projects to the last detail." Such was the case for this highly innovative mosaic mural installation at The Cliff Lodge and Spa.
Creating an aspen tree "wow factor" for the interior
"We wanted in some way to bring the outdoors indoors," declared Bennett. "There are so many beautiful vistas surrounding The Cliff Lodge. In particular, there are exquisite aspen trees indigenous to this part of the country, which look good year-round. So we made the collective decision to create an amazing aspen tree 'wow factor' motif on two large walls, one being in the ballroom lobby, and the other in the ballroom mezzanine. These were to be very large murals, each thirty feet wide by four feet high… 120 sq. ft.… each consisting of over 166,000 individual vitreous glass mosaic pieces.
"We knew a bit about Artaic, and how the firm offered a unique, space-age service of creating mosaic murals using computer-driven robots," she added. "Artaic provided us with its mosaic depiction of an aspen tree motif. We immediately liked it, but wanted to change the color of the trees from black-grey to more of a sepia tone, which was more relevant to the Snowbird landscape's colors. Artaic had no trouble whatsoever accommodating our request. The people there were without question, very professional and a joy to work with."
Inventor and scientist, Artaic's Dr. Ted Acworth, added, "When Artaic was asked to design a beautiful custom mosaic for the Cliff Lodge renovation, we learned the designer was looking for a custom mosaic that really reflected the beautiful natural environment of the Utah landscape. We were provided with a photograph of a stand of aspen trees… loaded that image into our proprietary design software, and subsequently designed a beautiful custom mural out of glass tile from that image. This was not hard to do, especially when working with clients who knew what they wanted and understood our process."
NTCA member Katwyk Tile handles the installation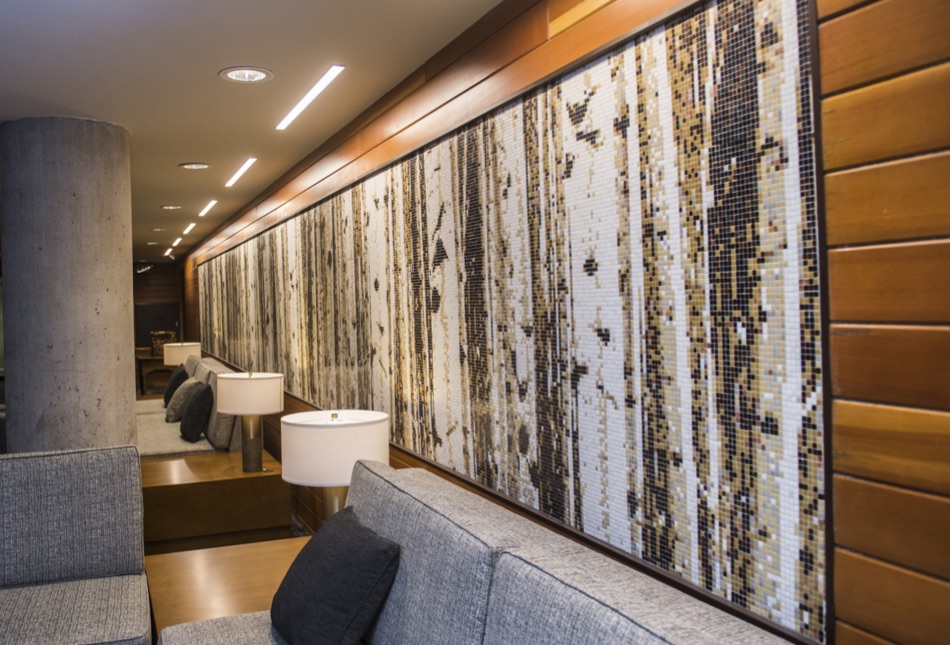 Bennett went on to say that the tile installation contractor, NTCA member Rod Katwyk, owner of Katwyk Tile, was quite stoked about using Bostik materials for this massive mural project. "We believe we were hired because of the 'touch and finesse' we offer," he said. "The people at Artaic highly recommended, Bostik's Dimension® RapidCure™ Grout, which we had used previously and were confident would be ideal for this project. To begin with, we used exterior grade plywood, perfectly fitting it on the walls. Once it was glued and screwed in, we used Bostik's GoldPlus™ crack isolation product, (ready-to-use, roller-applied latex waterproofing and anti-fracture membrane for use beneath thinset ceramic tile installations) which also served as a good primer and bonding agent to the plywood. After applying two coats, we started installing the Artaic mosaic sheets from the center of each mural. To do so, the thinset we chose was Bostik's Glass-Mate™, using it one bag at a time. We were very happy how the material 'stayed active' in the bucket, which gave us time to adjust each sheet if need be. By far, this is my favorite glass tile thinset!"
Bostik Glass-Mate is a premium, polymer-modified, thin-set mortar that exhibits superior bond strength, durability, non-sag properties and workability. Its bright white color and high polymer content make it ideal for installations such as that at The Cliff Lodge and Spa.
Katwyk added that grouting was accomplished with Bostik's Dimension RapidCure Grout, which his company knew well. "We reached out to Bostik for advice, and Bostik came through," he said. "All their products are easy to use, their customer service is great!"
Bostik grout offers "another light source" to the project
Acworth added, "Our relationship with Bostik began when we started using Dimension RapidCure Grout – their unique formulation that contains 60% recycled glass content – in our productions. The product is easy to apply, highly durable and most of all, actually adds more luminosity to mosaic productions. For example, if a project contains glass mosaics, imagine another light source being incorporated: that's what Dimension RapidCure offers."
Designer Bennett remarked, "We believe great design should be simple, so our process is one of honesty and communication throughout. Not only do we think it's the right way to do business, but it does wonders for keeping efficiency up and costs down. Working with great suppliers such as Bostik, Artaic and Katwyk Tile, we were able to once again implement our philosophy for the mosaic murals at The Cliff Lodge."
Scott Banda, Bostik's director of Marketing and Business Development, summed it all up. "Along with our strategic partner, Artaic, Bostik is on a mission to resurrect the ancient art of mosaic design," he said. "We're bringing it back worldwide. The two murals at The Cliff Lodge and Spa are perfect examples of how mosaic masterpieces can once again be specified by the architectural and design community. We are proud and pleased to be an active participant in this ongoing, successful global quest."
A video has been produced of this world-class project by Bostik. You may view it by clicking on
bit.ly/SnowbirdVideo.