Coverings 2017: NTCA 70th Anniversary Awards Presentation
Among the many events and parties taking place during Coverings 17, April 4-7, 2017 at the Orange County Convention Center in Orlando, Fla., will be a very special celebration for NTCA on Thursday night, April 6 from 5:30 p.m. – 7 p.m. On this night, NTCA will mark its 70th year in 2017 as a leading association for tile installers.
NTCA will recognize leaders who have made a difference over many years of service to the association as part of this stellar event.  In addition, the prestigious Tile Person of the Year will be honored, and the Tile Council of North America will present its award winners.
Also a part of the 70th Anniversary Awards show will be the Five Star Contractor Project of the Year, the Tom Ade Scholarship Award recipient  and the Grand Prize Winners of the Coverings Design and Installation Awards.  This is a time to celebrate YOUR association!
In addition, former NTCA presidents, Tile Persons of the Year, and Ring of Honor winners will be invited to the event. NTCA will also recognize sponsors and contractors who have supported the Gary Sinise Rise Foundation program. A party to celebrate this 70th Anniversary year will go until 9 p.m. after the presentation. Don't miss it!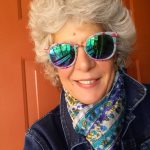 Editor for TileLetter, TileLetter Coverings, TREND and TECH publications.
Lesley Goddin has been writing and journaling since her first diary at age 11, and drawing and sketching since she could hold a pencil. Her penchant for observation led to her becoming a paid professional as a trade journalist, publicist and is editor for TileLetter. She has also written for Guideposts, Walls, Windows and Floors, Floor Covering Weekly, and Low Carb Energy.