Ask the Experts – February 2017
QUESTION
I'm a homeowner in Berkeley, Calif. On my recently completed bath renovation, we've found that the shower curb collects water and it takes a long time to dry even with ventilation. I'm trying to determine if this condition meets industry standards or if it would legitimately be considered a defect. Someone online recommended NTCA may be able to provide help.
ANSWER
Thank you for contacting The National Tile Contractors Association. The TCNA Handbook's wet area guidelines state that horizontal surfaces must be sloped to direct water to the drain. The slope recommended is no less than 1/4" per foot.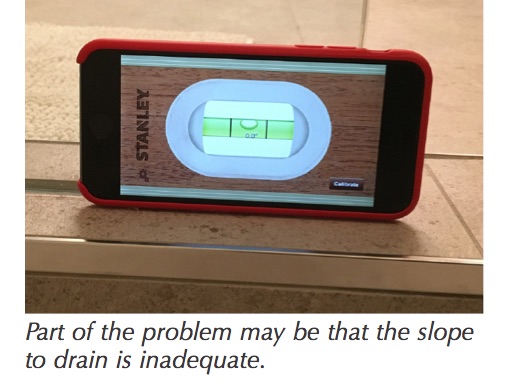 I couldn't tell a whole lot from the picture you sent, but it appears there is metal endstop trimming out your curb. If that endstop edge is above the edge of the tile, it can sometimes act as a dam on curbs that are sloped. Many shower systems incorporate surface waterproofing that lays right under the tile and can be easily damaged by removing tile. I would suggest tiling over the existing curb tile using a chair rail or some type of specialty trim to maintain the integrity of the waterproofing below the surface. Guidelines for tiling over the existing tile are found in the renovation section of the TCNA Handbook in section TR711. Scarification or primers are sometimes needed. And always make sure to use the correct adhesive for tiling over tile in a wet area.
– Robb Roderick, NTCA trainer/presenter
QUESTION, part 2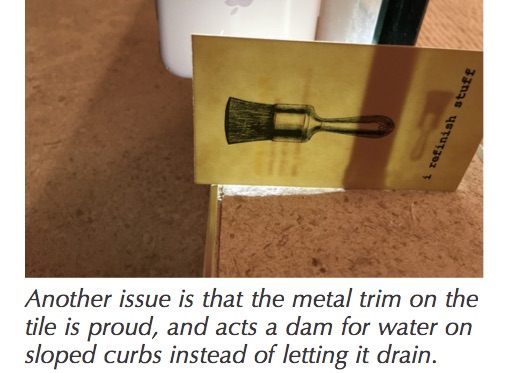 Thank you very much for the prompt and helpful response! Much appreciate the advice to tile over rather than break tile and risk waterproofing damage.
You are right – there is a stainless steel edge on the curb; it seems to be proud and acting as a dam.
Regarding the tile-over repair – a question. The manufacturer says the 24" x 24" tile we are using is slightly bowed for water runoff. I suspect the current ponding is related to this. Can this type of tile be cut for successful use on a curb like this, and if so are there standards for how to do this correctly so the repair is successful?
ANSWER, part 2
The tile you have selected appears to be pretty typical as far as inherent warpage. A byproduct of the firing process in tile manufacturing is that tiles become bowed or warped. This normally manifests itself with the center of tile being the high point and the edges being the low points. There are ANSI standards for what is and is not allowable for warpage. Considering you purchased the material from a reputable manufacturer, I'm sure it would follow in the acceptable guidelines for warpage, since this company has a great track record of offering quality tile.
As far as doing the repair within standards, the requirements are for the existing installation to be sound, well bonded, and without cracks. All soap scum, wax, or coatings must be removed from the surface prior to installation. You may want to scarify or prime the surface of the tile prior to the installation to increase bond strength. Always select a mortar that is approved for tile-over-tile installations. Incorporate your 1/4" per foot minimum slope in the new assembly. Most curbs are 6" so this would equate to a minimum of 1/8" drop.
– Robb Roderick, NTCA trainer/presenter