Managing mold in stone showers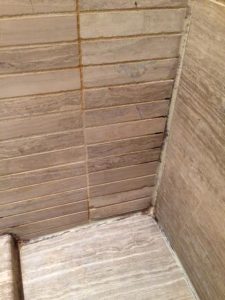 Mold is a destructive organism that can overtake grout, stone and tile in showers and wet areas, rendering them not simply unsightly, but also unhygienic.
Sometimes mold is superficial and resides only on the surface of the installation. Most shampoos and soaps contain organic matter, some more than others. When you have organic materials, warm temperatures and moisture, you have a great environment for mold to grow.
Proper and regular cleaning of showers removes those materials. When used and not cleaned regularly you can end up with discoloration on grouts, stone and tile. Always use a neutral PH cleaners approved for cleaning the stone or tile in your shower. And always test the cleaner in a inconspicuous area to make sure there's no adverse reactions.
Double check for mold or wet areas outside the shower as well to ensure there are no leaks. If water has escaped the shower assembly and has reached the wood substructure this can also provide the organic matter needed for mold to grow. – Robb Roderick, NTCA trainer/presenter