Qualified Labor – December 2016

Certification: providing a bridge to the larger tile community for Charles Nolen, Miller's Flooring America
By Terryn Rutford, Social Structure Marketing
Charles Nolen was recently named an Indiana State Ambassador for the National Tile Contractor's Association (NTCA), an adjunct role to his position with Miller's Flooring America, which does all types of flooring installation in Lafayette, Ind. In 2016, after more than 20 years in the industry, Nolen became a Certified Tile Installer (CTI) at Coverings 16 this past April.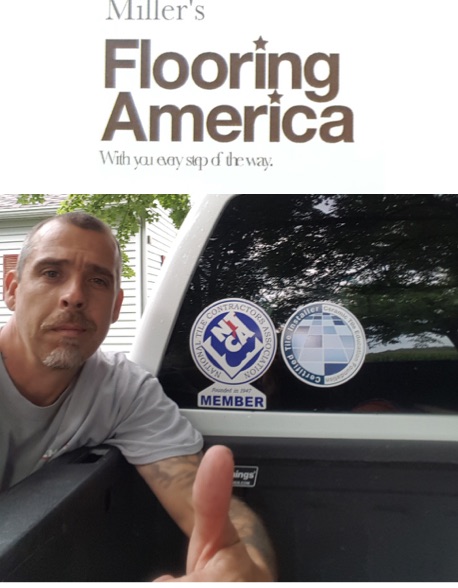 Nolen said, "The written test was very interesting for me. It made me really get into my books. I have had all the books for years, but I just didn't get that deep into the coefficient of friction side of things." Nolen's tile installations have always closely followed the TCNA Handbook, but he said, "Clients seem to really like the [CTI] logo and confirmation they made the right decision."
Nolen said being certified is, "A way to say I'm different. I don't just tile, I make a project come to life, bringing people's dreams to reality, not just at the surface. What is underneath is done just as correctly as what you see visually. Tile isn't just a designer object, it's a tile assembly that must function with the consumer in mind for years to come."
Tile certification is a way to confirm to consumers the quality of a company's craftsmanship and workmanship. Nolen's company already has a great reputation for "coming in, demoing, and redoing work," he said. "Certification lets them know they have come to the right place and they definitely seem to relax and breathe knowing they will get better results."
The biggest change for Nolen since becoming certified has been his connection to the larger tile community. Nolen said, "I have reached out to many peers in the business, joining [the] Tile Geeks [Facebook Group] and networking with those who have truly paved the way in the tile world."
Certification is one of the most important advances being made in the industry as a whole, Nolen said. It is a way for the Ceramic Tile Education Foundation, "to put the stamp on [the industry] and say, 'Hey look, there are great installers out there'." Certification opened up a lot of doors for Nolen, only the most recent of which was becoming the NTCA's Indiana State Ambassador. "Being able to display the logo and holding the card is priceless," Nolen said.