NTCA University Update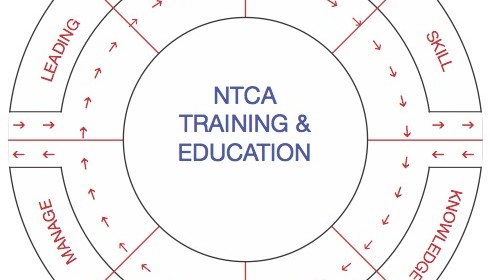 Skill level courses for every type of employee
Last month I was happy to announce that the first six months of the Finisher Apprentice program had been completed. The functional wheel diagram shows that people can enter and leave training at various points in their career. If someone does want career development, there will be courses available based on their certain skill level. The wheel shows the job function for each type of employee.
Task – Finisher Apprentice
Skill – Setter Apprentice
Knowledge – Journey Setter
Value Asset – Master Setter
Lead – Foreman
Manage – Field Superintendent
Leading – Estimator or Project Manager
Succession – Upper Management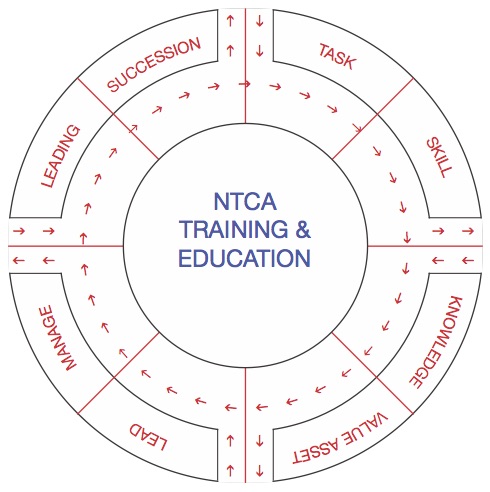 As we get ready for the holidays and the start of a new year, I wanted to take some time to tell you about the changes in the Training and Education Committee. Our goal has always been to have courses available for all skill sets but all of my time has been devoted to apprenticeship. In order to get the advanced courses created, two new subcommittees have been created to help determine courses that are needed and to write the scripts for the courses. These two subcommittees were developed to ensure that we have continuing education available for everyone that would like to advance beyond a journey setter. The two subcommittees are CEU Technical and CEU Management.
CEU Technical subcommittee
The CEU Technical subcommittee is chaired by Rod Owen, of C.C. Owen Co. This group will be focused on creating courses for the journey setter, master setter, and foreman. Some of the categories will include new product training, documentation, soft skills, and field risk management.
CEU Management subcommittee
The CEU Management subcommittee is chaired by Dirk Sullivan of Hawthorne Tile. This group will be focused on creating courses for field supervisors, estimators, project managers, and upper management. Some of the categories will include estimating, project management, and running a tile business. Depending on the size of your tile contractor business you could be wearing one hat or several. These courses will take into consideration all company sizes.
It does not matter if you leave your current company and go elsewhere or start your own business, because all of these courses will be designed so that you can continue your education when you are ready to learn. Or if you are content with your current position and do not want to pursue advancement, you are not required to keep moving along the wheel until you are a business owner.
The changes that were made to the Training and Education committee will add value in the long run to all of our contractors' businesses. As with the apprenticeship courses, these will take a little while to develop but I am looking forward to working with both of the subcommittees in 2017 to create courses that can be used by everyone.
Remember, you can purchase your all-subscription access by visiting the NTCA store. Make sure that you are logged in to get your introductory pricing. If you purchase this subscription, you will have access to all of the learning content, including anything new that is created, through December 31, 2017.
Happy Holidays!
Becky  –  [email protected]