Cersaie 2016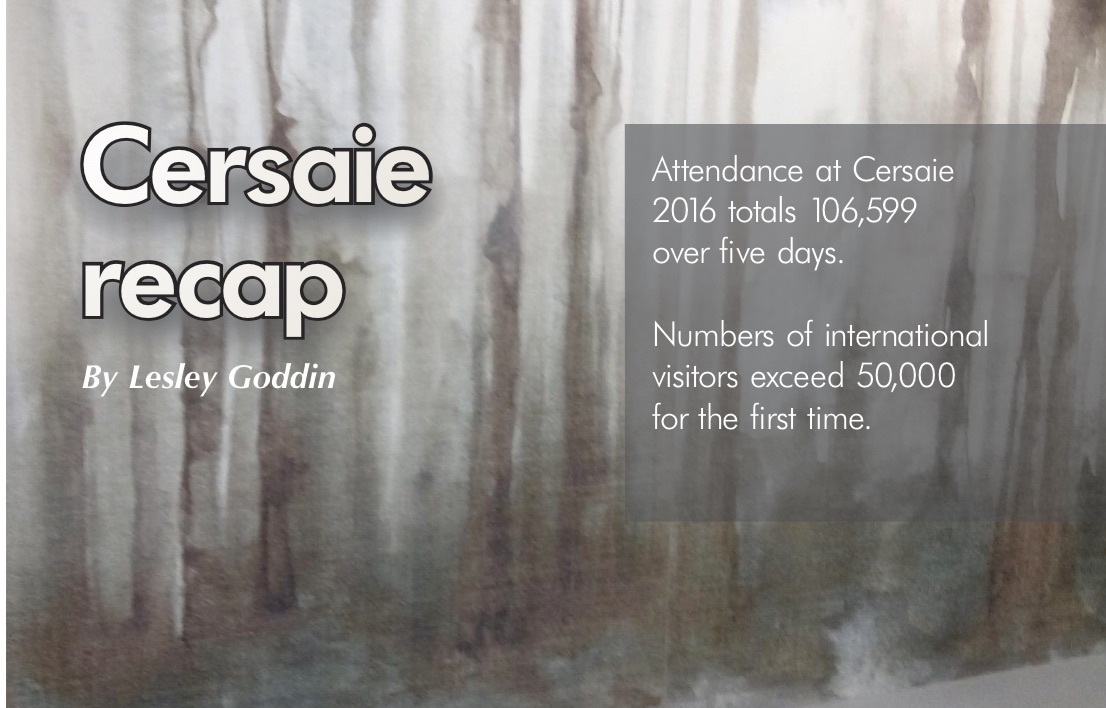 Good things are happening. At the 2016 edition of Cersaie, the international exhibition of ceramic tile and bathroom furnishings held in Bologna from September 26-30 in cooperation with BolognaFiere, nearly 5,000 more visitors attended than in 2015 – an increase of 4.7%. This brought the total attendance to more than 106,000, with growth of Italian and international visitors.
Here are the stats for attendance from various sectors and audiences:
Italian visitors –55,623, up 3.8%
International visitors – 50,976, up 5.7%
Journalists – 797; 472 Italian and 325 or 40% non-Italian
Visitor countries of origin – 170
Number of exhibitors – 852 in six sectors: ceramic tile, bathroom furnishings, wood, marble, natural stone surfacing; 335 non-Italian companies exhibiting
Exhibitor countries of origin – 43
Ceramic tile exhibitors – 491, with 237 non-Italian
Bathroom furnishings exhibitors – 194
As the figures above indicate, ceramic tile was the best represented sector, followed by bathroom furnishings, confirming Cersaie's position as Italy's largest bathroom furnishing exhibition and one of the leading shows for the sector in Europe.
In addition, the show's appeal coupled with a strong economy in several international markets fueled double-figure attendance growth, including a recovery in numbers of Italian visitors after several years of stagnation and a continued rise in international visitors. Cersaie remains a key event for developing global business in the ceramic floor and wall tile and bathroom furnishing sectors, and is a powerful engine for international trade.
Cersaie is a magnet for architects, interior designers, tile installers and the general public. Lord Norman Foster was the eighth consecutive Pritzker Architecture Prize winner to give Cersaie's keynote lecture to more than 2,000 people. The 'Cer-Sail' exhibition, curated by Angelo Dall'Aglio and Davide Vercelli, attracted large numbers of attendees. The "building, dwelling, thinking" cultural program earned architects education credits along with those gained for attendance of the show itself.
Practical demonstrations also drew large crowds, such as the presentation of the industry-average EPD and the technical meetings held in Tiling Town in partnership with the main professional associations. "Cersaie designs your home" was strongly attended by consumers interested in renovating their homes. Bologna Design Week was also a big success, with an evening program of cultural events held in a number of prestigious locations throughout the city.
Attendees had the chance to view dominant trends, including these below:
Bits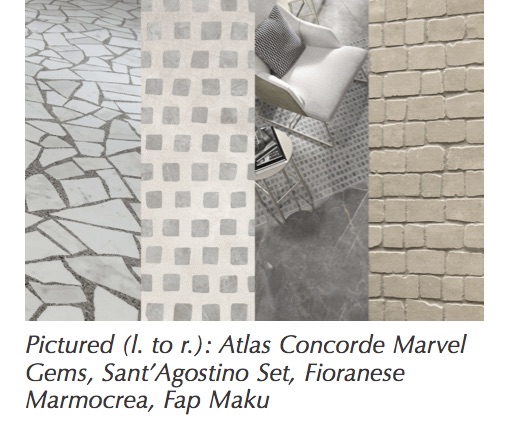 Collections with a random assortment of fragmented pieces lent an eclectic and playful visual narrative to the surface. Some designs are inspired by natural materials with a conglomerate look such as Ceppo di Gré, while others conjure a sense of handwork such as Venetian terrazzo and irregular stone mosaics. A few standout collections include: Bits, a reinterpretation of terrazzo flooring with square and irregular polygonal shapes, designed by Gordon Guillaumier for Ceramiche Piemme; and Sant'Agostino's Set collection inspired by the hand-cut mosaic floors of Carlo Scarpa's Olivetti showroom in Venice. Other collections include Raw by 14oraitaliana, Marvel Gems by Atlas Concorde, Pennellato by Campogalliano, Pietre di Paragone by Casalgrande Padana, Maku by Fap and Marmocrea by Fioranese.
Black & Blue
Intense blacks with matte finishes are making a strong statement this year. Meanwhile, blue – which has been popping up everywhere this year from fall fashion shows to hair color – is taking the tile industry by storm, expanding beyond last year's marine palette to include dusty, vibrant, and sophisticated blue hues. For devotees of Le Corbusier, his preferred shades of ivory black and ultramarine blue from "Polychromie architecturale" are now available in ceramic tile thanks to a new project from Gigacer called LCS Ceramics. Other notable collections include Hops by 41zero42, Texture by Appiani, Marvel Gems by Atlas Concorde, Layers by Caesar, Earth and Pietre di Paragone by Casalgrande Padana, Sofia & Eve by Ceramica Bardelli, Tr3nd by Ergon, ColorNow by Fap, Blu Ponti by Francesco de Maio, Reve by Mirage, Materia by Novabell, 80s by Ornamenta, Metropaper by Sant'Agostino and Vetrite by Sicis.
Retro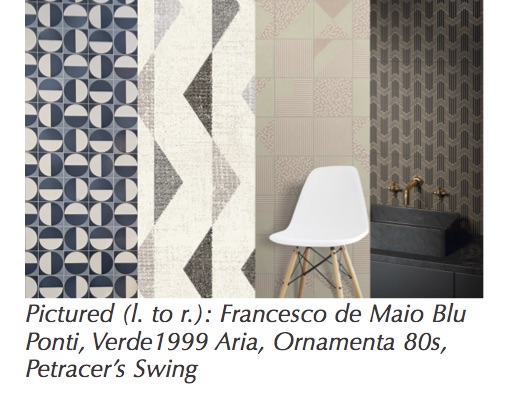 Good designers learn from history, borrowing elements from the past and infusing it with fresh ideas and cutting edge technologies to create something completely new. Retro is a trend that has been percolating for years, especially with the graphic appeal of cementine and maiolica, but now other historical movements have joined the fold, from the elegance of Art Deco to the bold shapes of Memphis. One collection that was actually revived from the 1960s is Blu Ponti by Francesco de Maio. Originally designed by Gio Ponti for the Hotel Parco dei Principi in Sorrento (the world's first design hotel), a series of 30 blue and white decorations with geometric and naturalistic motifs are faithfully reproduced on 8"x8" ceramic tiles. Other retro tiles include XO by 14oraitaliana, Paper41 by 41zero42, Firenze Heritage by Fap, Cementine_Retro by Fioranese, Play by Imola, Hmade by Mirage, 80s by Ornamenta, Metrochic by Sant'Agostino and Aria by Verde1999.
Rustic Modern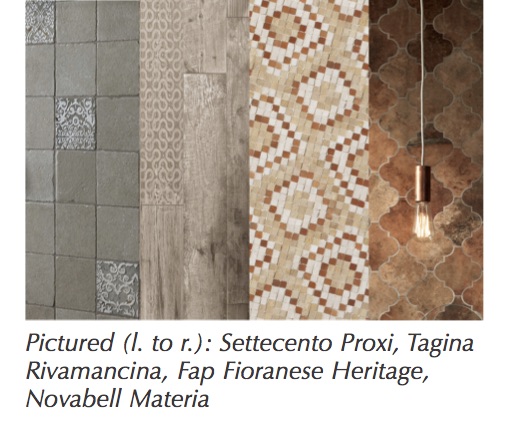 Adding a new twist to country style, wood, stone, brick and cotto are invigorated by modern schemes, hues and patterns. Antique stone with metallic accents, terracotta in quatrefoil shapes, and geometric patterns overlaid onto distressed wood planks are just a few of the ways tile companies are blending farmhouse charm with modern elegance. Collections include Alpes by ABK, Borgogna by Coem, Climb by Del Conca, Arezzo by Faetano, Firenze Heritage by Fap, Cottofaenza by LaFaenza, Materia by Novabell, Maison by Ricchetti, Faber by Sant'Agostino, Proxi by Settecento, Rivamancina by Tagina and Trecentogradi by Viva.
Warp & Weft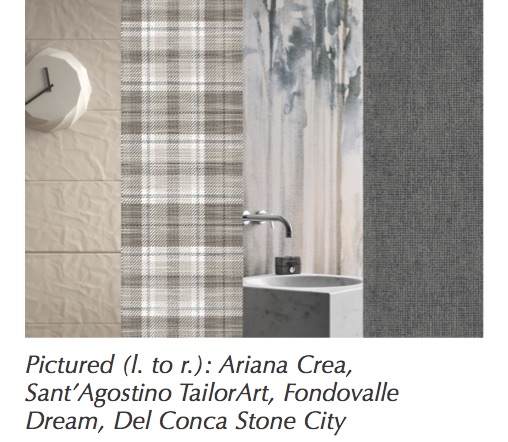 Texture is the defining character of this year's tile collections, which complements the many new textile-inspired lines. Designs range from lace, macramé, linen and madras to masculine suiting fabrics, leather, tweed and tartan. Whether woven, knitted, knotted, or layered, the designs add another tactile element to the hard surface. Arte Pura by Ceramiche Refin features three distinct designs that capture the feminine sensibility and fantastical world of Daniela Dallavalle, from imprints of lace and fragmented embroidery to layers of torn linen with frenetic doodles. Also of note is Vetrite, which turns Sicis fabrics into luxurious cladding via large-format thin glass panels. Additional collections include Crea by Ariana, Room by Atlas Concorde, Stone City by Del Conca, Lin_Side by Edilgres, Dream by Fondovalle, Trame by Lea, Reve by Mirage, TailorArt by Sant'Agostino and Aria by Verde1999.