Morris Tile Roanake's Jones retires after 32 years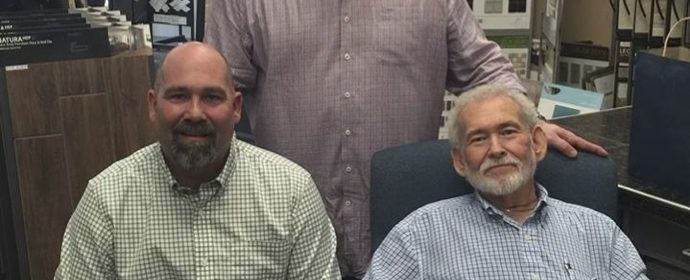 John Jones, who worked for Morris Tile Roanoke, Va., is retiring after 32 years of dedicated service. Jones was hired 32 years ago by Robbie and Harvey Morris to open a Morris Tile branch in Roanoke, Va. He ran this successful branch for 32 years and has retired to enjoy and explore life as a successfully retired tile man.
He started his career in the tile business 45 years ago, working for a company named Marsteller that sold tile and stone materials. He spent many years after that at Valley Tile in Roanoke. He agreed to start the branch for Morris Tile, and the rest was incredible history. As a result, his coworkers and family will always consider him to be "The Tile Man."
Jones built a legacy of being the main contact in a large geographic area for tile, but he also left another legacy that extends Morris Tile into the next generation. In the late 80s, he employed his son, David Jones, at Morris Tile. David embraced the industry, building a successful career first with Marazzi, and now with All Tile, Inc., one of the largest flooring distributors in the country. "I have my dad to thank 100% for setting me on this path," he said.
Now, Jones' main legacy of running Morris Tile Roanoke is in the hands of his youngest son, Chris Jones. Chris followed in his dad's footsteps, being hired by Robbie and Harvey Morris 10 years ago to co-manage Morris Tile Roanoke. Chris has now taken over at Morris Tile Roanoke and in Chris's words, "to carry on his legacy".
"Thanks, Dad, for setting us on the path to successful careers in the flooring industry," said a statement from David and Chris. "We love you, and we learned it all from you!"