Technical Feature: Gauged Porcelain Tile Panels – TECH 2016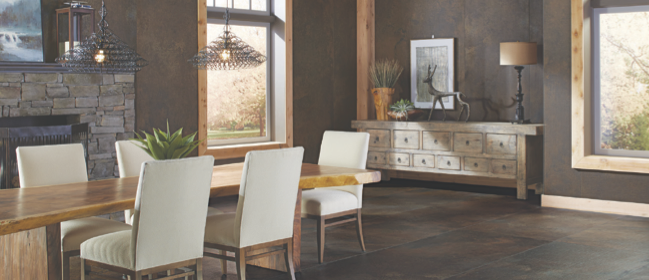 The status of standards for gauged porcelain tile panels/slabs (formerly known as thin porcelain tile)
Unique partnership between tile and installation materials manufacturers, tool suppliers, and labor set the groundwork for product and installation standards for new breed of tile
By Noah Chitty, director of technical services, Crossville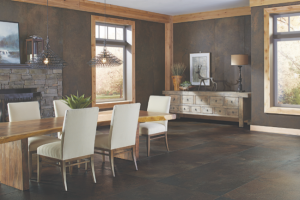 It began approximately 15 years ago when an Italian equipment manufacturer by the name of System Group came up with a new way to press tile with a process they called Lamina. It worked to gain traction for the product manufactured by this process by building a factory and showing people that a new way was viable and the product it made – hopefully – could change the face of tile making forever. A little bit of this product trickled into the U.S. market, but it was not until approximately five years ago that this tile entered the domestic market in a meaningful way. Along with the product, came the hopes of revolutionizing how people think about a material that has been around for a few thousand years.
The market was already moving in the direction of larger sizes: 12"x 24" was starting to replace 12"x 12" as king of the hill; 18"x 36" was starting to pick up steam; and 24"x 48" was being dabbled with here and there. This new thing was a tile over 3' wide and approximately 10' long – and to make it more complicated – with a thickness of only 1/8" to 1/4". It was for sure sort of an anomaly that no one really thought could go anywhere. For the first 18 months or so most thought it was a fad that would go away, then designers and architects started to get excited and we started to see specifications for it.
This presented a new challenge; no one knew how to install it or what the rules were. So, a few tile and thinset manufacturers started to look at traditional setting methods as a basis for developing new techniques that would be necessary to comply with existing standards of coverage, lippage, etc.

As the market pressure increased, a unique partnership started to develop between tile and installation materials manufacturers along with tool suppliers, and most importantly labor. This new organic collaboration provided a mechanism for rapid development of new materials and methods for the installation of these extremely large tiles. Sales started to rise and the awareness of the tile industry started to grow. (Photos show training sessions at Crossville with Laminam, an example of this new breed of gauged porcelain tile.)
New language starts to emerge
In an ANSI meeting about three years ago there was enough awareness that while maybe a standard was not in the immediate future, it was clear something had to be said about it. Chris Walker of NTCA Five Star Contractor David Allen Company was designated as the leader of an ad-hoc group mandated to draft a statement for inclusion into the TCNA Handbook for Ceramic, Glass and Stone Tile. Walker and company wrote some language for what they called "reduced thickness tile" and our industry documents started for the first time to recognize these new materials.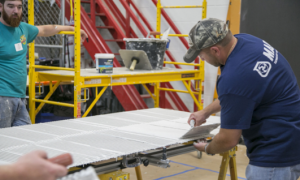 By this time we were seeing even larger tiles, up to 5' wide, and in some cases more than 10' long. By now a second technology from SACMI was emerging called Continua Plus, compacting porcelain powder between two large steel rollers. System Lamina technology was continuing to innovate as well, with even larger sizes and textures pressed between its new equipment that was more than 17' long with plates more than 5' wide with 50,000 tons of pressure. Both technologies advanced in thickness capability as well, able to press up to 30mm. From here momentum was starting to grow; a few manufacturers started talking about drafting a product standard to protect this new market from lesser-quality materials.
The next step towards the product standard
With the advancements in technology and the growth of the market, it was becoming evident that standards would soon be necessary. So a couple of companies that believed in the future of the category decided to start some testing, and sure enough we started to see data that would serve as the outline for a product standard. At the April 2015 ANSI A108 meeting it was formally decided to move forward with the product standard, as well as form an ad-hoc group to begin work on an installation standard to be called A108.19.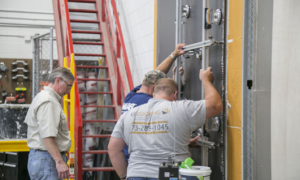 To drive the product standard quickly, tile manufacturers started to formalize the criteria around the terminology, thicknesses, breaking strengths, and other physical properties required to accurately describe the characteristics and quality of this category. As of the last meeting of the TCNA Tile Technical Committee in mid-July 2016, tile manufacturers had reached a general consensus that the majority of the content in the draft of the product standard was nearing completion for submission and subsequent ballot to the full ANSI A108 committee convening in October of this year.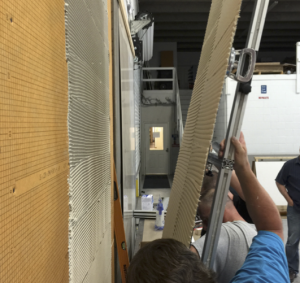 Part of the evolution of the standard includes a name change from "large thin porcelain tile" to "gauged porcelain tile panels/slabs. The name change to "gauged" is based on two main things: the technology now being able to produce thicker materials that one day may be encompassed by the standard (so thin no longer made sense); and second the need to use a replacement term that describes materials produced to a precise thickness that determines their physical properties and areas of use. So we picked a term used to describe exactly that, similar to how "gauged" is used to describe wire or sheet metal. For panel/slab, we just recognized that both terms were being used in the industry/market so to recognize that fact and not hinder anyone's way to market, we decided to propose the use of the dual term.
The installation standard starts to develop
In the meantime, the ad-hoc committee for the installation standard has also been hard at work. The first step was to get together as a group and look at all of the existing information from around the industry pertaining to these materials. Once the data was analyzed, an outline was created to address all of the different concerns brought by the members of the committee. The next step was to look at the variables of piece size, embedding technique, coverage rates, lippage tolerances, qualified labor language, and other required criteria needed to complete a comprehensive standard.
Drawing on the information and data supplied by different members of the committee we have been able to complete a draft that was distributed at the A108 meeting at Coverings 2016. While there is still some work to be done, the majority of it has been completed, and all signs point to a viable draft being distributed at the same A108 meeting in October of this year, and taken to ballot soon thereafter. As the leader of this group I can say the dedication to the effort has been second to none, and I would personally like to thank all involved for participating diligently and unselfishly to better the industry in which we work. Because of this collaborative effort we are well on our way.