Tech Talk – October 2016
Sealers, maintenance and more
Contractors offer value-added service, keep connected with customers
By Lesley Goddin
The tile or stone is installed, the area cleaned up, and you step back and admire your work, then go on to your next job, right?
Nope.
Contractors say cleaners, sealers and maintenance packages can add protection to the project and its long-term beauty and performance, and keep contractors connected to their customers so they are top of mind for that next tile or stone job or referral to a friend or business.
Not a one-size fits-all proposition
Martin Brookes, of NTCA Five Star Contractor Heritage Tile and Marble, Mill Valley, Calif., said that manufacturers have mispromoted sealers over the years, giving the impression that "the installer applies a magic substance to a surface that allows them to abuse the tile and grout, when in fact it's more of a protectant that gives added amount of time to remove a substance, over a non-protected surface."
Brookes said that not all tile or grouts require a sealer, and sealers exposed to UV light may need regular reapplication. "It's not a one-shoe size fits all scenario."
Heritage highly recommends a maintenance package when stone is installed. "We recommend StoneTech® Revitalizer as maintenance cleaner, and always warn of not using harmful toxic cleaners around natural stone and metallic tile," he said. "We have however noticed over the years that 'green' cleaning products don't have the cleaning power of the more toxic, harmful ones so there is a compromise."
Brookes also said that the combination of green cleaning products, shower gels, shampoo, body oils and the humid environment of a shower is contributing to frequent growth of the bacterium Serratia Marcescens. This gram-bacterium, which creates a pinkish-reddish-orange slimy bloom on surfaces, is a culprit in urinary tract and respiratory infections, especially in hospital settings and where instrumentation is involved for the patient.
"We educate the end user on the limitations of a sealer and inform them it's not a one-time application; regular maintenance and reapplication will safeguard their investment," he said.
Products used:
STONETECH /LATICRETE sealers
Becoming the local go-to maintenance experts
For NTCA State Ambassador Dirk Sullivan of Portland, Oregon's Hawthorne Tile, requests for repairs and recaulking or regrouting have been frequent since he started his business in 2000. This kind of work "helped pay the bills" during the 2008-10 economic downturn, he said. But once the business of larger, custom jobs picked up again, there wasn't much time to pursue this type of work.
Until Sullivan had a revelation: "If we had a team to manage this specific line, we could become the go-to experts," he said. "Not only that, but we could have a team ready to set up maintenance programs as we completed our high-end custom jobs." Longtime employee Jason Ballard (CTI, ACT) was eager to take on this new role, applying his "eye for detail, understanding of TCNA standards and excellent customer service."
Hawthorne Tile has evolved its selection of products, choosing Dry Treat, a relatively exclusive product in the region. It added in LATICRETE and AquaMix products to fill some holes in local representation.
After meeting Fila's Jeff Moen at Coverings early this year, Sullivan was super impressed with the line of cleaners and the "top-notch customer service" offered by this company, which includes educating Hawthorne staff – and by the fact that Hawthorne would be the exclusive distributor of the line.
"As we complete our projects, we give our customers a gift bag with sample cleaning products and instructions as well as a refrigerator magnet with our restoration team contact number and info for re-ordering cleaning products as they need it," Sullivan said.
"We have found that this type of full service means we have a loyal customer for life. Not just when they need tile installed – which as it turns out… is not often enough!"
Products used:
Dry Treat
LATICRETE
AquaMix
Fila
Pre-construction discussion,  free maintenance education ends headaches
How do you combat lack of care in commercial kitchens, lack of sanitary cove base in restroom facilities and the darkening and residue buildup consequences of using dirty mop heads with regular detergent soap?
If you are Five Star Contractor J&R Tile, Inc. of San Antonio, Texas, you offer custom maintenance packages free for the property owner of a new construction or remodel to pass on to the custodial staff, along with complimentary product samples with demonstrations to help staff members use proper procedures to maintain their warranty and keep the project looking great.
Free? Yep, that's what NTCA State Ambassador Erin Albrecht of J&R Tile said. The company trains and educates maintenance/facilities personnel on application, leaving the door open for calls or questions. "Most don't know – or don't know where – to purchase professional strength tile and stone cleaners," she said. "We offer services, but we leave the stickers on the bottles on where the customer can reorder and our cards to contact us to order and ship to them."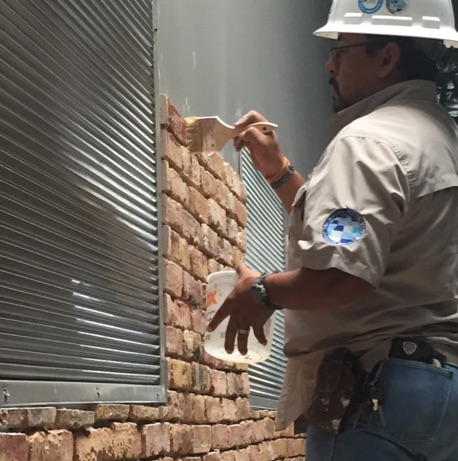 Fila products are the company's go-to, due to its outstanding customer support, and a useful iPhone app for staff and customers that displays a flowchart of the proper product for each application. Lori Coates, StoneTech rep out of Houston, also provides unbeatable customer service.
"If we had more partnerships like this in the industry commercially, our installations as contractors would be longer-lasting and more aesthetically-pleasing. That relationship would build customer loyalty with the contractor, and brand loyalty with the product. The staff always knows they can trust you because you care about your installation, long after the project is complete."
In addition to the free maintenance service, J&R dialogs in pre-construction about cove base and other options like metal trims. "We believe when cove bases are deleted because trim pieces can be pricey with budgetary constraints, it is our due diligence to offer solutions for the life of the installation with the end user in mind," she said.
And J&R has found in problematic commercial kitchens where they are called in to "regrout," management has been inaccurately or incompletely informed about how to maintain their floors. "Most of these facilities have gotten to the point where standing water is in the kitchen and it is a health/safety hazard."
Providing a custom maintenance package, with proper instructions from the get-go, eliminates these problems, and contributes to satisfied customers and repeat business.
Products used: