NTCA University Update – October 2016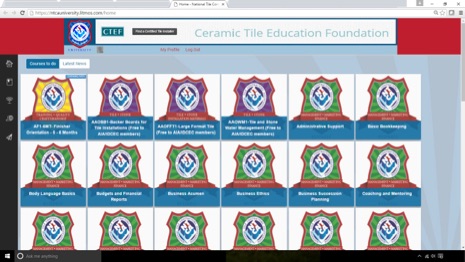 Are you considering the apprenticeship program?
As we continue to develop courses for the finisher apprenticeship program, I wanted to address some questions that contractors have had. If you are considering a program of your own, hopefully the following information will be useful for you.
Q: Do I have to have a Department of Labor (DOL) approved apprenticeship program?
A: No, this is your program to use as you wish. You can register it with the DOL if you wish or you can use the online courses to supplement training for your new hires and their on-the-job learning.
Q: If I have a DOL approved program, does the online learning take the place of the classroom learning?
A: With a DOL-approved apprenticeship program, you are required to have 144 hours of classroom training and 2,000 hours of on-the-job practical work each year. The first six months of online learning will make up approximately 10 hours of the classroom training, so you will still need to have classes with your apprentices. Some members are requiring their apprentices to take courses before the classroom training, while others are using it as a follow-up to make sure they retained what was learned in the classroom. Either way is acceptable since it is YOUR program. While we would be willing to offer suggestions, the NTCA has only developed the supplemental learning materials for you to implement as you see best for your company.
Q: Do I need to sign up each of my apprentices or can I just buy one program for everyone to view?
A: This again is your decision. If you have a DOL program then you may want to consider each individual being registered since there are tests at the end of each module. You can then use this information to track how well each individual is doing, and you can document that they have completed the course and the time it took them to complete each module. Or you can gather everyone in a group setting and view the course, then take the quiz together. Some contractors are even using these courses as part of the evaluation of each apprentice when they do performance reviews.
Q: Do I need computers in the office for the apprentices to take the courses?
A: No. As long as they can log into their NTCA account, they will be able to access NTCA University from any computer, tablet, or phone so they don't need to be in the office to learn. As long as they have internet access, they can take modules.
Visit the NTCA store at www.tile-assn.com to see the current listing of courses. If there is a course that you would like to see or if you are unsure of the types of courses available, please send me an e-mail at [email protected] or call me at 770-366-2566.