Member Spotlight – October 2016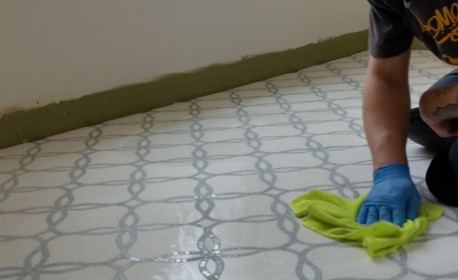 Nichols Tile & Terrazzo Co., Inc.
Joelton, Tenn.
Sense of family extends from business to industry, with membership in NTCA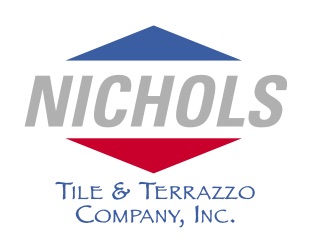 Nichols Tile & Terrazzo Co., Inc., got its beginnings back in 1946 when David Nichols started his career as a helper for Art Mosaic in Nashville, Tenn. After a leave of absence to join the Army, he returned from the Korean War in 1953 with a Purple Heart, and rejoined the private sector working on and managing out-of-town large commercial terrazzo projects. In the early 60s he left, and enjoyed two different partnerships with Glenn Arrington and Bob Dudley before starting Nichols Tile & Terrazzo Co., Inc. in 1973, with his wife Juanita anchoring the office.
In 1974, Nichols' stepson, Billy Denny, joined the company straight out of college to help with the estimating until he could find another job. "He jokes that he has yet to find anything," said Bradford (Brad) Denny, Billy's son, who came on full time as an installer in 1998, after working four years as a helper when not in school. Billy's daughter, Amber Hunter, started working in the office in 2001 and has gradually taken over the responsibilities of her grandmother.
Today, Nichols Tile & Terrazzo Co., Inc., in Joelton, Tenn., is a NTCA member, focusing on commercial specialty projects and large custom residential, and has branched out into thin porcelain tile, while enjoying the challenge of large mortar beds, pools, fountains and waterproofing. Brad Denny, now project manager, serves the association as the NTCA Region 6 Director. He also moderates the online NTCA Members and NTCA Regional and State Ambassadors Facebook groups, and introduced NTCA to the Tile Geeks Facebook page, through which NTCA has gained new members. He was honored at Coverings 2016 as one of the Coverings Rock Stars, a group of some of the best and brightest young talent in the industry, and received a NTCA Special Recognition Award at Coverings for his constant voice in promoting NTCA in all forms of social media.
"For many years and three generations our company has had the reputation for doing work that is technically sound and well installed," Denny explained. "Our clients note their satisfaction with our attention to detail and their schedules. All of our advertising is word of mouth. Many of our competitors respect us and have reached out to us for help with difficult projects. We enjoy great relationships with our local distributors, and that has been an excellent help through the years. We are a tight-knit family – all employees included – and we look to work with others who reflect similar qualities. We strive to be fair and wise with the blessing to be able to work together and make a living from the works of our hands."
From STTMAC to NTCA
Nichols Tile & Terrazzo was a member of NTCA's precursor, STTMAC back in the day, but Denny said, the company "did not take advantage of the benefits of actively participating in the organization." The company re-upped in 2010, through the influence of Tom "Hammy" Hambrock, who was then serving as NTCA Middle Tennessee State director.
"We had met through the John Bridge Forums, and Hammy was adamant that I should join at a local workshop we attended together," Denny said. "If you know Hammy, he was a force of nature and difficult to say no to, although I had been eyeing the benefits of the organization and admired the work they were doing for the industry."
In 2005, many things started shifting for Denny. He married his wife Nicole, and became more interested in the overall workings of the family business as he considered the future of his own family. Through his new laptop, he discovered johnbridge.com and a community that was passionate about tile. Many professionals he encountered were connected or spoke about NTCA and it "sparked a desire to become a part of that.
"In the fall of 2014, after being a member and attending a few trade shows, I called Jim Olson to ask if I could anchor Hammy's former position after we lost him in February of that year," Denny said. "After a year of serving as a State Director, circumstances opened up a need for a board member in late 2015 and I was approached about filling the seat. After speaking with my family and realizing the honor and opportunity, I accepted and will serve as the Region 6 Director until the end of 2018 and possibly for another two years if needed."
Denny has the highest praise for the opportunities afforded by NTCA, crediting it for helping him grow as both "an installer and businessman. Through relationships with others that are at a place we'd like to be as a company, all the while helping those who'd like to be where we currently are, the NTCA provides a network of contractors that are interested in continuing what is essentially an ancient art form, that can be profitable for many families," he said.
"The work that the NTCA does to represent the contractor speaks directly to what we see as most important, protection of those close to you," he added. Sharing experiences in tile setting with others on the same path, "really gives us a common thread that can be knitted together for a common good," he said. "I feel like the NTCA is the perfect vehicle for that. From methods and standards to benefits and networking, the NTCA is something we are using to join our family with the larger family that is present."
Denny is also keen on being credentialed, having obtained his Certified Tile Installer status (CTI #1190) at TISE 2016, and is looking to gain ACT certification in 2017. Others at Nichols are also seeking CTI status in the coming year as well.
For Denny, the artistry and longevity inherent in tile setting is part of the satisfaction of his craft. "I personally love creating something that is beautiful to the eye that will last for many years," he said. "I enjoy the challenge of executing a design, the transfer of an idea from the mind and to physical reality. As a contractor, we enjoy providing the opportunity for a livelihood that is rewarding to individuals and families, all while satisfying our clients."